LiLSpeedy's Blog
LiLSpeedy's Blog has 183 entries (1 private) and has been viewed 99,980 times.
Lottery Post members have made 120 comments in LiLSpeedy's Blog.
LiLSpeedy is a Platinum member
Hi, can you help me find my baby brother Lil wee wee. I have not seen him in ten years. I was in the crazy house for a spell. They said I have mental problems and there is nothing else that they can do for me. So Lil wee wee if you are still out there, please get in contact with me as soon as possible. My friend stank is writing this for me because I never learned how to read and write. My brother Lil wee wee is smarter than me because he went all the way to the 6th grade. I hope to see you soon wee wee. I will be staying at the homeless shelter downtown Rockville, Maryland. With love, SMILEY.
By now, all of you know me as Lil wee wee aka Jarasan. I lost my job at Burger King today. I went to work drunk and smelling like a sewer and got fired. My life has been one screw up after another. I lost my apartment and now have to sleep under the bridge. I went to my mama's house and she told me to get lost. Can you help me? I'm uneducated, mentally challenged, and is a child of incest.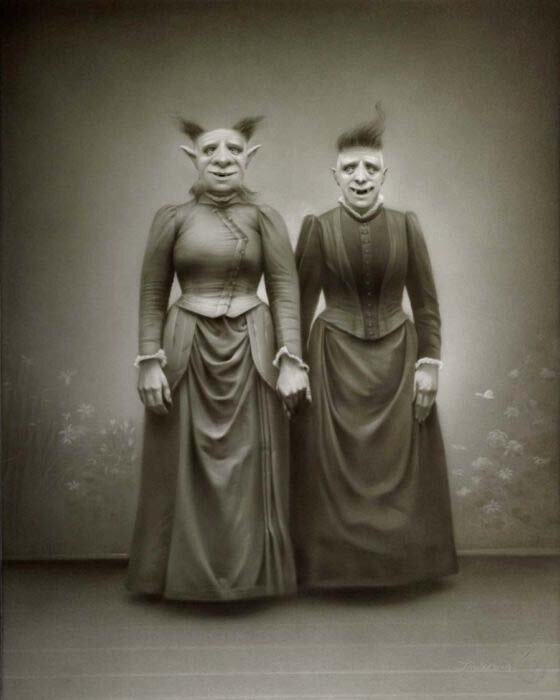 These twins are Jarasan's, aka Lil wee wee, great aunts. Both were the result of incest like Lil wee wee. Both worked in a freak show all their life in Maryland until they both vanished. Rumor has it that they both were picked up by an alien spaceship and was never seen again. These twins were very unique, in that, they both had the same kind of UGLY.
I am Lil WEE WEE's daddy. I had a one night stand with his mama. Had I known Lil WEE WEE would turn out to be a drunk and a bum, I would have never touched her. My granddaughter and I were drinking some cheap wine and we both got drunk and the rest is history. Lil WEE WEE I still love you son and hope to meet you one day. I left when you were only two days old. I did not know how you look until I saw a picture of you holding two bottles of whiskey. Put the whiskey down son or this is what you will look like when you are my age. Daddy love you Lil WEE WEE.
My name is Jarasen aka Lil WEE WEE. I am not a very smart man. In fact, some say that I am mentally challenged. I try my best to fake it when I am around my friends. But with a 6th grade education it is very hard to fool people with a college education. I try not to say much when I am around my friends. That way they won't know how dumb and inferior I feel. My friends Beefeater will always be my friends and talk to me.
Carbo has the kind of face only a mother could love. His father left when he was two days old. He went out to get a pack of cigaretts and never returned. He was raised by many men but none were willing to claim him as their son. How could you not love a face like this!
Jarasen aka Rambo, confession
After years of being a drunk and a bum, I am finally able to live with myself.
I finally forgave my mama for having me at 10 years old by her granddaddy.
He fathered many babies in the trailer park where I have been living all my life.
I wish I had taken after my mother, instead of my father, maybe I would have faired
better in life. It is not easy being an inbred, short, ugly, and dumb all at the same time.
Jarasan aka WEE-WEE is tough on bad guys...when he is not drunk he
works as a bouncer in a Little Peoples' bar.
Maddog is my brother and I will never disown him like he did me. I could care less about
the life he has chosen...I knew he was on the down low years ago.
I have my daddy maddog to thank for being such a good
role-model. Thanks daddy!
Last Edited: April 8, 2013, 7:22 pm
April 8, 2013, 2:08 am
Rambo!
Jarasan bka WeeWee is a bad little man.
April 8, 2013, 1:27 am
Yipes!
Maddog's incest children.
Maddog in his happier days before he became a drunken slut.
April 7, 2013, 11:44 pm
Fallen...
Maddog at his best on the down LOW and sh!tfaced drunk.