LiLSpeedy's Blog
LiLSpeedy's Blog has 464 entries (2 private) and has been viewed 331,975 times.
Lottery Post members have made 501 comments in LiLSpeedy's Blog.
LiLSpeedy is a Platinum member
Sunday, March 1, 2015
From the mouth of Jarasan... genuine cry-baby and uneducated troll
Why don't liberals care about black on black killing?
http://www.americanthinker.com/articles/2015/02/why_dont_liberals_care_about_blackonblack_killing_.html
"Since I don't comment on the troll blog I saw that the troll didn't comment on this particular topic but simply attacked other members as it always does when it can't face the facts like a human. I believe since the troll is definitely a troll because of its demonstrated behavior over and over again, it should be banned by the troll master on its blog or the LP administrator entirely."
"Since I don't comment on the troll blog I saw that the troll didn't comment on this particular topic but simply attacked other members as it always does when it can't face the facts like a human. "
Huh? What a plucking IDIOT. This is from the cry-baby himself. He doesn't comment on Truesee's blog but calls her a "Troll Master". What an Oxymoron. Let me help you fool, since you don't comment on this blog anymore anything that goes on on it is none of your plucking business cry-baby.
"I believe since the troll is definitely a troll because of its demonstrated behavior over and over again, it should be banned by the troll master on its blog or the LP administrator entirely."
Deja vue. You don't teach this type of ignorance. Since I no longer comment on this thread…again he calls Truesee a Troll Master before appealing to Todd. Notice at the same time being a Troll himself. SAD.
Last Edited: February 28, 2015, 12:45 am
Last Edited: February 26, 2015, 9:23 am
Last Edited: February 23, 2015, 12:27 am
Here's where "white" Americans have the highest percentage of African ancestry
Last Edited: February 20, 2015, 1:26 am
A California man locked up in an Oregon jail holding cell was caught on camera punching himself in the face in a desperate attempt to blame police for his injuries and get out of trouble.
Instead, 33-year-old Aleksander Robin Tomaszewski ended up with two black eyes and slapped with charges of attempted coercion and filing a false report stemming from the January 9 incident. The Clear Lake, Calif., man, in custody during a sex abuse investigation, claimed Lane County Sheriff's Office detectives battered him during an interview, the Oregonian reported.
After the Civil War it became possible for Blacks to vote in the south. This was made possible by the passage of the Reconstruction Acts by Congress. Five states had a majority Black population: Alabama, Florida, Louisiana, Mississippi, and South Carolina. Prior to the Reconstruction Acts, which were given more support by the Fourteenth and Fifteenth Amendments to the Constitution, there were 627,000 White voters in the south and no Black voters. After Blacks gained the right to vote, and there were 703,000 who did so, it became possible for Blacks to hold office on a local and statewide basis.
All the early Black congressmen (and senators) were members of the Republican party. This is because the Republicans, exemplified by President Abraham Lincoln, were the party in office during the Civil War and many abolitionists belonged to the Republican Party. The Democrats were opposed to all attempts to banish slavery.
Thirteen of the twenty-two Blacks elected to Congress during Reconstruction were ex-slaves and all were self taught or family trained. There were seven lawyers, three ministers, one banker, one publisher, two school teachers, and three college presidents. Eight had experience in state assemblies and senates. There were problems, however, as five of the first twenty Blacks elected to the House were denied their seats and ten others had their terms interrupted or delayed. Claims of vote fraud were the most common ploy used by Whites to deny an elected Black person his seat.
In 1869 James Lewis, John Willis Menard, and Pinckney B.S. Pinchback — all of Louisiana — were elected and never seated. In 1870 Joseph H. Rainey of South Carolina was the first Black to be seated in the House. He ran for reelection in 1872, won, and in 1874 his reelection was challenged. He was seated after the House, after several months, voted to seat him. He won again in 1876, and was again challenged. He was seated and after eighteen months the investigating committee recommended his seat be declared vacant. The full House, however, did not vote on the matter and referred it back to committee.
Other Blacks who were elected to the House and seated often had very rocky tenures. Only a few did not have to face hostile, organized opposition within Congress. A few examples are listed below.
• Robert C. DeLarge, South Carolina, elected in 1870
His election was challenged from the beginning and the challenge resulted in him serving twenty-two months out of twenty-four. The seat was declared vacant for the final two months.
• Josiah Thomas Walls, Florida, elected in 1870
Wells was the only Black representative unseated twice by opponents challenging his elections.
• Jefferson Franklin Long, Georgia, elected in 1871
Served an abbreviated term in 1871 (the election he won was held to fill an abbreviated term). White congressional opposition and intimidation of Black voters led to him not being reelected.
• Robert Brown Elliott, South Carolina, elected in 1871
An attorney before he entered politics, Elliott served two consecutive terms. He was also able to read, German, Spanish, French, and Latin.
• Joseph H. Rainey, South Carolina, elected in 1871
Served two consecutive terms, but as usual, the environment in Congress, especially from White southern representatives, was very hostile.
• Alonzo J. Ransier, Georgia, elected in 1872
Succeeded Robert C. DeLarge. He was Lt. Governor before he won DeLarge's seat.
• James T. Rapier, Alabama, elected in 1873
He served two consecutive terms and lost in 1875 when many ballot boxes were stolen and destroyed and replaced with others containing stuffed or illegally cast ballots. There was also armed intimidation of Black voters by Whites.
• John Mercer Langston, Virginia, elected in 1888
The only Black person ever elected to Congress from Virginia, Mercer was denied his seat for almost two years.
• Thomas E. Miller, South Carolina, elected in 1889
He served one term and afterwards was named president of the State Colored College at Orangeburg, South Carolina.
During Reconstruction, southern Whites suddenly found themselves looking at former slaves not only eyeball to eyeball, but as equals before the law and in their (the freed slaves) ability to obtain elected office. Many Whites never ceased trying to "turn back the clock" so to speak.
Through the imposition of "Black Codes," laws designed to limit Black participation in all areas of life, the establishment of sanctioned violence and "control" on the local level by the Ku Klux Klan, the active and passive aid — via passing legislation and refusing to act when called upon in certain circumstances — of Presidents Andrew Johnson, Ulysses S. Grant, and Rutherford B. Hayes, the Whites were eventually successful in bringing about the end of Reconstruction. In Reconstruction's place segregation was instituted and voting rights for Blacks ceased. Thus, toward the end of the 19th century, it became virtually impossible for Blacks in the south to be elected any office. This reality did not alter until the mid-1960s.
Hollowell, Donald L. (1917-2004)
During Donald Hollowell's career as a prominent civil rights attorney, he represented Martin Luther King several times, beginning in October 1960, when King was arrested for his participation in a sit-in at Rich's, a department store in Atlanta.
Hollowell was born in Wichita, Kansas, in 1917. At his father's insistence, Hollowell dropped out of high school at age 18 to help support his family. He immediately enlisted in the Army's all-black 10th Cavalry, and during six years in the service he earned his high school diploma. He later enrolled at Lane College in Jackson, Tennessee. Hollowell re-enlisted during WWII and rose to the rank of captain. After the war, he earned a law degree from Loyola University in Chicago in 1951. In 1961, Hollowell made history as the lead attorney in Holmes v. Danner, which desegregated the University of Georgia.
Hollowell defended King in October 1960, after King remained in Fulton County Jail for four days following his participation in an Atlanta sit-in. The sit-in charges were dropped, but he was subsequently charged with violating probation and sentenced to four months hard labor at Reidsville State Prison in Georgia. After one day in prison, King was released due to the intervention by the Kennedy administration, and Hollowell successfully appealed his sentence to the Georgia Court of Appeals.
In December 1961, King was again in need of Hollowell's services after he and Ralph Abernathy were arrested for parading without a permit in Albany, Georgia. Seven months after his arrest, King and Abernathy were found guilty and sentenced to 45 days in jail or a $178 fine. They chose to serve out the 45-day sentence.
In 1964, when Hollowell ran for Fulton County Superior Court Judge, King provided him with several members of the SCLC staff to aid the campaign. King also urged voters to reward Hollowell "with a vote . . .for the long fight he has waged in behalf of justice and freedom" (King, 9 September 1964). Hollowell's bid was unsuccessful.
Under President Lyndon B. Johnson's administration, Hollowell became the first black man to head the southeastern regional office for the Equal Employment Opportunity Commission, which he directed from 1966 to1976. Hollowell served as president of the Voter Education Project from 1971 to1986 and was the recipient of countless awards, including the National Association for the Advancement of Colored People, Legal Defense and Education Fund's Lawyer of the Year (1965), and the Civil Liberties Award from the ACLU (1967). In 2002, he received an honorary Doctorate of Laws from the University of Georgia, the same university he had helped to desegregate 40 years earlier.
We can now officially celebrate the sheer kindness caught in this blurry photo taken from the aisle of a Raleigh, North Carolina, Target store, which has gone viral with more than 55,000 likes on Facebook alone.
"I didn't expect the kindness of strangers," Audrey Mark, who took the photo, told ABC News. "You don't expect humanity on aisle 11 of a big-box store."
Target Teen Yasir Moore Returns to Store After Job Interview
Target Workers Help Teen Prep For Job Interview
(Credit: Audrey Mark)
The quiet 15-year-old in the black suit was looking for a clip-on tie for his first job interview, but Target only sells regular ties. That's when Dennis Roberts, Cyndi Moore and Cathy Scott came to his rescue.
"When Dennis was tying the tie, we took the time, 'Look presentable, tie your shoe laces, tuck your shirt in,' we were giving him pointers," Cyndi explained of their interaction. "He was just soaking everything in, taking it all in."
This is more than just good customer service. Yasir Moore learned how to shake hands and look his interviewer in the eye.
"They could have just sold my son a tie," Moore's mother, Najirah Parrish, told ABC News station WTVD-TV in Durham, North Carolina. "But they took the time, helped him tie the tie and talked to him. They treated my son with dignity, respect."
And now, after two interviews with the Chick-fil-A restaurant at a mall near his home, ABC News knew something that Moore didn't. He was going to get that first job.
"I think we are ready to offer you a job at the mall," Chick-fil-A's manager, David Langston, told a surprised Moore in the food court.
Out came the cameras and a few special guests from the Target store who were hiding, patiently waiting for him to get the good news.
"You look beautiful," they told Moore, giving him big hugs.
When asked when he'll actually start the new job, Langston replied, "As soon as he is ready!"
"I can start tomorrow," Moore said, smiling ear to ear.
As for any advice the newly employed young man would give others, "Any advice you can, grab it," he said. "These people right here helped me so much. Be respectful to people who are trying to help you out. Soak it all in."
His mother and his new friends from Target were all in tears as they celebrated his accomplishment.
"We are so proud of you," said Moore. "We are here. We are just so proud of you.
"You are ours now. You know that don't you?" Scott added. "You have more than one mother."
Last Edited: February 14, 2015, 11:11 am
Monday, February 9, 2015
Minority Firms Get Major Business Deal With Apple -- Thanks, in part, to Jesse Jackson!
Technology giant Apple opened their doors recently and welcomed two minority-owned firms as investors. It represented the first time that Apple has included an African American-owned firm and a Latino-owned firm to participate in a debt offering.

The significance of opening up debt offerings

According to BusinessFinance.com, a debt offering is a debt instrument offered for purchase by private investors with warrants for future stock purchases at fixed prices. By selling notes with an annual return rate, companies like Apple can increase their debt financing without giving up ownership of the company. It's a good deal for both parties. This time, two well-respected minority-owned companies were included.

Apple spokeswoman Kristin Huguet commented, "We're proud to have a range of banks participate in our recent debt offering, including two well-respected minority-owned companies, Williams Capital and Ramirez & Co." This represents a great opportunity for the two companies and a significant step forward by Apple in supporting minority-owned businesses.

Reaction by the Rev. Jesse Jackson

The Rev. Jesse Jackson, who has been working hard to push more technology companies into becoming more diverse, expressed his reaction to Apple's recent move. "There is more to be done, but this is a significant step," he stated recently. Others feel this will open up more opportunities for minority-owned financial services firms. With a technology giant like Apple setting an example, it may also encourage other technology companies to follow.
https://www.youtube.com/watch?v=2tN4Zulagb8
Published on Apr 14, 2014
Ernestine Johnson kicks off the show with an amazing and moving performance of "The Average Black Girl." You will get chills from this performance. Booking: Aris@xceltalent.com
Website: www.ernestinejohnson.com
Local news — St. Croix
MIDDLE PASSAGE MONUMENT UNVEILED
By Source Staff
Millions of Africans who died en route to the New World during the transatlantic slave trade have been honored with the unveiling of the Middle Passage Monument.
Singing, dancing and libations were all part of the ceremonies, sponsored by the Homeward Bound Foundation, at St. Patrick's Church in Frederiksted.
The monument, built by St. Croix metal artists, was presented to the world during a July 3 ceremony in New York. The event was designed to coincide with the closing of the 150th Emancipation Celebrations of the U.S. Virgin Islands.
"The purpose of this monument, besides its spiritual significance, is to encourage African people to use the tragedy of the transatlantic slave trade as a pedestal as opposed to an impediment, celebrating the fact that we not only survived one of the most dehumanizing sets committed by humans upon humans, we, in many cases, excelled," said Wayne James, founder of the Homeward Bound Foundation.
After the world ceremonies, the monument sailed 427 kilometers off New York's harbor, facing Africa, and lowered into the international waters of the Atlantic Ocean. The monument is intended to serve as an unmarked grave for the millions of Africans who died as a result of the slave trade during the 15th through 19th centuries. Plans are under way to name the site, located at 39 degrees 44' north latitude and 68 degrees 07' west longitude, a sacred burial ground for African people.
Between 2000 and 2006, six replicas of the monument were placed on land in six regions of the world – Africa, the Caribbean, Central America, Europe, North America and South America - where the transatlantic slave trade occurred.
The Congressional Black Caucus, led by Delegate Donna Christian-Christiansen, has asked Interior Secretary Bruce Babbitt to set aside suitable federal lands in Washington, D.C.; Savannah, Ga.; New York City; Charleston, S.C.; and Alexandria, Va., to serve as potential sites for the monument. The sites were recommended by the Homeward Bound Foundation based on their historical significance in the slave trade.
"We welcome the CBC's support of the Middle Passage Monument Project," James said. "The symbolic water burial and the subsequent land placements of the monuments will give the world an opportunity to begin the collective healing from the slave trade and its aftermath of racism."
An Open Letter to Speaker John Boehner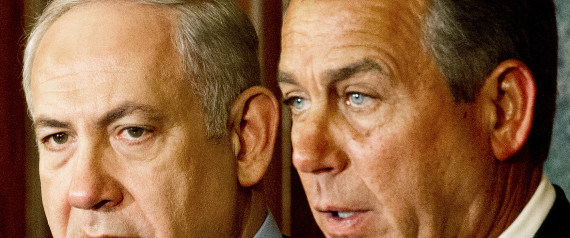 Dear Mr. Speaker,
This letter is about the invitation you extended to my Prime Minister Benjamin Netanyahu, to address a joint Session of Congress a mere two weeks before the Israeli elections in March. I read your invitation and saw your tweet and immediately wondered why you had decided to involve yourself in our electoral process.
About 6,000 miles separate you, in your elevated Washington, D.C. office, from us, here in Israel, but the distance does not annul our will, aspirations or the right to make decisions.
It appears to me that your principal aim in inviting Netanyahu was to attack President Obama politically, a tactic that I, having covered politics for many years, including a long stint as Ma'ariv's Washington correspondent (when I also covered you, though we've never met) can appreciate. You went for Obama's jugular, not to say spat on him.
But at the same time you are crudely interfering in our affairs -- 9 million citizens who are not the 51st state of the United States. We here in our special and volatile place in the Middle East don't particularly want you to step in and set our public agenda.
The person who chose to call elections 34 months ahead of the end of his term is our Prime Minster, whom we elected a mere 24 months before.
Netanyahu wasn't able to agree with his Finance Minister, Yair Lapid, about a 0 percent VAT Bill, and he dismissed Lapid plus five other ministers while calling for elections.
Mr. Boehner, Israel is undergoing such a severe housing crisis such that people feel they have no recourse, and the Finance Minister attempted to find a solution to the problem, albeit in a clumsy and odd way. Netanyahu at first agreed, then disagreed, in short zigzagged, and Israeli citizens are furious that in six years in office he has been unable to restrain galloping housing and cost-of-living prices. Did you know that going to the grocery store is much, much more expensive in Tel Aviv than it is in America?
Despite the fact that Netanyahu wants to talk about Iran and terror 90 percent of the time, polls here, in our little Zionist country, show that people are actually concerned about how they will make it to the end of the month. A big social justice movement took over our streets a few years ago and Netanyahu promised to help the simple people, a promise he has failed to keep.
And then you show up, with a crassness I don't remember, and shove Netanyahu's Congressional address on Iran and extremist Islam onto our public agenda, despite the fact that Iran deadlines have come and gone for years now. Who knows this better than I, who has covered it for years?
In truth, what do you care? You come here on expensive junkets, stay -- I'm sure -- at top hotels, without so much as a thought for the difficulties faced by the chauffeur driving you or for the salary of the guard at the hotel's entrance. Why don't you speak sometime with the housekeepers or the reception desk clerks and try to understand why Israelis can't stand to hear the word "Iran" again?
So now that you have become Netanyahu's cheerleader (you know you'll make an appearance in his campaign ads, right?) and you're pleased that you managed to give Obama a black eye or embarrass the Democratic Party, I hope you receive this letter in which I want simply to deliver a message about an aspect you may have preferred to ignore: you are interfering with our democratic process in a blunt, unforgivable manner. I hope that our future leaders, whoever they may be, won't forget it.
Last Edited: January 29, 2015, 6:39 pm