LiLSpeedy's Blog
LiLSpeedy's Blog has 334 entries (2 private) and has been viewed 170,396 times.
Lottery Post members have made 281 comments in LiLSpeedy's Blog.
LiLSpeedy is a Platinum member
Most people know that it is wrong to lie, although they may tell small fibs or little white lies now and then. In those situations, the person typically feels guilt about the lie or anxiety about the truth being revealed. A pathological liar, however, lies often and with ease, and feels no remorse for the act. For a pathological liar, the act of lying becomes routine to the point where they can no longer distinguish between their lies and the truth.
Pathological liars lie to serve their own interests and agenda. They lie to manipulate and control others and express very little, if any, feelings of guilt or remorse.
A pathological liar feels completely in control when lying. The lies told by pathological liars often seem unbelievable or too good to be true. When confronted with questions or the truth, pathological liars will have a hard time confirming their story, but will continue to lie. Even when faced with an old fashioned azz whipping, pathological liars will not admit the truth.
Sad to say that there are several low class human beings, for lack of a better term, that fits that description that comment on the blogs on a daily basis. There are two in particular that are liars and perverted with their comments. They conjure up lies about the truth and put their own demonic spin on it in order to make themselves feel good about their pathetic life choices. They have the mentality of a teenager going through puberty, and an adult that lacks maturity.
All I have to say to them is grow up, life is too short, and it is passing you by.
Last Edited: Yesterday, 3:47 pm
Since a coward has little or no courage of his own, he will often seek the aid of things that make him feel brave, the computer/booze/drugs. Rather than face situations that make him uneasy, a coward often resorts to the use of drugs and alcohol to give himself FALSE courage. A coward will also obtain courage from being part of a group. He may be perfectly willing to enter into a physical fight when the numbers are in his favor; however, it's likely he'll do anything to avoid fisticuffs when on his own.
A coward frequently shies away from the TRUTH. When put on the spot, he'll likely talk in circles to avoid telling you anything that may be uncomfortable for him to admit. He will often say what he thinks you want to hear, rather than risk your disapproval. It's also hard for him to handle the truth from others. If you call him out on his behavior or demand an explanation for what he's done, he'll make an excuse to justify his actions.
Since a coward has no idea what to do in a stressful situation, he will often downplay the severity of the occasion by pretending that all is well. That way he avoids confrontation and lives in a fantasy world where everything is fine. On the other hand, he may completely overreact to the minor infraction of another in order to ward off a confrontation as well. He is a firm believer in the idea that a good offense is the best defense. Hence, cowards use the computer to try and mask their cowardly behavior by resorting to name calling, lieing, misinformation, and perverted behavior. Cowards will read this post and try to pick it apart. Good, then you will know who they are. But more than likely you already do.
"Wow, and to think as it's been quoted" the majority of happening are from Satan" and these words come from a resident scholar here on LP. Yes I do read the "Bible", and I never interpreted that all the happening of this world were by a Myth called Satan."
This is a quote from one of the flaming trolls that says the devil is a myth. He reads the Bible but does not comprehend what is written, because he does not believe God's word. It is very interesting that he referenced Rudolf Bultmann, who was a German religious thinker who worked mainly at Marburg. Now this is where it gets interesting. He was also a friend and colleague of the influential philosopher Martin Heidegger, who had a profound influence on Bultmann's work. So who was Martin Heidegger? He was a German philosopher, professor, and Nazi sympathizer. This is what the flaming troll uses as his bible.
Jesus warns Christians about strange doctrines. He called them doctrines of devils. Oh, I forgot flaming trolls say that devils and demons don't exist...but the Bible says otherwise.
"Now the Spirit speaketh expressly, that in the latter times some shall depart from the faith, giving heed to seducing spirits, and doctrines of devils;"
1 Timothy 4:1, KJV

"For the time will come when they will not endure sound doctrine; but after their own lusts shall they heap to themselves teachers, having itching ears;"
2 Timothy 4:3, KJV
You Flaming trolls follow your god and see where it will get you.
Man's faith began to fail with man's inhumanity to man. We have gotten away from loving thy neighbor as thyself. Instead, we began persecuting anyone that does not look, think, speak, or act a certain way. We only trust God when things are going well for us and look to Him with doubt in our heart when things are not. God is the same today, yesterday, and forever more. God meant it when he said, I have never seen the righteous forsaken or his seed begging for bread. I could not have made it through the Jim Crow Segregated South if I did not trust and believe in the Lord and savior Jesus Christ. Believing in the Lord Jesus is all that Blacks had. It is faith that keeps Christians encouraged and hopeful in spite of their circumstances. As man continue to try to solve the problems facing America using their carnal knowledge, their faith will continue to fade, while others stand on the word of GOD and prosper, and be in good health, even as their soul prosper.
Best Known For
Julian Bond is a civil rights leader who had to go to the Supreme Court to be allowed to take his seat in the Georgia House of Representatives.
---
Julian Bond was born on January 14, 1940, in Nashville, Tennessee. He became a civil rights activist while in college. In 1965, he was elected to Georgia's state legislature, but his opposition to the war in Vietnam meant that it would take a U.S. Supreme Court ruling for him to be allowed to take his seat. Bond later served as the head of the Southern Poverty Law Center and of the NAACP.
Early Life
Horace Julian Bond, generally known as Julian Bond, was born in Nashville, Tennessee, on January 14, 1940. His family moved to Pennsylvania five years later, where his father served as the first African-American president of Lincoln University. In 1957, Bond enrolled at Atlanta's Morehouse College, where he helped found The Pegasus, a literary magazine, and interned at TIME magazine.
Student Activism
While still a student, Bond became a founding member of the Committee on Appeal for Human Rights. He led nonviolent student protests against segregation in Atlanta parks, restaurants and movie theaters. In Raleigh, North Carolina, Bond helped form the Student Nonviolent Coordinating Committee in 1960. The next year, he left Morehouse to serve as the SNCC's communications director, a position he held for five years. He returned to Morehouse a decade later and received a degree in English.
Life in Politics
In 1965, Bond was voted into the Georgia House of Representatives. However, the congressional body refused to swear him into his seat because he had endorsed a SNCC statement that decried the war in Vietnam. Martin Luther King Jr. organized a protest rally on Bond's behalf. In 1966, the case went to the U.S. Supreme Court, which unanimously ruled in Bond's favor on the basis of freedom of speech.
Bond was finally able to take his congressional seat in 1967. He served in the Georgia House until 1975, and went on to serve in the Georgia Senate from 1975 to 1986. During his tenure in the state legislature, Bond wrote over 60 bills that were ratified as law.
Bond attended the 1968 Democratic National Convention in Chicago, where he was nominated as a vice-presidential candidate. He was the first African American to receive the honor, but withdrew his name because he was not old enough to hold the office according to constitutional guidelines.
In 1986, Bond entered a Democratic primary to run for the U.S. House of Representatives in Georgia. He lost the heavily contested race to John Lewis, another civil rights leader and former SNCC member.
Continuing Activism
From 1971 to 1979, Bond served as president of the Southern Poverty Law Center, an organization he also co-founded. He was president of Atlanta's chapter of the National Association for the Advancement of Colored People before becoming the chairman of the national NAACP, a position he held from 1998 until 2010. He is now chairman emeritus of the NAACP and president emeritus of the Southern Poverty Law Center.
Bond continues to be a prominent voice in the media. He has been a commentator for NBC's Today show, written a national newspaper column and produced poems that have appeared publications such as the Nation and the New York Times. He is also a professor of history at the University of Virginia and an adjunct professor at American University.
Hosea Williams
Williams, a former aide to
Martin Luther King Jr.
, was a principal leader of the
civil rights movement
. Renowned for his militancy and his ability to organize demonstrations and mobilize protesters, he was arrested more than 125 times. Williams helped coordinate the 1965 protest march in Alabama from Selma to Montgomery, served as pastor of King's People's Church of Love, and was executive director of the
Southern Christian Leadership Conference
(SCLC). He also took on more traditional governmental roles: he served in the
Georgia General Assembly
from 1974 to 1985, on the Atlanta City Council from 1985 to 1990, and as a
DeKalb County
commissioner from 1990 to 1994.
Early Life and Education
Hosea Lorenzo Williams was born on January 5, 1926, in Attapulgus, in
Decatur County
. His teenage parents were unmarried. They were also blind and had been committed to a trade institute for the blind in
Macon
. Because his mother ran away from the institute upon learning of her pregnancy, Williams never knew his father. His mother died while giving birth to her second child, and Williams was raised in Attapulgus by his maternal grandparents, Lela and Turner Williams. Nearly lynched because of his alleged involvement with a white girl, Williams left home at the age of fourteen. He held menial jobs for several years until he enlisted in the U.S. Army at the outset of
World War II
(1941-45) and served in an all-black unit attached to General George Patton's Third Army. Severely wounded in battle, which earned him a Purple Heart and left him with a permanent limp, Williams spent a year in a military hospital in Europe.
Upon his return to Georgia and civilian life, Williams completed the requirements for a high school diploma at the age of twenty-three. He enrolled at Morris Brown College in Atlanta, with the aid of the G.I. Bill, and graduated with a bachelor's degree in chemistry. After completing a master's degree in chemistry from Atlanta University (later
Clark Atlanta University
), Williams became a chemist for the U.S. Department of Agriculture in
Savannah
, and in the the early 1950s he married Juanita Terry. In 1976 he founded the Southeast Chemical Manufacturing and Distributing Company, which specialized in cleaning supplies. Over the years Williams founded three more chemical companies and a bonding company.
Civil Rights Involvement
In the 1950s and early 1960s Williams encountered his share of racism. He spent five weeks in the hospital after being beaten for drinking from a "whites only" water fountain at a bus station in
Americus
, and he was fired from the Department of Agriculture in 1963 for speaking out against racist policies (he was reinstated through an appeals process but resigned later that year).
The father of nine children,
Williams devoted himself fully to the cause of civil rights in the early 1960s after some of his children were refused sodas at a segregated lunch counter in Savannah. He joined the Savannah chapter of the
National Association for the Advancement of Colored People
(NAACP) and served as vice president under
W. W. Law
. Williams led marches and
sit-ins
to protest
segregation
. As a result of his efforts, Savannah was the first city in Georgia with desegregated lunch counters. He also helped to integrate the Nancy Hanks, the South's first passenger train, and the public beach on
Tybee Island
. In 1962 King acknowledged Williams's role in making Savannah the most integrated city in the South. Williams resigned from the NAACP that same year, after learning that his candidacy for the national board of directors had been rejected.
In the summer of 1961 Williams took part in the campaign to register voters, and in 1963 he led protests by the Chatham County Crusade for Voters. He was arrested after several white citizens swore out peace warrants against him. Williams was jailed for sixty-five days, the longest continuous sentence served by any of the civil rights leaders. During the riots that followed his arrest, the Sears and Firestone stores in Savannah were burned. Led by
Mills B. Lane Jr.
, president of Citizens and Southern Bank, prominent white Savannahians, fearing for their city, formed a "Committee of 100" to secure Williams's release and to work on completing the desegregation of the city.
The King Years
It was also in 1963 that Williams joined the SCLC at the urging of King, the organization's president. Two years later King asked Williams and
John Lewis
of the
Student Nonviolent Coordinating Committee
to lead a march from Selma, Alabama, to the state's capital, Montgomery. The goal of the march was to peacefully deliver to Alabama governor George C. Wallace a petition for African American voting rights. The protest on March 7, 1965, became known as "Bloody Sunday" after several hundred marchers were beaten with clubs and whips and fired upon with tear gas while crossing Selma's Edmund Pettis Bridge. After watching national
television
coverage of the incident, U.S. president Lyndon Johnson forced the Voting Rights Act through Congress in August 1965.
Williams continued his close association and friendship with King and was at his side when King was assassinated in April 1968 in Memphis, Tennessee. Williams held several positions within the SCLC. He was special projects director from 1963 to 1970, national program director from 1967 to 1969, and regional vice president from 1970 to 1971. He also served as national executive director
from 1969 to 1971 and again from 1977 to 1979, when he was removed by then-president
Joseph Lowery
, who accused Williams of not devoting his full attention to the position.
Atlanta Politics
In 1971, while he was still serving the SCLC, Williams founded in Atlanta the Hosea Feed the Hungry and Homeless program, which he ran for thirty years. The program continues under the direction of his daughter, Elizabeth Williams Omilami, and provides thousands of people with food, medical attention, and clothing. In 1984 he founded the annual Sweet Auburn Heritage Festival to celebrate and revitalize the
Sweet Auburn
historic district.
In 1968 Williams entered the political arena. That year he ran unsuccessfully for the Georgia House of Representatives. He switched to the Republican Party and lost the race for the
secretary of state
's office in 1970. Returning to the Democratic Party, he lost the U.S. Senate primary in 1972 and the Atlanta mayoral primary the following year. But Williams's persistence paid off, and in 1974 he was elected as a Democratic senator to the state senate, where he served until 1985, when he resigned to run again for the U.S. Senate. Williams lost to
Wyche Fowler
but was elected the same year to the Atlanta City Council, on which he served for five years. Williams lost the 1989 mayor's race to
Maynard Jackson
and was subsequently elected to the DeKalb County Commission, where he served until 1994. Juanita Williams, Hosea's wife, was elected to fill her husband's former seat in the Georgia legislature. An activist, educator, and writer, she served four terms; she was the first black woman to run for public office in Georgia since
Reconstruction
, and the first black woman to run for statewide office.
In 1987
Williams received international attention when he led two marches in all-white
Forsyth County
to confront the
Ku Klux Klan
. The "Brotherhood March" was planned to honor Martin Luther King Jr. on the observance of the national King holiday. During the first march on January 17, Williams and 75 supporters were confronted by 400-500 Klan members and sympathizers who broke through police lines throwing rocks and bottles. Public outrage was such that on the following weekend, Williams led 20,000 marchers, including
Coretta Scott King
, Atlanta mayor
Andrew Young
, Colorado senator Gary Hart, and activist Jesse Jackson, protected by more than 2,000 National Guardsmen and police, in what became the state's largest civil rights demonstration. Williams gave Forsyth County a list of demands that included fair employment, the return of property lost when blacks were expelled from the county by the Klan in 1912, and a biracial council. A jury later awarded $950,000 to the marchers in a class action suit filed by Williams against the Klan.
Williams also made news in the later part of his life when he was arrested several times for drunk driving.
Williams died on November 16, 2000, after a three-year battle with
cancer
. Thousands of mourners filed past his body, dressed in his trademark denim overalls, red shirt, and red sneakers, as it lay in the International Chapel at
Morehouse College
. Williams is buried in Atlanta's Lincoln Cemetery. In 2001 the Georgia General Assembly passed House Resolution 409 honoring Hosea and Juanita Williams and directing that a portrait of them be placed in the state capitol.
Last Edited: February 27, 2014, 1:00 am
Alfred Charles "Al" Sharpton, Jr. (born October 3, 1954) is an American Baptist minister, civil rights activist, and television/radio talk show host. In 2004, he was a candidate for the Democratic nomination for the U.S. presidential election. He hosts his own radio talk show, Keepin' It Real, and he makes regular guest appearances on Fox News (such as on The O'Reilly Factor), CNN, and MSNBC. In 2011, he was named the host of MSNBC's PoliticsNation, a nightly talk show.
Sharpton's supporters praise "his ability and willingness to defy the power structure that is seen as the cause of their suffering" and consider him "a man who is willing to tell it like it is". Former Mayor of New York City Ed Koch, a one-time foe, said that Sharpton deserves the respect he enjoys among Black Americans: "He is willing to go to jail for them, and he is there when they need him."
His critics describe him as "a political radical who is to blame, in part, for the deterioration of race relations". Sociologist Orlando Patterson has referred to him as a racial arsonist, while liberal columnist Derrick Z. Jackson has called him the black equivalent of Richard Nixon and Pat Robertson. Sharpton sees much of the criticism as a sign of his effectiveness. "In many ways, what they consider criticism is complimenting my job," he said. "An activist's job is to make public civil rights issues until there can be a climate for change."
Last Edited: February 26, 2014, 1:25 am
Nathaniel Alexander
Nathaniel Alexander patented a folding chair.
By Mary Bellis
On July 7, 1911 Nathaniel Alexander of Lynchburg, Virginia patented a folding chair. According to his patent, Nathaniel Alexander designed his chair to be used in schools, churches, and other auditoriums. His design included a book rest that was usable for the person sitting in the seat behind and was ideal for church or choir use. Below you can view the patent drawing of Nathaniel Alexander's folding chair.
Exodus 20:16
King James Version (KJV) 16 Thou shalt not bear false witness against thy neighbour.
Every time the head bigot opens his alcoholic drunken mouth, he spew out vile lies about Christians. He is a hater of Blacks and all minorities. He drinks to excess, No doubt that is when he feels the spirit. He is a pathological liar and enjoys making up stories about people he has never met or will ever meet. It is people like you that is destroying the Republican Party. No one wants to be part of a political party that is sanctimonious and hypocritical. If God held everyone guilty by association, no one will be worthy of Heaven. JESUS says it best in II CORINTHIANS 5: 10, " For we must all appear before the judgment seat of Christ; that every one may receive the things [done] in [his] body, according to that he hath done, whether [it be] good or bad."
Head Bigot you don't have the power or authority to pass judgment on NO ONE. No one is listening to your drunken rants. There is no heaven or hell you can send someone to. You better hope that Jesus does not say to you what is written in Luke.
Luke 13:27
But he shall say, I tell you, I know you not whence ye are; depart from me, all ye workers of iniquity.
Read and study your Bible sometime. It is food for your soul.
J. Edgar Hoover's war on Black America
Lee A. Daniels
By Lee A. Daniels NNPA Columnist
By the early 1970s, Black Americans could reasonably say they had emerged victorious from their long struggle with America's internal evil empire: the regime of legalized segregation in the South.
The Civil Rights Act of 1964 and the Voting Rights Act of 1965 had given blacks in both the South and the North the tools—the power of the federal government at their backs and the ballot in their hands—to, at long last, make America a democracy in fact, not just rhetoric.
It was then they got proof that America's racist power structure had long had a secret ally at the very top of the national government. It was J. Edgar Hoover, the director of the Federal Bureau of Investigation, the man who for nearly half a century had in some ways been, except for the president, the single most powerful government official in the country.
J. Edgar Hoover
That's one of the many powerful truths underscored by Betty Medsger's new book, "The Burglary: The Discovery of J. Edgar Hoover's Secret FBI." The book explores how the burglary in early 1971 of the agency's field office in Media, Pa., near Philadelphia, by eight antiwar activists led to the unraveling of the Hoover's decades-long "secret war" against American democracy.
Hoover died in mid-1972, when news reports about the few files that had become public had already begun to destroy his reputation as an honorable public servant. But, it wasn't until congressional hearings in the mid-1970s that the public would learn Hoover's monstrous behavior included wholesale spying on hundreds of thousands of citizens by both FBI agents and their army of, literally, thousands and thousands of informants; the planting of rumors and false information to destroy the reputations of individuals and organizations; and deliberate criminal acts, from burglaries, to trying to provoke violent clashes between black militant groups, to aiding and abetting murder. Hoover would let no law stand in his way of trying to establish a state police-like structure beneath America's ostensibly democratic form of government.
(The Central Intelligence Agency, whom the power-mad Hoover always distrusted, also had its own secret domestic-spying program. Beginning in the early 1970s, that, too, would be exposed.)
That was especially true regarding black Americans. The details here of Hoover's COINTELPRO campaign against the established civil rights groups, black militant organizations, black students on college campuses, and ordinary citizens living in black ghettos are stunning even to this writer, who's long known of the program's existence.
Those details show that the FBI, driven by Hoover's "savage" racism—and especially his hatred of Dr. Martin Luther King Jr.—surrounded black Americans (and all Americans), whether "militant" or not, with a secret-police-like structure that rivaled those of the states of the Soviet Union.
Several authors have powerfully explored this terrain over the years. But, Medsger's gripping narrative provides new and shocking details in part because in 1971 she was one of the very small group of journalists the "Media Burglars" anonymously began distributing the stolen FBI files to. They had remained anonymous all these years until she, with their permission, in this book reveals the identities of most (but not all) of them.
Another ironic facet of the story of the "Media Burglary" is that the FBI, which boasted of being the greatest law-enforcement agency in the world, never did identify, much less arrest these otherwise, law-abiding citizens, even though most of them for years continued to live in the Greater Philadelphia area.
Despite the most far-reaching and vicious efforts of the hydra-headed white racist power structure, black Americans and their allies among other Americans nonetheless broke the regime of legalized and de facto apartheid J. Edgar Hoover through his "secret FBI" helped maintain.
In other words, they were, as preceding generations had been, true to the spirit of the words penned by the 20th century writer and poet Sterling Brown:
"The strong men … coming on/ The strong men gittin' stronger./Strong men …/Stronger …"
Lee A. Daniels is a longtime journalist based in New York City. His latest book is "Last Chance: The Political Threat to Black America."
Frost Illustrated is Fort Wayne's oldest weekly newspaper. Your Independent Voice in the Community, featuring news & views of African Americans since 1968.
Born on March 12, 1932, in New Orleans, Louisiana, Andrew Young Jr. became active in the Civil Rights Movement, working with Dr. Martin Luther King Jr. in the Southern Christian Leadership Conference. Entering politics, Young served in Congress, was the first African-American ambassador to the United Nations and became mayor of Atlanta. In 1981, he was awarded the Presidential Medal of Freedom.
Quick Facts
Last Edited: February 24, 2014, 11:55 pm
Henry Washington was a one time African-American slave of the first president of the United States, George Washington. His history and linked documents can be found on-line. Transported as a slave to America, he was bought by George Washington in 1763 to work on a project for draining the Great Dismal Swamp. He was living and working in the stable at Mount Vernon, caring for George Washington's horses.
Early life
He was a saltwater slave from Africa purchased from a deceased estate in 1763 to be part of Washington's workforce in the Great Dismal Swamp. He later went to work at one of the farms at Mt Vernon. Henry Washington from Mount Vernon had taken refuge in New York in 1771. In 1776, Henry Washington fled again to join royal Virginia governor Lord Dunmore's Ethiopian Regiment of freed slaves.
American War of Independence
Moving into New York in the late 1776, Washington served as corporal in a corps of Black Pioneers attached to a British artillery unit, a British forces under the Governor of VirginiaLord Dunmore's fleet. Harry Washington was a Black Loyalist and one of the 3,000 Black Americans who were evacuated to Nova Scotia at the end of the American War of Independence and part of the first group of immigrants to what eventually became Sierra Leone. Once Sir Guy Carleton's officials put him on the list for evacuation in the "Register of Negroes," he started his age as forty-three and said that he had fled Mount Vernon in 1776, much earlier than 1781 with the slaves on the Savage. Under General Sir Guy Carleton's policy, Henry Washington took a British ship to Nova Scotia (as did two other former Mount Vernon slaves, a man and a woman) and from there continued to Sierra Leone, where he planned to begin a farm making use of the scientific farming techniques he learned at Mount Vernon. In 1800 Washington was among several hundred settlers who rose up in a brief rebellion against white rule there. The precipitating issue was one familiar from the American Revolution: taxes. The settlers were required by the Sierra Leone Company, which ran the colony for the British government, to pay taxes, or quitrents, for the use of their land; the land itself remained the property of the company. The settles formed a provisional government and wrote up a set of laws, which they nailed to the office door of a company administrator. The company responded by sending a corps of recently arrived Jamaican blacks against the rebels. In the trails that followed the defeat of the rebellion, Henry Washington was among the rebels sentenced to banishment to another location in Sierra Leone, where he became one of the two leaders of a new settlement He is listed as leaving New York the Book of Negroes, where he is incorrectly listed with the name Henry. He is called Harry in all other documents.
Later life
After spending a number of years in Birchtown (the largest free African-American city in North America), where he married Jenny, Washington and his wife joined the 1,192 black colonists who migrated to Sierra Leone. Washington was one of those involved in a rebellion against the colonial authorities in Sierra Leone in 1800 and was exiled to the Bullom Shore where he subsequently died. His descendants and those of other African Americans make up a portion of the Sierra Leone Creole people.
Police Fooled by Lifelike Mask in Ohio Robberies
(AP Photo)
Surveillance Video of Robber in Lifelike Mask (AP Photo)
CINCINNATI (CBS/AP) A white man who pleaded guilty to six robberies in Ohio used a black man's mask so lifelike that police initially arrested a black man for one of the crimes, authorities said Tuesday.
The mother of the wrongly accused black man even thought a photo of the robbery suspect she saw on television was her son, the Hamilton County prosecutor's office and the attorney for the white defendant both said.
Conrad Zdzierak, 30, pleaded guilty Monday in a Hamilton County court to one count of aggravated robbery and five counts of robbery. In exchange, prosecutors dismissed 12 charges and decided not to seek indictments for other crimes, prosecutor's spokeswoman Julie Wilson said Tuesday.
"Conrad apologizes to everyone, is sorry for any harm he has caused and accepts responsibility for his actions," his lawyer Christopher McDowell said.
Zdzierak stole about $15,000 in the robberies of four banks, a credit union and a pharmacy that occurred in March and April - crimes in which witnesses reported that the robber was black and surveillance video appeared to show a black man.
Zdzierak's resemblance to the black man who was initially arrested was so similar that some witnesses even identified a photo of the black man as the one who robbed them, McDowell said.
The prosecutor's office would not release the name of the wrongly accused man.
Zdzierak was arrested at a hotel in suburban Springdale after his girlfriend called police after seeing reports of the robberies and finding two masks and money stained by dye that is used to track robbers, The Cincinnati Enquirer reported.
McDowell said his client purchased the masks from SPFXmasks, based in Van Nuys, Calif. The silicone masks "look and behave like real flesh and muscle," the company's website says.
Owner Rusty Slusser said Tuesday his company's masks are normally bought for movies, Halloween, haunted houses and stage shows, but the Ohio case was not the first time they have been used for criminal purposes.
"We do not condone any illegal activity with our masks," Slusser said.
The unmasked robber faces up to 35 years in prison at his Jan. 7 sentencing.
John Robert Lewis (born February 21, 1940) is an American politician and civil rights leader. He is the U.S. Representative for Georgia's 5th congressional district, serving since 1987, and is the dean of the Georgia congressional delegation. The district includes the northern three-quarters of Atlanta.
Lewis is the only living "Big Six" leader of the American Civil Rights Movement, having been the chairman of the Student Nonviolent Coordinating Committee (SNCC), playing a key role in the struggle to end legalized racial discrimination and segregation. A member of the Democratic Party, Lewis is a member of the Democratic leadership of the House of Representatives and has served in the Whip organization since shortly after his first election to the U.S. Congress.
He is Senior Chief Deputy Whip, leading an organization of chief deputy whips and serves as the primary assistant to the Democratic Whip. He has held this position since 1991.
Joseph Lowery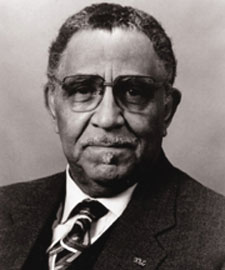 AKA Joseph Echols Lowery
Born:6-Oct-1921 Birthplace: Huntsville, AL
Gender: Male Religion:Methodist Race or Ethnicity: Black Occupation: Activist
Nationality: United States Executive summary: Co-Founder of the SCLC
Pastor of Warren Street United Methodist Church, Mobile (1952-61). After Rosa Parks' arrest in 1955 he helped lead the Montgomery bus boycott. His property was seized in 1959 along with that of other civil rights leaders (including Ralph Abernathy) by the state of Alabama as part of a libel suit. The US Supreme Court ordered the suit reversed. At the request of Martin Luther King, Lowery led the Selma-to-Montgomery march in 1965. Lowery served as pastor of Cascade United Methodist Church in Atlanta from (1986-92). He is now retired.
Father: LeRoy Lowery (small businessman)Mother: Dora (teacher)Wife: Evelyn Gibson Lowery (activist)
University: Knoxville College Theological: Payne College and Theological Seminary Theological: Chicago Ecumenical Institute
Southern Christian Leadership Conference Co-Founder, President (1977-98) Black Leadership Forum President (former) Campaign for America's Future Citizens for a Moratorium on Federal Executions NAACP Sharpton 2004 Presidential Medal of Freedom 12-Aug-2009