LiLSpeedy's Blog
LiLSpeedy's Blog has 490 entries (2 private) and has been viewed 367,636 times.
Lottery Post members have made 582 comments in LiLSpeedy's Blog.
LiLSpeedy is a Platinum member
Jeb Bush is getting torched in Iowa
It doesn't look as if former Florida Gov. Jeb Bush's (R) path to the White House will run through Iowa.
Bush, widely viewed as a presidential front-runner on the Republican side, scored just 5% in the first primary state in a new Quinnipiac University poll out Wednesday.
The survey found Bush in seventh place among likely caucusgoers — behind Wisconsin Gov. Scott Walker (R), Sen. Marco Rubio (R-Florida), Sen. Rand Paul (R-Kentucky), Sen. Ted Cruz (R-Texas), former Arkansas Gov. Mike Huckabee (R), and retired neurosurgeon Ben Carson.
Walker, with 21%, was by far the leader in the poll. Rubio and Paul tied for second place with 13% apiece. The large field of candidates makes it difficult for any one candidate to gain a majority of the vote.
"The first few months of the Iowa Republican caucus race show Wisconsin Gov. Scott Walker as the early leader," Peter Brown, assistant director of the Quinnipiac poll, said in a statement. "US Sen. Marco Rubio of Florida, on the strength of an impressive candidacy rollout, has moved from the bottom of the pack into a tie for second."
Brown attributed Bush's low standing in the poll in part to Iowa voters who view Bush as insufficiently conservative. Bush has staked out relatively moderate positions on issues such as immigration reform and the Common Core education standards, especially compared with some of his GOP rivals.
"More of those surveyed view Bush unfavorably than favorably, compared to Walker's 5-1 positive ratio," Brown said. "And 45% say Bush is not conservative enough. It's among the GOP conservative base that Bush finds himself trailing Sen. Ted Cruz, former Gov. Mike Huckabee and Sen. Rand Paul."
Iowa, however, may not be crucial to Bush's prospects in 2016. Though the state votes first in the presidential primary, it has a mixed track record of supporting the candidate who ultimately becomes the nominee. In 2012, Iowa backed former Sen. Rick Santorum (R-Pennsylvania), and in 2008, it backed Huckabee; neither won the nomination.
Last Edited: Today, 10:44 am
Last Edited: May 4, 2015, 2:36 am
Ted Cruz: 'I don't think I've ever seen an Hispanic panhandler'
(AP) Sen. Ted Cruz (R-Texas).
Presidential candidate and Sen. Ted Cruz (R-Texas) said on Wednesday that he has never seen a Hispanic person begging for money on the street.
"I don't think I've ever seen an Hispanic panhandler. And the reason is: In our community it would be shameful to be begging on the street," Cruz said, recalling a conversation he once had with a Latino businessman on the topic.
Cruz, who is of Cuban descent, made the point while speaking in Washington at a question-and-answer session with the Hispanic Chamber of Commerce.
He used the example to argue the Republican Party should be able to compete for the Latino vote. Hispanics, Cruz said, share many of the same values that are championed by GOP leaders.
"I think the Hispanic community is a fundamentally conservative community. If you look at the values that resonate in our community, they're faith, family, patriotism, hard work," Cruz said. "Now if you want people to work their fingers to their bone, hard work, you'll have Hispanic men and women lining up to work hard to provide for their families. Those are all conservative values."
Last Edited: April 30, 2015, 12:51 am
Last Edited: April 26, 2015, 12:44 am
Presidential hopeful Rubio reaches out to gay Republicans
Republican presidential candidate U.S. Senator Marco Rubio (R-FL) speaks at the First in the Nation Republican …
NEW YORK (Reuters) - Marco Rubio, the youthful Republican presidential hopeful who touts himself as the candidate of his party's future, has been making moves to court a socially liberal faction of his party that represents gay conservatives.
The Florida senator's staff have held quarterly meetings with the Log Cabin Republicans "going back some time", their executive director, Gregory Angelo, told Reuters. The meetings with the advocacy group were to discuss legislation, issues and opportunities to "partner on," Angelo said. Rubio's office declined to comment on the meetings.
The discussions highlight the tricky electoral math for Republican presidential aspirants like Rubio.
The Republican party will struggle to win the White House in 2016 if it relies only on the support of socially conservative voters. At the same time, presidential candidates will battle to win their party's nomination without those voters, who often dominate state primaries, or early voting contests.
That tension is starkly apparent on gay marriage. For years, staunch opposition to gay marriage was a reliably safe strategy for Republican candidates. No longer.
Facing an electorate that has sharply altered its views on the issue since the turn of the century, even Rubio, who has long opposed gay marriage, has softened his rhetoric, saying last week that he would attend a gay wedding of a loved one.
And then in an interview with CBS's "Face the Nation" on Sunday he said he believed "that sexual preference is something that people are born with" and is not a choice for most people.
While those kinds of comments might help win votes in the general election if he becomes the Republican nominee, they have the potential to antagonize the conservative Republican base he needs to win the primary, party activists said.
"To the right it sounds mealy mouthed, and to the left sounds patronizing," said Martin Cothran, a senior policy analyst for the socially conservative Family Foundation of Kentucky.
CHANGE IN ATTITUDES
Rubio risks alienating people like Bob Vander Plaats, the head of The Family Leader in Iowa, whose endorsement is coveted by many Republican presidential hopefuls each election cycle.
"There's a lot to like about Marco Rubio," Vander Plaats told Reuters.
Vander Plaats said he wanted to hear specific strategies from the Republican candidates on how to fight gay marriage. Any attempts to straddle the issue would be a problem for him, he added.
While calling attendance at a gay wedding a personal decision, "I probably wouldn't be going" to a same-sex ceremony, he said. "That shows me endorsing and supporting something that I frankly really disagree with."
Rubio, a Roman Catholic who often talks about his faith, has long defined marriage as between a man and a woman and said that it should be left to the states to regulate marriage. Asked whether his comments over the past week represented a softening in his views, a Rubio spokeswoman, Brooke Sammon, said his position was "clear and well-established."
The Log Cabin Republicans' Angelo said, however, that Rubio was "not as adamantly opposed to all things LGBT as some of his statements suggest." The staff meetings did not include Rubio, he said.
The group has also met with Republican presidential contenders: former Hewlett-Packard CEO Carly Fiorina earlier this year and Senator Rand Paul and Wisconsin Governor Scott Walker, both in 2013.
Paul has sought to differentiate between traditional marriage and civil contracts, while Walker said at the weekend he had attended a wedding reception for a gay relative.
Efforts by Rubio, Paul and Walker to add nuance to their views on gay marriage could play well with some younger Republicans, even if it proves unpopular with social conservatives.
Among likely Republican primary voters, 68 percent oppose gay marriage, according to Reuters/Ipsos data. By contrast, 49 percent of Republicans aged 18 to 29 support same-sex marriage, while 41 percent oppose it and 10 percent are undecided.
The split is much higher among all Americans 18 to 29, regardless of political affiliation. Seventy-eight percent support gay marriage, with 15 percent opposed and 7 percent unsure.
Data from the Pew Research Center show how quickly that change has come about: In 2003, 51 percent of people born in 1981 or later supported gay marriage. By 2014, that number had jumped to 67 percent.
"It would be a very stupid move, in my opinion, politically for the party or the candidates to hold onto" opposition to gay marriage, said Pat Brady, a former chairman of the Illinois Republican party. Brady stepped down from the post in 2013 in part because of his stance on same sex marriage.
Even among many Democrats, attitudes have only recently changed.
Hillary Clinton herself, the Democratic front runner, has a history of distancing herself from the issue. "For me, marriage had always been a matter left to the states," she said in an NPR interview last year.
But this month, Clinton issued a statement saying she hopes the Supreme Court rules in favor of same-sex marriage. On April 28, the justices will hear oral arguments on whether there is a constitutional right to gay marriage. A ruling is expected in June.
With that case pending, gay marriage is almost certain to come up an event on Saturday hosted by the Iowa Faith & Freedom Coalition. Among the speakers will be senators Rubio, Paul and Ted Cruz, as well as Walker and other Republican hopefuls.
In 2012, Mitt Romney was the out-of-touch establishment Republican who sparked a right-wing primary backlash. A New Hampshire GOP event this weekend suggests the storyline could play out again with Jeb Bush.
In New Hampshire this weekend, there was already the scent of it. Perhaps not overpowering yet, but unmistakable and very familiar.
"I'm sick and tired of mushy, wishy-washy conservatives," one attendee of a Republican gathering for potential presidential candidates in New Hampshire told The Boston Herald.
For good measure, she also made Saturday's headlines by suggesting that the still-awfully-far-away Republican presidential primary season would be a "coronation" because "it seems a little bit like the establishment is backing you as a candidate," according to The Hill newspaper.
Recommended: 16 Republicans who might run in 2016
The "you" here is not terribly hard to determine. No surprise, it's Jeb Bush. But rewind the electoral clock about four years, and the same comments were being mumbled about Mitt Romney.
Mr. Bush III is not yet in the presidential race, though he is apparently raising enough money to singlehandedly send Richard Branson to Jupiter, so there's not much mystery about his intentions. Unfortunately for him, there is also not much mystery about the fact that once he enters, he will inherit the Romneyian title of "Republican presidential front-runner for whom no Republican really wants to vote."
That's not really true, of course. Plenty of Republicans would vote for Bush – or, at this indecently early stage, would at least consider it.
But those are not the sorts of Republicans who come out events like the ones this weekend. Nor are they the sorts of Republicans most likely to show up for primaries, as Mr. Romney discovered four years ago.
So, early though it is, the signs are becoming harder to ignore. It appears that the one thing the Republican establishment feared above all else could be happening again: the repeat of Mitt Romney.
By that, we don't mean the actual return of Mitt Romney. Nor do we mean to suggest that the Republican Party did not like Mitt Romney himself.
What we mean is that the Republican Party absolutely does not want a return of what happened in 2012, when Romney had to run a gamut of the right wing's "not ready for primetime players" before Republicans eventually surrendered the nomination to him with a shrug and a thud at the ballot box.
Bush's hundreds of millions are as good an indicator as any right now of where the establishment's money is (literally). The comments from New Hampshire rabble-rousers this weekend, however, are probably also a decent indicator of the sorts of voices that will be driving the Republican conversation until the convention in July 2016.
That's 15 months from today.
The fact is, the Republican establishment – and Jeb Bush – are struggling against several trends that were complicating factors in 2012 but could be even more potent next year.
The Chipotle effect. This past week, we caught fascinating glimpses of how the populist left has forced Hillary Rodham Clinton to attempt to reinvent herself. Once she was imperious and adored for it. Her sunglasses and Blackberry meme oozed cool intellectual indifference. Now, she's chowing Chipotle burrito bowls and doing everything short of taking to the stage at the MTV Video Music Awards to kiss liberal heartthrob Sen. Elizabeth Warren.
Well, Republican presidential nominees have been dealing with this since on the right 2010. It's called the tea party.
But even beyond the tea party, populism is spreading across the political spectrum. It's most notable form seems to be chatter about income inequality.
Senate majority leader Mitch McConnell (R) of Kentucky told CBS's "60 Minutes" that the richest "1 percent" of Americans "have done quite well," while middle- and lower-income Americans are "worse off." House Speaker John Boehner (R) of Ohio also said that income equality was worse. Nevermind that they were trying to blame President Obama. The subject itself comes straight from Senator Warren's talking points and has relegated their 2012 talk of protecting "job creators" to the dustbin.
On a policy level, that might play to some of Bush's strengths. He's seen as more moderate – even liberal – on social and economic matters. But on a visceral level, anyone who has a family compound in Kennebunkport, Maine, and two presidents in the family might have a hard time casting himself as a crusader for the common man.
The money effect. Yes, Bush appears to be trying to loop the field financially before he officially declares his candidacy. But there's a reason for that. In the wide-open fundraising world of today, almost everyone has someone who wants to give them gobs of money.
Two weeks ago, Sen. Ted Cruz (R) of Texas (indirectly) got $31 million. The money was tabbed for four super political action committees aligned with him. And that's just a taste.
The fundraising fire hose is flowing like never before, and it means more candidates will have more money to run more ads for more months than ever before. In other words, the party has less and less control over the field, as Mark Trumbull reported for the Monitor. Which means it has less and less ability to clear the field for an establishment favorite. Which means that New Hampshire Republican will likely get her way.
There will be no "coronation."
The Rubio effect. In 2012, Romney's list of opponents had some past pedigree but little buzz entering the primary season. The rise and fall of Newt Gingrich, Herman Cain, and Rick Santorum seemed, at least on some level, a rebuke to Romney more than a positive vote of real conviction.
Next year, however, the Republican field should be packed with intriguing candidates, from Senator Cruz and Sen. Rand Paul (R) of Kentucky, who each bring a narrow but intensely passionate following, to Wisconsin Gov. Scott Walker, who has become a conservative folk hero for his battle against unions.
Charismatic New Jersey Gov. Chris Christie has yet to announce, and political analysts say Sen. Marco Rubio of Florida could be the best and most compelling campaigner of the lot.
In 2012, Romney seemed to win the nomination by default. In 2016, Bush almost certainly will not have that luxury.
Marco Rubio: Being Gay Is Not A Choice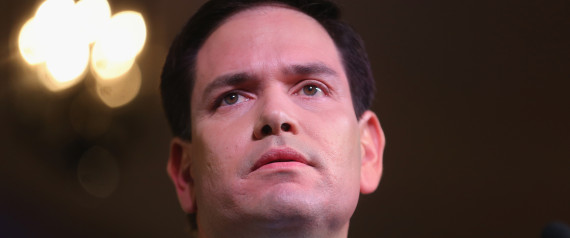 Sen. Marco Rubio (R-Fla.) said on Sunday that he didn't think being gay was a choice but rather the way some people were born.
During an appearance on CBS' "Face The Nation," Rubio, who launched his 2016 presidential campaign last week, said that he believes the definition of marriage is a union between a man and a woman. The Florida senator also added said that same-sex marriage was not a constitutional right and should be decided by state legislatures, not the courts.
Despite his position, Rubio added that he didn't think being gay was a choice.
"I also don't believe that your sexual preferences are a choice for the vast and enormous majority of people," he said. "In fact, the bottom line is I believe sexual preference is something that people are born with."
Last week, Rubio also said that he would attend a gay wedding of a loved one, even if he disagreed with the "choice" that loved one had made.
"I'm not going to hurt them simply because I disagree with a choice they've made or because I disagree with a decision they've made, or whatever it may be," Rubio said. "Ultimately, if someone that you care for and is part of your family has decided to move in one direction or another or feels that way because of who they love, you respect that because you love them."
In the past, Rubio has distinguished between opposing same-sex marriage and being anti-gay.
"Supporting the definition of marriage as one man and one woman is not anti-gay. It is pro-traditional marriage," Rubiosaid last year.
Last Edited: April 19, 2015, 11:26 pm
Last Edited: April 18, 2015, 1:21 am
FiveThirtyEightUnlike Hillary Clinton, the entire GOP field is either obscure or unpopular
Updated by Matthew Yglesias on April 13, 2015, 11:20 a.m. ET @mattyglesias matt@vox.com
Nate Silver and his team at FiveThirtyEight put together this great graphic summarizing the popularity of various key political players and how well-known they are to the general public.
But I think his spin on it is a little odd. Silver cites it as evidence that 2016 is a toss-up and characterizes it as showing that "nobody likes anybody."
But to me, this looks to me like a picture explaining that Hillary Clinton is dramatically more popular than her main rivals for the presidency:
It is certainly true that Clinton's just-barely-over-water approval ratings aren't overwhelming. But elections are zero-sum. The Clinton-Bush gap and the Clinton-Cruz gaps are both enormous. It is true that Clinton's advantages over Scott Walker and Marco Rubio are not that large, but she is dramatically better-known than either of those guys.
So what you make of this chart largely comes down to whether you think it's plausible that these obscure-but-slightly-less-popular-than-Clinton Republicans can maintain their level of popularity while becoming better-known.
I'm going to say no.
It's very likely that outside of their home state, the Rubios and Walkers of the world are better-known to people with conservative leanings than people with liberal leanings. They've already introduced themselves, in other words, to a self-selected audience that is predisposed to view them favorably. As more people hear of them and learn that they have largely mainstream conservative views similar to those of Jeb Bush and Chris Christie, they are likely to end up with approval ratings that are similar to Bush's and Christie's.
Last Edited: April 13, 2015, 11:29 pm
Last Edited: April 12, 2015, 10:51 am
Long Island High Schooler Accepted by All 8 Ivy League Colleges
A high school senior on Long Island has a big decision to make: He has been accepted to all 13 colleges he applied to, including all eight Ivy League schools.
On March 31, when the official college decisions were posted online, Harold Ekeh logged onto his computer in Elmont, New York. The 17-year-old was shocked to discover he was accepted to all eight Ivies, as well as the Massachusetts Institute of Technology, Johns Hopkins, Vanderbilt, New York University and SUNY Stony Brook.
North Carolina Teen Writes Rejection Letter to Duke University's Rejection Letter
MIT Releases Drone-Themed Admissions Video in Anticipation of Decision Day
His mother was with him when the great news came in.
"Everyone was so excited and surprised," he said. "The hard work paid off."
Ekeh's impressive high school resume spans from conducting scientific research, to starting a college prep mentoring program, to serving as editor-in-chief of the newspaper and vice president of Model United Nations.
But Ekeh's true passion is medicine. He says he plans to attend medical school and specialize in neurosurgery.
"I knew I wanted to go to a really good school that would allow me to get into a great medical school," he said.
Ekeh said he didn't have a certain college in mind until he visited Yale with his high school's Model United Nations team.
"I got to see how passionate people are at Yale," he said. "That skewed me to start leaning towards Yale in my junior year."
Wherever he ends up, Ekeh says he's looking forward to college courses that "spark my intellectual curiosity."
"And I want to learn things outside the classroom," he said. "I'm looking forward to hands-on internships and travel abroad opportunities."
"And definitely the student life," he added. "The new friends that I'll meet. I'm sure I'll meet long-lasting friends there."
So how will the high schooler make his big decision?
"I still have to make visits to other schools like Harvard, Princeton and MIT," he said today. "That's what I'll do in the upcoming weeks."
He has until May 1 to decide.
Last Edited: April 6, 2015, 9:57 am