LiLSpeedy's Blog
LiLSpeedy's Blog has 716 entries (2 private) and has been viewed 658,455 times.
Lottery Post members have made 1306 comments in LiLSpeedy's Blog.
LiLSpeedy is a Platinum member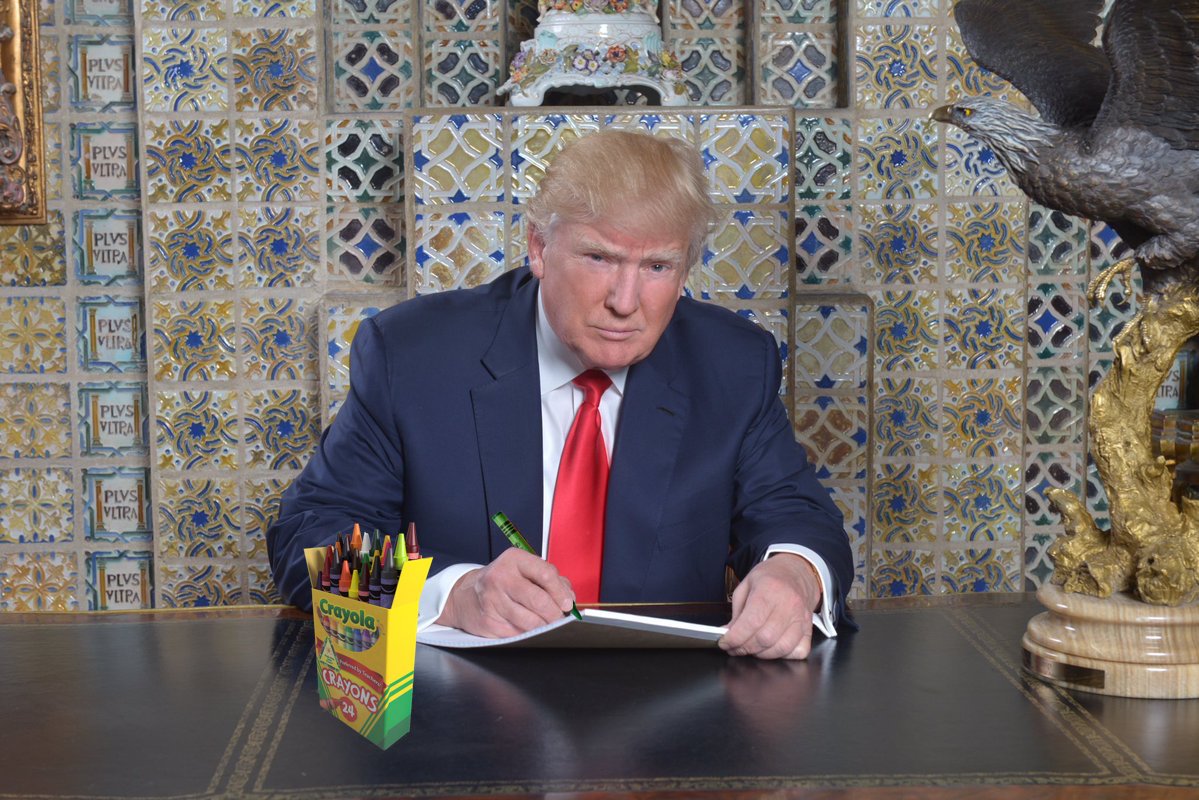 Donald Trump is busily preparing for Inauguration Day on Friday, at least that's what he wants Twitter users to believe.
Earlier today, Trump tweeted a photo of himself with the caption, "Writing my inaugural address at the Winter White House, Mar-a-Lago, three weeks ago. Looking forward to Friday. #Inauguration."
In the photo, Trump appears to be holding a Sharpie, while the page he supposedly is writing on is positioned conveniently at an angle so as not to reveal its contents.
Attentive Twitter users were quick to troll Trump for the photo, with everything from "Titanic" memes to sketches of Putin.
Last Edited: January 17, 2017, 1:07 am
14 of Trump's most outrageous 'birther' claims -- half from after 2011
"Mr. Trump believes that President Obama was born in the United States," the campaign conceded, a gesture meant to end questions -- which have bubbled up again in the past weeks -- surrounding Republican nominee's role in advancing a fiction meant to delegitimize the first African-American commander in chief.
Trump himself, however, had not until Friday publicly said he believes Obama was born in the US. And asked recently about his role in promoting the racially charged smear, Trump went uncharacteristically mum.
Read More
"I don't talk about it because if I talk about that, your whole thing will be about that," he told reporters last week. "So I don't talk about it."
Here's a laundry list of birther declarations Trump made before he tried to put the controversy to rest:
"Why doesn't he show his birth certificate? There's something on that birth certificate that he doesn't like."
- March 23, 2011, on "The View"
"He's spent millions of dollars trying to get away from this issue. Millions of dollars in legal fees trying to get away from this issue. And I'll tell you what, I brought it up, just routinely, and all of a sudden a lot facts are emerging and I'm starting to wonder myself whether or not he was born in this country."
- March 28, 2011, on Fox News
"He doesn't have a birth certificate, or if he does, there's something on that certificate that is very bad for him. Now, somebody told me -- and I have no idea if this is bad for him or not, but perhaps it would be -- that where it says 'religion,' it might have 'Muslim.' And if you're a Muslim, you don't change your religion, by the way."
- March 30, 2011, on The Laura Ingraham Show
"I have people that have been studying [Obama's birth certificate] and they cannot believe what they're finding ... I would like to have him show his birth certificate, and can I be honest with you, I hope he can. Because if he can't, if he can't, if he wasn't born in this country, which is a real possibility ... then he has pulled one of the great cons in the history of politics."
- April 7, 2011, on NBC's "Today" show
"His grandmother in Kenya said, 'Oh, no, he was born in Kenya and I was there and I witnessed the birth.' She's on tape. I think that tape's going to be produced fairly soon. Somebody is coming out with a book in two weeks, it will be very interesting."
- April 7, 2011, on MSNBC's "Morning Joe"
Note: On April 27, 2011, President Obama made public his long form birth certificate. The Trump campaign in his statement portrayed this as the event that resolved the situation.
"Having successfully obtained President Obama's birth certificate when others could not, Mr. Trump believes that President Obama was born in the United States," Miller said.
But as the following comments demonstrate, whatever he thought personally, Trump continued to gin up birther issues for years after.
"He didn't know he was running for president, so he told the truth. The literary agent wrote down what he said ... He said he was born in Kenya and raised in Indonesia ... Now they're saying it was a mistake. Just like his Kenyan grandmother said he was born in Kenya, and she pointed down the road to the hospital, and after people started screaming at her, she said, 'Oh, I mean Hawaii.' Give me a break."
- May 24, 2012, interview with The Daily Beast's Lloyd Grove, responding to an erroneous report about Obama
"A lot of people do not think it was an authentic certificate. ... Many people do not think it was authentic. His mother was not in the hospital. There are many other things that came out. And frankly if you would report it accurately I think you'd probably get better ratings than you're getting."
- May 29, 2012, to CNN's Wolf Blitzer
"An 'extremely credible source' has called my office and told me that @BarackObama's birth certificate is a fraud."
- August 6, 2012, in a tweet more than a year after Obama released his longform birth certificate
"Was it a birth certificate? You tell me. Some people say that was not his birth certificate. Maybe it was, maybe it wasn't. I'm saying I don't know. Nobody knows."
- August 2013, to ABC News
"How amazing, the State Health Director who verified copies of Obama's 'birth certificate' died in plane crash today. All others lived."
- December 12, 2013, in tweet about the death of Loretta Fuddy.
"Well, I don't know -- did he do it? ... Well, a lot of people don't agree with you and a lot of people feel it wasn't a proper certificate."
-May 2014,in an interview with TV3's Colette Fitzpatrick in Ireland, Trump first contested whether Obama had released his birth certificate, then questioned whether its legitimacy.
"There are three things that could happen. And one of them did happen. He was perhaps born in Kenya. Very simple, OK? He was perhaps born in this country. But said he was born in Kenya because if you say you were born in Kenya, you got aid and you got into colleges. People were doing that. So perhaps he was born in this country, and that has a very big chance. Or, you know, who knows?"
- May 27, 2014, in remarks at the National Press Club
"Who knows about Obama? ... Who knows, who knows? Who cares right now?... I have my own theory on Obama. Someday I will write a book, I will do another book, and it will do very successfully."
- January 6, 2016, in an interview with CNN's Wolf Blitzer.
"I'll answer that question at the right time. I just don't want to answer it yet ... I don't talk about it anymore. The reason I don't is because then everyone is going to be talking about it as opposed to jobs, the military, the vets, security."
- September 15, 2016, in an interview with The Washington Post.
This Republican congresswoman's Twitter poll on Obamacare didn't go well for her — at all
Representative Marsha Blackburn's tweet about repealing Obamacare backfires.
Marsha, Marsha, Marsha ...
A Twitter poll by ardent Obamacare foe Rep. Marsha Blackburn, R-Tenn., on whether the health-care law should be repealed backfired big-time Wednesday as lots more people — a whole lot more people — tweeted "No," rather than "Yes."
Blackburn posted the poll Tuesday, asking people their views on repeal, and requesting that they retweet their support for killing Obamacare if they favored repeal.
She also asked in that tweet what people want to see as a replacement for the Affordable Care Act.
When the poll closed Wednesday, a whopping 84 percent of the nearly 8,000 votes were for "No" on the question of repeal.
The Hill.com noted that Blackburn's cause probably wasn't helped by the fact that White House Deputy Press Secretary Eric Schultz retweeted the poll Tuesday to his more than 23,000 Twitter followers.
Schultz's boss, President Barack Obama, lists the ACA as his signature legislative achievement, and on Wednesday visited Capitol Hill to encourage his fellow Democrats to defend it against Republican repeal-and-replace efforts.
Also Wednesday, President-elect Donald Trump, who has repeatedly called for the repeal of the ACA, warned his fellow Republicans in several tweets to "be careful" how they handle the issue. Trump's tweets said Democrats "own" the "mess" and "disaster" of Obamacare, implying that if Republicans repeal-and-replace efforts lead to spikes in uninsured rates and premium prices, they too could suffer political fallout.
Last Edited: January 5, 2017, 4:19 am
Jan 2, 2017
The original headline

read

, "Russian hackers penetrated U.S. electricity grid through a utility in Vermont, U.S. officials say." The Washington Post reported, "A code associated with the Russian hacking operation dubbed Grizzly Steppe by the Obama administration has been detected within the system of a Vermont utility, according to U.S. officials."
The article went on to cite unnamed national security officials, including one who said that although "Russians did not actively use the code to disrupt operations of the utility," the "penetration of the nation's electrical grid is significant because it represents a potentially serious vulnerability."
So purportedly hacking the election (pdf) wasn't enough and the Russians are hacking our grid now? News agencies citing anonymous national security officials as sources is common and it's no secret that US infrastructure has been horribly vulnerable for years. The news created a frenzy, with numerous politicians pinging in with dire warnings.
That might be expected, except that the article was incorrect. So incorrect that not even two hours later, the Burlington Electric Department issued a formal statement which included: "We detected the malware in a single Burlington Electric Department laptop not connected to our organization's grid.
Burlington Electric Department
Social media exploded over the "fake news" and various news outlets started picking the "facts" apart. The Washington Post later made changes, one revision claimed multiple "computers" had been infected with malicious code, although that version bit the dust shortly afterwards.
Eventually the Post settled on a final version and finally added an editorial note: "An earlier version of this story incorrectly said that Russian hackers had penetrated the U.S. electric grid. Authorities say there is no indication of that so far. The computer at Burlington Electric that was hacked was not attached to the grid."
It would be nice to know how the malware used in Grizzly Steppe ended up on a laptop that isn't connected online. Are Fancy Bear or Cozy Bear – which are dubbed as APT28 and APT29 by the feds – responsible? DHS warned utilities to scan for the malware. Is one laptop at one utility all that was found to be infected? If the malware developed by the Russians can be purchased, then couldn't someone else be responsible for putting it on the laptop?
SponsoredPost Sponsored by Brother International
President-elect Donald Trump might know and said he plans to continuing using Twitter to keep Americans informed; he even recently tweeted praise for Russian leader Valdimir Putin. At a New Year's Eve celebration, Trump claimed that he knew "things that other people don't know" and would reveal new details about the alleged Russian hacking later this week. He added that he knows "a lot" about hacking and that it is a "very hard thing to prove."
Incoming White House Press Secretary Sean Spicer hit the brakes on that promise, saying Trump won't actually reveal anything explosive. Spicer said on CNN, "He's going to talk about his conclusions and where he thinks things stand. He's not going to reveal anything that was privileged or was shared with him classified. I think he can share with people his conclusions of the report and his understanding of the situation and make sure people understand there's a lot of questions out there."
Trump has also suggested that "very important" information should be written out and "delivered by courier, the old fashioned way because I'll tell you what, no computer is safe." Apparently his 10-year son "can do anything with a computer," so if "you want something to really go without detection, write it out and have it sent by courier." To the go extra mile, he should consider using vanishing ink. Maybe Putin can fix him up since the KGB developed it.
Last Edited: January 2, 2017, 8:16 pm
By Victoria
I'm fully aware of the fact that people have been calling President Obama and First Lady Michelle Obama out of their names since he became a serious candidate for president years ago. I also know that people have been calling Black folks every type of primate for centuries. However, it could just be me, but I've noticed as of late that comparing the Obamas publicly and proudly to monkeys has become something of a new trend. It's as tired as tired can be.
Like Arkansas teacher Trent Bennett. He didn't think twice about calling FLOTUS a "nasty chimp" and President Obama a "spider monkey" on Facebook. This teacher, charged with the important role of shaping young minds, didn't care if his students, or anyone for that matter, read his racist remarks. His comments are reportedly being investigated by the Malvern School District he's employed by.
Then there was Pamela Taylor, director of the Clay County Development Corp (CCDC) in West Virginia. She called Michelle Obama an "ape in heels" on Facebook after the election, and her ugly comments were affirmed by the mayor of Clay County, Beverly Whaling. While Whaling would resign from her post after the comments went viral, Taylor was allegedly cut from her position in November, only to be reinstated. It wasn't until the state felt prompted to review its contracts with the nonprofit that the obvious move was finally made and Taylor was fired.
And then there's Carl Paladino, the New York co-chair for the Donald Trump campaign. When asked what he hoped would go away in 2017 (as part of a lighthearted end-of-year survey), Paladino said he'd like to see Michelle Obama "return to being a male and let loose in the outback of Zimbabwe where she lives comfortably in a cave with Maxie, the gorilla." When he was confronted about his hateful remarks, including ones where he said he wished that President Obama would die of mad cow disease in 2017, Paladino called it all a "mistake" and blamed his "deprecating humor" on a "bad" president.
And the list goes on. Doctors, radio and TV hosts, mayors, House candidates, Fox News viewers and pretty much racists of all walks of life have made monkey comments.

And while the obvious response from many is to blame president-elect Trump for all the vitriol being spilled openly these days, these racists (and the few still in hiding) have been bigots for quite some time. He's only made them more comfortable. Despite the fact that they should take comfort in the fact that President Obama will no longer be in office after January, they can't contain themselves. That's when the real reasons behind their disdain for our POTUS come out, loud and clear.
But that's what happens when you don't have a real reason to hate someone. You dwell on the surface stuff. You try to call them ugly, or manly or compare them to monkeys. (You would think that after centuries, people could come up with something better…). You try and remind people that they are still just this or only that. When you know that they've accomplished more than you believed they could, you try to belittle them in the most trivial ways possible.
And with President Obama preparing to finish a second term with high approval ratings and at the top of Gallup's Most Admired list based on votes, all some people can do is scramble to demean. It says a lot about them, but it also says great things about President Obama and the First Lady. Despite the low blows and the incendiary comments, they truly do go high. They focus on the good in this country, on hope, and leave such pettiness to be checked by people who have the time for it. They let the people talk, because the only way such small-minded individuals think they can overshadow his accomplishments and the marks their family has made on this country is to try and drown out the positive with negative talk.
But attempts to undermine their legacy, President Obama's specifically, only further amplify the fact that they're a class act. There's been no controversy, no bad behavior from their daughters, no incidents or squabbles. Therefore, folks find themselves desperate to grab for something. And with President Obama still in the news for his last initiatives and moves, moves to further solidify his legacy in preparation for what is sure to be a sh-t show for the next four years, the bigots are barking. And with that comes the "monkey" card.
All of it is yet another reminder that there wasn't anything post-racial about President Obama's election or terms. In fact, his election may have increased the racial tension. But detractors can't change what's already been set in stone. No matter where you stand on the issues, you have to give the First Couple credit for consistently remaining above the obvious hatred and for giving the haters nothing but dust and their own ugliness to work with. And if you can't, that's okay. We clearly know whose side you're on.
https://www.washingtonpost.com/opinions/as-trump-prepares-his-kissy-face-for-putin-a-glimpse-into-the-dictators-soul/2016/12/27/558b5b04-cc4c-11e6-a87f-b917067331bb_story.html?tid=hybrid_collaborative_2_na&utm_term=.b1362950eab5
Last Edited: December 28, 2016, 12:30 am
kcbakerpeoplemag
PeopleDecember 22, 2016
Manslaughter Charges for Atlanta Lawyer Who Says He Shot Wife Accidentally Because He Was Afraid of Carjacking. The Atlanta attorney who says he accidentally fatally shot his wife in September after pulling out his gun because he was afraid of a carjacking received a $200,000 bond Thursday, according to reports.
Claud "Tex" McIver made his first appearance at a hearing in Fulton County Magistrate Court in Atlanta after surrendering the day before, the Atlanta Journal-Constitution reports.
Chief Magistrate Judge Cassandra Kirk ordered McIver to turn over his passport and to wear an ankle monitor while the state continues to investigate the death of his wife, Diane Smith McIver, according to WALB. Prosecutors had contended he was a flight risk.
McIver, who turned 74 on Thursday, was also ordered not to carry any weapons.
McIver is charged with involuntary manslaughter, a felony, and reckless conduct, a misdemeanor, for shooting Diane, 63, in the back as the two rode in their SUV with a friend near Piedmont Park late on the night of Sept. 25.
McIver was in the back seat when he says the Ford Explorer hit a bump in the road and his .38 snub-nose revolver went off, shooting Diane, who was sitting in the front passenger seat. She died in surgery several hours later at Emory University Hospital.
McIver says he pulled the gun out of the center console because he thought they were about to be carjacked. Bill Crane, a McIver family friend, told the The Atlanta Journal-Constitution that McIver was afraid of the unrest surrounding recent Black Lives Matter protests.
McIver had fallen asleep with the gun in his lap and has no recollection of pulling the trigger, Crane told the newspaper.
Diane was president of the Atlanta-based marketing company Corey Airport Services, where she had worked for 43 years. Employees described her as a "passionate leader and prominent businesswoman" on the company's Facebook page.
McIveris a partner at law firm Fisher Phillips, and is on the advisory committee of the American Bar Association's Standing Committee on Gun Violence.
He was indicted in 1990 on gun and assault charges, according to court records.
The case was later dropped following a settlement, according to court records. The terms were never publicly disclosed.
The district attorney and McIver's lawyers did not immediately return PEOPLE's calls for comment.
Last Edited: December 23, 2016, 11:19 am
Since everyone was making a big deal about President Obama's ethnicity I decided to have my DNA tested and I have some rather surprising results. My DNA make-up is 75% African and 25% European. I challenge some of you at LP to have yours tested, then maybe some of you people won't be so racist.
AFRICA -- 75%
Ivory Coast/Ghana----33%
Cameroon/Congo------15%
Senegal--------------------9%
Mali------------------------6%
Nigeria---------------------5%
Africa Southeastern Bantu-----4%
Benin/Togo----------------------2%
Africa South-Central Hunter-Gatherers-1%
EUROPE -- 25%
Ireland---------13%
Great Britain—9%
Scandinavia-----2%
Europe West--<1%
http://www.fool.com/retirement/2016/12/17/surprise-republicans-just-introduced-a-bill-that-w.aspx
Johnson's legislation would increase the full retirement age from 67, which is the current expectation of people born in 1960 and after, to 69 years of age by 2030. That's thirteen years from now, so generation-X be prepared to work two extra years.
Individuals earning in excess of $85,000 and couples with more than $170,000 in earnings would have their COLAs completely cut out beginning in December 2018. While the cost of living will steadily go up, your income will remain the same. That's not what seniors look forward to in retirement.
In other words, by raising the age of retirement it will force seniors to work longer, thus sucking the life out of them and leaving them with less years to enjoy their senior years. This will affect our grandchildren bigly.