LiLSpeedy's Blog
LiLSpeedy's Blog has 683 entries (2 private) and has been viewed 614,893 times.
Lottery Post members have made 1194 comments in LiLSpeedy's Blog.
LiLSpeedy is a Platinum member
Last Edited: October 21, 2016, 11:59 pm
http://www.huffingtonpost.com/entry/trump-native-americans-arizona_us_5802f2dfe4b06e0475954a71?ref=yfp
Because while the Republican presidential nominee appears to have forgotten about Native Americans of late, with his focus on Muslims and Mexicans, Arizona's hundreds of thousands of Native Americans have not forgotten about him.
"I heard it for a long time, how he talks about Indians," said Dennis Tsinnijinnie, 69 and among the first to cast his ballot on the sunny but brisk opening morning of Arizona's early vote period last week.
Tsinnijinnie was talking about Trump's behavior from decades ago, when he accused some Native Americans of faking their ethnicities to win casino licenses. When he disparaged tribes for receiving federal money for roads. When he mocked their sovereignty. And, more recently, when he insulted Sen. Elizabeth Warren (D-Mass.) with the epithet "Pocahontas."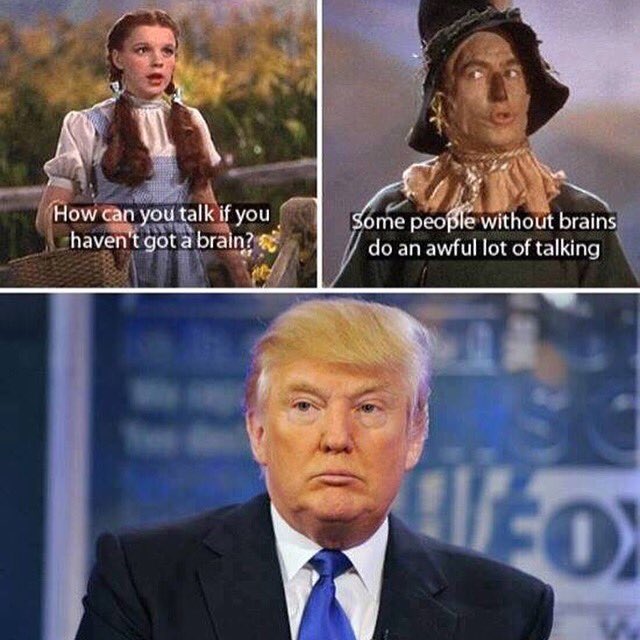 Last Edited: October 11, 2016, 12:32 am
'Locker Room Banter' or Far Worse? Trump's Lewd Language, Analyzed by Psychologists


Jennifer Gerson UffalussyContributing Writer
October 8, 2016



Trump's bro-talk dehumanizes women, experts say. And they fear its repercussions if he's elected president.
"When you're a star, they let you do it. You can do anything. Grab them by the p***y. You can do anything."
On Friday, The Washington Post published leaked Access Hollywood footage from 2005 of Republican nominee Donald Trump making these remarks to Billy Bush, the show's co-host at the time, while the two were en route to the set of the soap opera Days of Our Lives, where Trump was to tape a cameo performance.
In the video, Trump can be heard discussing his attempts to, as the Post puts it, "kiss, grope and try to have sex with various women."
"I better use some Tic Tacs just in case I start kissing her," Trump said when Bush told him a "hot as s***" woman — actress Arianne Zucker— was approaching their vehicle to meet them. "You know, I'm automatically attracted to beautiful… I just start kissing them. It's like a magnet. Just kiss. I don't even wait."
In an initial statement made on Friday, Trump passed off his words as "locker room banter" and "a private conversation that took place many years ago," adding that "Bill Clinton has said far worse to me on the golf course." Early Saturday morning, he released a video, stating: "I've never said I'm a perfect person nor pretended to be someone that I'm not. I've said and done things I regret and the words released today, on this more than a decade old video, are one of them."

But the experts we spoke with are concerned that such attitudes and language can perpetuate violence against women.
"The language that Trump used was typical 'bro talk' in which men talk to other men about women as if they (women) are sex objects rather than fully human," Sarah Gervais, PhD, associate professor of psychology at the University of Nebraska-Lincoln, tells Yahoo Beauty in an email. "When you describe women only in terms of their sex appeal or reduce them to their sexual body parts, you render invisible their humanity."
She points out that the tone of Trump's "banter" may also be harmful to female self-confidence. "Research from our lab shows that when women are treated in objectifying ways, they start to see themselves as sexual objects and feel more body shame, heightened anxiety and safety concerns," says Gervais. "Seeing this type of behavior from our leaders (even if they say that it is only 'locker room' talk), reinforces the notion that women are and should be treated as sex objects. It is highly problematic for the way men see women as well as how women see themselves."
Experts went as far as saying that this sort of language, when used by a leader, could potentially contribute to attitudes of violence against women.
Neil Malamuth, PhD, is a professor in the University of California-Los Angeles's Department of Psychology who studies the causes of sexual aggression. He tells Yahoo Beauty that the type of comments made by Trump and the attitudes that seem to underlie them "clearly are similar" to the measures of attitudes supporting violence against women that his research has consistently shown to contribute to men's sexual aggression against women.
One study conducted by Malamuth measured men's characteristics and the likelihood of their committing acts of aggression against women, especially acts of sexual aggression. In this study, women pretended to be subjects in the study alongside actual male subjects — and were instructed to "mildly reject" any advances the male subjects made on them. Afterward, there was a taped conversation between the man and the woman who had rejected him. These conversations were then coded for various characteristics of hostility.
"We found, as predicted, that men who are more prone to commit acts of sexual aggression in the real world in this context did express in how they talked to women — hostility, put downs — anger at their rejection," Malamuth notes. "This one study shows the activation of that kind of aggression that can be expressed in words."
Malamuth notes that the individuals we choose to lead our country are those who we feel can represent our "best qualities" and become role models for ourselves and our children. "If our best qualities are conducive to violence against women, it certainly doesn't help create a climate that would reduce violence against women and if anything might contribute to a social climate that, at a societal and individual level, facilitates and encourages violence against women."
Last Edited: October 9, 2016, 12:21 am
Kaine did exactly what he was supposed to do. He stood up for Hillary. Pence did not do that for Trump. Instead he sat there with a sanctimonious look on his face as if he was running for president and flat-out lied. He made himself look like a yes man to a buffoon. Looking presidential when you are supposed to be promoting Trump defeats the purpose of having a VP debate. Kaine hammered him on Trump's taxes and immigration. Kaine did to him what Trump tried to do to Hillary. Kaine answered the questions that Pence offered gibberish to. Pence was shamed of Trump...it showed all over his face and the way he dodged questions about him.
Last Edited: October 5, 2016, 1:22 am