eddessaknight's Blog
eddessaknight's Blog has 1,219 entries (4 private) and has been viewed 591,331 times.
Lottery Post members have made 3216 comments in eddessaknight's Blog.
eddessaknight is a Standard member
AN ACTUAL CRAIG'S LIST
PERSONALS AD
To the Guy Who Tried to Mug Me in Downtown Savannah night before last.
Date: 2019,18th, 1:43 am E.S.T.
I was the guy wearing the black Burberry jacket that you demanded that I hand over, shortly after you pulled
the knife on me and my girlfriend, threatening our lives. You also asked for my girlfriend's purse and earrings. I can only hope that you somehow come across this rather important message.
First, I'd like to apologize for your embarrassment; I didn't expect you to actually crap in your pants when I drew my pistol after you took my jacket. The evening was not that cold, and I was wearing the jacket for a reason. my girlfriend was happy that I just returned safely from my 2nd tour as a Combat Marine in Afghanistan.
She had just bought me that Kimber Custom Model 1911 .45 ACP pistol for my birthday, and we had picked up a shoulder holster for it that very evening. Obviously you agree that it is a very intimidating weapon when pointed at your head ... isn't it?!
I know it probably wasn't fun walking back to wherever you'd come from with crap in your pants.
I'm sure it was even worse walking bare-footed since I made you leave your shoes, cell phone, and wallet with me. (That prevented you from calling or running to your buddies to come help mug us again).
After I called your mother or "Momma" as you had her listed in your cell, I explained the entire episode of what you'd done.
Then I went and filled up my gas tank as well as those of four other people in the gas station, -- on your credit card. The guy with the big motor home took 153 gallons and was extremely grateful!
I gave your shoes to a homeless guy outside Vinnie Van Go Go's, along with all the cash in your wallet.
[That made his day!]
I then threw your wallet into the big pink "pimp mobile" that was parked at the curb ... after I broke the windshield and side window and keyed the entire driver's side of the car.
Earlier, I managed to get in two threatening phone calls to the DA's office and one to the FBI, while mentioning President Trump as my possible target.
The FBI guy seemed really intense and we had a nice long chat (I guess while he traced your number etc).
In a way, perhaps I should apologize for not killing you ... but I feel this type of retribution is a far more appropriate punishment for your threatened crime. I wish you well as you try to sort through some of these rather immediate pressing issues, and can only hope that you have the opportunity to reflect upon, and perhaps reconsider, the career path you've chosen
to pursue in life. Remember, next time you might not be so lucky.
Have a good day!
Thoughtfully yours,
Semper fi,
Alex
Las Vegas police identify white officer shot during rioting
A photo of police officer Shay K. Mikalonis, who was shot and is in critical condition following a protest
A Las Vegas police officer was shot and critically injured late Monday as police attempted to take protesters into custody in front of Circus Circus during a Black Lives Matter protest, Clark County Sheriff Joe Lombardo said.

He was identified Tuesday afternoon as 29-year-old Shay Mikalonis, a four-year veteran of the Metropolitan Police Department.
Last Edited: Today, 10:10 pm
| | |
| --- | --- |
| | Gipsy Kings - Princessa |
Spend a minute to read, this is great...…………..
Packing your parachute
Charles Plumb was a US Navy jet pilot in Vietnam. After 75 combat missions, his plane was destroyed by a surface-to-air missile. Plumb ejected and parachuted into enemy hands. He was captured and spent 6 years in a communist Vietnamese prison. He survived the ordeal and now lectures on lessons learned from that experience!
One day, when Plumb and his wife were sitting in a restaurant, a man at another table came up and said, ' You're Plumb! You flew jet fighters in Vietnam from the aircraft carrier Kitty Hawk. You were shot down! 'How in the world did you know that?' asked Plumb.'I packed your parachute,' the man replied. Plumb gasped in surprise and gratitude.
The man pumped his hand and said, 'I guess it worked!' Plumb assured him, 'It sure did. If your chute hadn't worked, I wouldn't be here today.'
Plumb couldn't sleep that night, thinking about that man. Plumb says, 'I kept wondering what he had looked like in a Navy uniform: a white hat; a bib in the back; and bell-bottom trousers. I wonder how many times I might have seen him and not even said 'Good morning, how are you?' or anything because, you see, I was a fighter pilot and he was just a sailor.' Plumb thought of the many hours the sailor had spent at a long wooden table in the bowels of the ship, carefully weaving the shrouds and folding the silks of each chute, holding in his hands each time the fate of someone he didn't know.
Now, Plumb asks his audience, 'Who's packing your parachute?' Everyone has someone who provides what they need to make it through the day. He also points out that he needed many kinds of parachutes when his plane was shot down over enemy territory - he needed his physical parachute, his mental parachute, his emotional parachute, and his spiritual parachute. He called on all these supports before reaching safety.
Sometimes in the daily challenges that life gives us, we miss what is really important. We may fail to say hello, please, or thank you, congratulate someone on something wonderful that has happened to them, give a compliment, or just do something nice for no reason As you go through this week, this month, this year, recognize people who pack your parachutes.
I am sending you this as my way of thanking you for your part in packing my parachute. And I hope you will send it on to those who have helped pack yours! Sometimes, we wonder why friends keep forwarding jokes to us without writing a word. Maybe this could explain it! When you are very busy, but still want to keep in touch, guess what you do - you forward jokes. And to let you know that you are still remembered, you are still important, you are still loved, you are still cared for, guess what you get? A forwarded joke.
So, my friend, next time when you get a joke, don't think that you've been sent just another forwarded joke, but that you've been thought of today and your friend on the other end of your computer wanted to send you a smile, just helping you pack your parachute.
TEHRAN, Iran (AP) — The so-called islamic honor killing of a 14-year-old Iranian girl by her father, who reportedly used a farming sickle to behead her as she slept, has prompted a nationwide outcry.
https://www.yahoo.com/news/irans-president-pushes-harsher-laws-121658779.html
Last Edited: May 27, 2020, 6:28 pm
How to make diseases disappear by| Dr. Rangan Chatterjee of Liverpool - Highly Worthwhile 18 min
Need many more doctors with this kind of preventative cause & effect thinking and practicing

😂
Can you actually make a disease disappear? Dr Rangan Chatterjee thinks you can. Often referred to as the doctor of the future, Rangan is changing the way that we look at illness and how medicine will be practised in years to come. He highlighted his methods in the groundbreaking BBC TV show, Doctor In The House, gaining him much acclaim from ...

www.youtube.com
Last Edited: May 25, 2020, 9:59 pm
We have become a nation that has lost its collective mind.....
We have become a nation that has lost its collective mind...
• If a dude pretends to be a woman, you are required to pretend with him.
• Somehow it's un-American for the census to count how many Americans are in America.
• Russians influencing our elections are bad, but illegals voting in our elections are OK.
• It was cool for Joe Biden to "blackmail" the President of Ukraine, but it's an impeachable offense if Donald Trump enquires about it.
• Twenty is too young to drink a beer, but eighteen is old enough to vote.
• People who have never owned slaves should pay slavery reparations to people who have never been slaves.
• Inflammatory rhetoric is outrageous, but harassing people in restaurants is virtuous.
• People who have never been to college should pay the debts of college students who took out huge loans for useless degrees.
• Immigrants with tuberculosis and polio are welcome, but you'd better be able to prove your dog is vaccinated.
• Irish doctors and German engineers who want to immigrate must go through a rigorous vetting process, but any illiterate Central-American gang-banger who jumps the southern fence is welcome.
• $5 billion for border security is too expensive, but $1.5 trillion for "free" health care is not.
• If you cheat to get into college you go to prison, but if you cheat to get into the country you go to college for free.
• People who say there is no such thing as gender are demanding a female President.
• We see other countries going Socialist and collapsing, and it seems like a great plan to us.
• Some people are held responsible for things that happened before they were born, and other people are not held responsible for what they are doing right now.
• Criminals are catch-and-released to hurt more people, but stopping them is bad because it's a violation of THEIR rights.
• And pointing out all this hypocrisy somehow makes us "racists"?!
>
Last Edited: May 24, 2020, 8:31 pm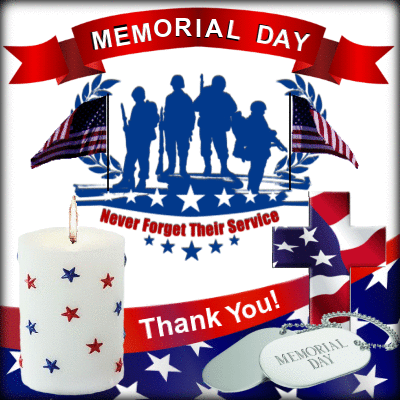 We Shall Never Forget your Selfless Sacrifice
We Salute You
Last Edited: May 24, 2020, 7:28 pm
Man Survived By Wife
Comedian Alan King delivers his funny monologue about how men die younger than women. He offers up the phrase from obituaries "Survived By Wife" as proof that men die younger. Alan died in 2004 at the age of 76 and he was survived by his wife of 57 years, Jeanette. He was "Survived By Wife".
Shutdown's Silver Lining
Interesting article. You have to question modern education when –
One question asked fourth graders, "Which country was the leading communist nation during the Cold War?" Only 21% answered the Soviet Union. More said France or Germany. American students did worse than if they had guessed randomly.
Another question: "America fought Hitler and Germany in which war?" More picked the Civil War than World War II.
Shutdown's Silver Lining
A Commentary By John Stossel
Wednesday, May 20, 2020
The government has closed most schools.
So, more parents are teaching kids at home.
That upsets the government school monopoly.
Education "experts" say parents lack the expertise to teach their kids.
Without state schooling, "learning losses... could well be catastrophic," says The New York Times. Home schooling "will set back a generation of children," according to a Washington Post column. Harvard Magazine's "Risks of Homeschooling" article quotes a professor who calls for a "presumptive ban."
The professional education establishment actually tried to ban it 98 years ago. Then, they tried to ban private schools, too! But the Supreme Court stopped them, writing, "a child is not the mere creature of the state."
I wish the state would remember that.
Anyway, the educator's complaints about home schooling "setting back a generation" are bunk.
Eleven of 14 peer-reviewed studies found home schooling has positive effects on achievement.
In my new video, education researcher Corey DeAngelis explains, "Children who are home-schooled get much better academic and social results than kids in government schools."
Even though they are more likely to be poor, "Home-schoolers score 30% higher on SAT tests." They also do better in college, and they are less likely to drink or do drugs.
"Mass home schooling during this pandemic," says DeAngelis, "may actually be a blessing."
Debbie Dabin, a mom in Utah, is one of many parents who started home schooling this spring and now is "definitely considering home schooling" next year.
Dabin bought teaching materials over the internet from a company called "The Good and the Beautiful." Her son likes the lessons better than what he got in school. "It's great," Dabin says. "He likes the activities; he wants to do them."
Before the pandemic, he'd told his mom he hated school.
I hated school, too. Classes were boring. Listening to lectures is a poor way to learn, and unnecessary today.
In addition to home-school teaching programs, there are also free internet games that teach things like math, reading and writing, while customizing the speed of lessons to each learner's needs.
Sites like Education.com teach math by letting kids adjust pizza toppings.
For older kids, YouTube channels like TED-Ed and Khan Academy offer "free educational videos from the world's foremost experts on civics, history, mathematics," adds DeAngelis.
"Not good enough!" say "experts."
Michael Rebell, a professor at Teachers College at Columbia University, worries that if parents home-school, "There's no guarantee that kids are learning democratic values, civic knowledge."
"Were they learning that in their regular schools?" I asked.
"Well... it's in the curriculum," he responded.
So what? The Nation's Report Card, the government's biggest nationwide test, reveals that government-school students don't know much about history or civics.
One question asked fourth graders, "Which country was the leading communist nation during the Cold War?" Only 21% answered the Soviet Union. More said France or Germany. American students did worse than if they had guessed randomly.
Another question: "America fought Hitler and Germany in which war?" More picked the Civil War than World War II.
Nevertheless, said Rebell, home schooling is still worse because "there's no effective regulation to know what's going on."
"You sound like you think -- because there's regulation, that makes something happen," I said.
"I do," he replied. "Where there's no regulation, that's a worse situation."
But "no regulation" is the wrong way to think about it. There is plenty of regulation. It just comes from legislators and families instead of education bureaucrats.
If this pandemic steers more parents away from state schools, that's probably a good thing.
A silver lining to this pandemic is that now more parents are learning about their options outside the government system.
Last Edited: May 20, 2020, 4:52 pm
Gov. Sisolak orders flags at half-staff for Roy Horn
Siegfried Fischbacher, left, and Roy Horn introduce the "Save Vanishing Species" U.S. postal stamp at Siegfried & Roy's Secret Garden and Dolphin Habitat at The Mirage in Las Vegas on April 9, 2012. (Review-Journal file)
Tributes to Roy Horn, of Siegfried & Roy, are displayed along the Las Vegas Strip on May 8, 2020. Horn died at 75 from complications of coronavirus. (Benjamin Hager/Las Vegas Review-Journal) @benjaminhphoto
Zar Zanganeh, a friend of Roy Horn, prays next to candles he placed in front of a statue of Siegfried & Roy on the Las Vegas Strip, May 8, 2020s. Horn died at 75 from complications of the coronavirus. (Benjamin Hager/Las Vegas Review-Journal) @benjaminhphoto
Roy Horn in 1986. (AP)
Siegfried Fischbacher, left, and Roy Horn introduce one of their tiger cubs to members of the media during a press conference at their home on June 12, 2008, in Las Vegas.
Last Edited: May 15, 2020, 10:47 pm
11 hijackers who were living in Southern California.
The disclosure has revived questions about the FBI's investigation into what Saudi officials might have known about the hijackers inside the United States — evidence that the Trump administration has asserted is a "state secret" the disclosure of which could harm national security.
"I don't think the public has had the benefit of understanding the full linkages there," said Figliuzzi, who served in the assistant director for counterintelligence role between 2010 to 2012. "The Saudi government is a force to be reckoned with in regard to their linkages to radical violent extremism, their funding of operations within the United States to include radical Muslim clerics ... their funding of madrassas or Muslim schools and even clerics that expound radicalism and extremism."
Figliuzzi said the Saudi regime continues to fund extremist clerics, and called members of the Saudi intelligence service "stone cold killers," pointing to the killing of Washington Post reporter Jamal Khashoggi.
Despite Saudi denials about the kingdom's complicity in the 9/11 attacks, questions about a possible link have swirled for years. Fifteen of 19 hijackers killed on Sept. 11 were Saudi nationals; many in law enforcement have long suspected the Saudis knew more than they let on about the plot. Osama bin Laden, the now deceased longtime head of al-Qaida, is from a prominent Saudi family with major construction interests and strong ties to the regime.
The new disclosure about the possible role of a Saudi Embassy official emerged in a federal court filing by Jill Sanborn, the bureau's current assistant director of the counterterrorism division, in response to a lawsuit brought by families of 9/11 victims that accuses the Saudi government of complicity in the terrorist attacks.
e declaration was filed weeks ago but was only unsealed late last week and was intended to support an earlier filing by Attorney General William Barr in which he declared the Saudi evidence a "state secret." Sanborn's 40-page-declaration argued that revealing the FBI evidence about the Saudis would compromise U.S. intelligence sources and methods and cast a chill on the willingness of foreign governments to share information. Throughout the declaration, the name of the Saudi embassy official was blacked out, except in one instance. A senior U.S. government official confirmed that the inclusion of the name was an error, and after Yahoo News called the Justice Department for comment, Sanborn's filing was removed from the public record.