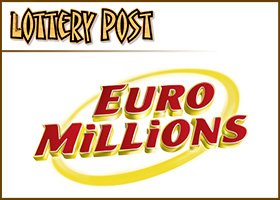 It would be hard not to see this coming.
The Scottish couple who won £161 million in the EuroMillions lottery were in hiding yesterday — apparently meeting with their family to decide what to do with their astonishing windfall after receiving an avalanche of begging requests for money.
Neighbors of Colin and Chris Weir in the Scottish west coast town of Largs, Ayrshire, said they were having a heart-to-heart with their children, Carly, 24, and Jamie, 22.
It was suggested the lucky winners had flown out to Lanzarote in the Canary Islands after being inundated by people scrounging for money.
But others sources claimed Colin, 64, and Chris, 55, were in hiding in the Scottish Highlands with representatives from lottery company Camelot.
One local said, "We have not seen them since they were on the TV. No one knows for sure where they are but they mentioned needing time to chat about their win with their family
"Yet where would you go if you had all that money when your faces had been all over the papers and the TV?
"They are reported to have flown out of Glasgow en route to Lanzarote — but other people claim they are with the Camelot people. One thing is for sure though, they will have to come back here soon."
Royal Mail staff have already reported receiving hundreds of begging letters from people from across the UK simply addressed to "The Weirs, Largs".
The curtains have been drawn at their £180,000 home and their two cars were left parked in the driveway.
The couple realized late on Tuesday that they had won the EuroMillions jackpot, which had rolled over 14 times. They stayed up all night waiting to talk to lottery officials.
Colin and Chris decided to go public because they did not want to lie to friends and family. But as soon as they revealed their identities, the demands for money came flooding in.
Their neighbors still cannot believe they revealed themselves.
Retired taxi firm boss David Simpson, 82, said, "They are a lovely couple who have been great neighbors of mine for 25 years — but why on earth have they let the cat out of the bag?
"If they wanted to stay here in this street, they should have just kept quiet. Nobody had to know. Colin is a funny chap, he hardly ever goes out. He's a home bird. I can't even see him ever spending much of the money.
"But it's hard to believe he and his wife can even contemplate staying here now everyone knows they have got £161 million in the bank. They'll get pestered to death."
There was even a cheeky request from the vice-president of Colin's local football club [soccer team, for Americans], Largs Thistle. He suggested donating money to the club so they could clear their £5,000 debt and make offers for Argentinian superstars Lionel Messi and Carlos Tevez.
Jim McGinty said, "A new stand would be lovely. We could name it the Colin Weir Stand — and he could have the No 1 spot in the car park.
"He could afford to buy Messi and Tevez — that would really bring in the crowds. We wish Colin and Christine all the very best."
Mr Weir hopes to buy a private box at Barcelona's stadium and Mrs Weir intends to go traveling and fly "at least business class".