jarasan's Blog
jarasan's Blog has 727 entries (0 private) and has been viewed 675,111 times.
Lottery Post members have made 2757 comments in jarasan's Blog.
jarasan is a Platinum member
from Breitbart.com
http://www.breitbart.com/Big-Government/2014/09/02/Reports-Feds-Lose-Track-of-6-000-Foreigners-on-Student-Visas-Who-Could-Do-Us-Harm
Yeah whatever 6000........20,000,000 what is the big deal. They lose track of millions of illegals, terrorists, criminals, and children. But when it comes to tax time they got you down to the penny so pay up for all their other f'ups.
but really
.
Here is the article:
http://www.dailymail.co.uk/news/article-2738653/Stunning-satellite-images-summer-ice-cap-thicker-covers-1-7million-square-kilometres-MORE-2-years-ago-despite-Al-Gore-s-prediction-ICE-FREE-now.html
al gore vidal should give back all the money he has swindled from this hoax and then sent to jail, the whole lot of them.
Here is the picture: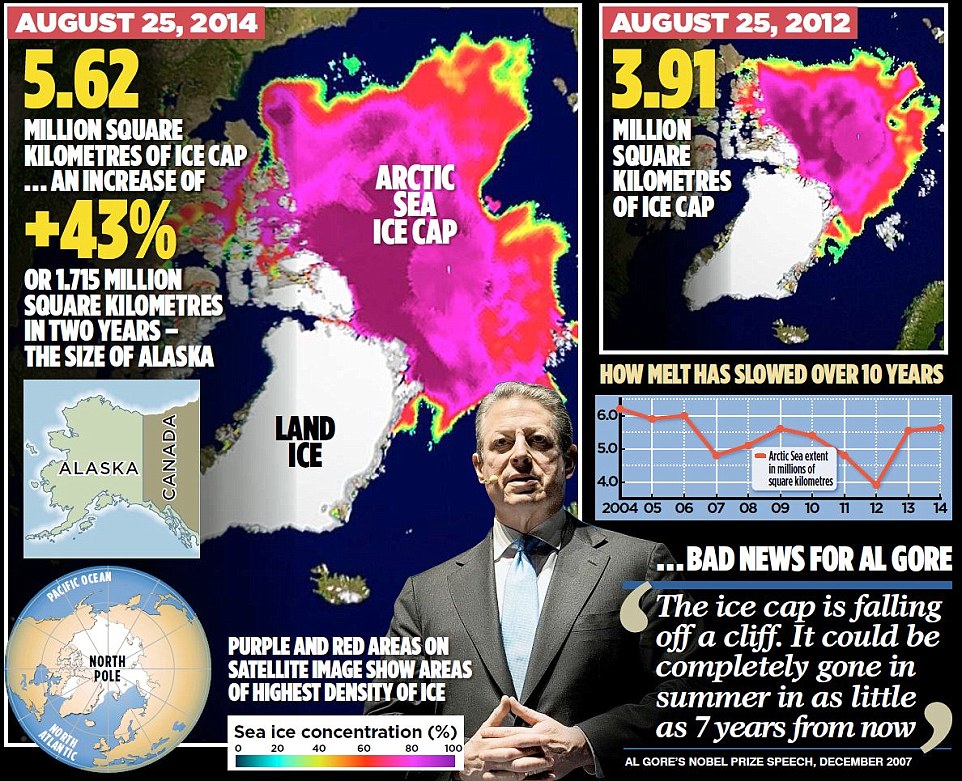 Arrogance reeks and cannot handle the facts, the viewer base of NBC is in the tank, it is junk TV, the only thing that gets watched, maybe, is a sports event, the rest is crap. Turness is correct, NBC is only great in it own little insulated fiefdom in DC and NY, they are a joke and have been asleep for 20+ years.

http://pagesix.com/2014/08/26/tom-brokaw-execs-fuming-over-nbc-chiefs-remark/
After Dan Rather got caught making sh1t up, they tried to make it all better and give him some silly self gratification award but the cat was out of the bag, clearly, the sh1tstream media and all its crappy programming was outed, they are miserable manipulators trying to guide thought and redefine morality according to them........progressive, apologist, '60's leftist, perverts.
Buh BYE and good riddance!!!!!!!
Last Edited: August 27, 2014, 10:59 pm
Larry Sabato is a hack dressed in faculty professor BS intellectuality, he has been wrong many times and/or deliberately misleading and wishfully projecting bad results. Larry STOP IT! We are on to you!
http://www.politico.com/magazine/story/2014/08/reading-the-2014-tea-leaves-110325.html
There is so much wrong with this and the lack of sensitivity. It clearly shows the barry administration is only interested in the politics. sick basturds.
http://www.cnsnews.com/news/article/lauretta-brown/obama-sent-no-representative-memorial-mass-beheaded-journalist-james
The fascist barry administration has showed its true ugliness again.
What a great country we live in. From Drudge VIA daily beast.
http://www.thedailybeast.com/articles/2014/08/25/obamacare-now-pays-for-gender-reassignment.html
The Mejicanos are messing up............. from the Blaze:
http://www.theblaze.com/stories/2014/08/23/texas-gov-rick-perrys-theory-about-islamic-terrorists-just-got-called-absurd/
From Jarasan:
http://www.lotterypost.com/blogentry/93595
No more playing, we ain't playing no more!!!!!!!
This is a job for jesse and charlatan. Hurry up and get there, the rappers have lots of cash.
http://www.tmz.com/2014/08/24/suge-knight-shot-stabbed-one-oak-outside-club-ambulance-hospital/
She gets a hole in one for this:
by Maureen Dowd NYT
FORE! Score? And seven trillion rounds ago, our forecaddies brought forth on this continent a new playground, conceived by Robert Trent Jones, and dedicated to the proposition that all men are created equal when it comes to spending as much time on the links as possible — even when it seems totally inappropriate, like moments after making a solemn statement condemning the grisly murder of a 40-year-old American journalist beheaded by ISIL.
I know reporters didn't get a chance to ask questions, but I had to bounce. I had a 1 p.m. tee time at Vineyard Golf Club with Alonzo Mourning and a part-owner of the Boston Celtics. Hillary and I agreed when we partied with Vernon Jordan up here, hanging out with celebrities and rich folks is fun.
Now we are engaged in a great civil divide in Ferguson, which does not even have a golf course, and that's why I had a "logistical" issue with going there. We are testing whether that community, or any community so conceived and so dedicated, can long endure when the nation's leader wants nothing more than to sink a birdie putt.
We are met on a great field of that battle, not Augusta, not Pebble Beach, not Bethpage Black, not Burning Tree, but Farm Neck Golf Club in Martha's Vineyard, which we can't get enough of — me, Alonzo, Ray Allen and Marvin Nicholson, my trip director and favorite golfing partner who has played 134 rounds and counting with me.
We have to dedicate a portion of that field as a final resting place for my presidency, if I keep swinging from behind.
Yet it is altogether fitting and proper that I should get to play as much golf as I want, despite all the lame jokes about how golf is turning into "a real handicap" for my presidency and how I have to "stay the course" with ISIL. I've heard all the carping that I should be in the Situation Room droning and plinking the bad folks. I know some people think I should go to Ferguson. Don't they understand that I've delegated the Martin Luther King Jr. thing to Eric Holder? Plus, Valerie Jarrett and Al Sharpton have it under control.
I know it doesn't look good to have pictures of me grinning in a golf cart juxtaposed with ones of James Foley's parents crying, and a distraught David Cameron rushing back from his vacation after only one day, and the Pentagon news conference with Chuck Hagel and General Dempsey on the failed mission to rescue the hostages in Syria.
We're stuck in the rough, going to war all over again in Iraq and maybe striking Syria, too. Every time Chuck says ISIL is "beyond anything we've ever seen," I sprout seven more gray hairs. But my cool golf caps cover them. If only I could just play through the rest of my presidency.
ISIL brutally killing hostages because we won't pay ransoms, rumbles of coups with our puppets in Iraq and Afghanistan, the racial caldron in Ferguson, the Ebola outbreak, the Putin freakout — there's enough awful stuff going on to give anyone the yips.
So how can you blame me for wanting to unwind on the course or for five hours at dinner with my former assistant chef? He's a great organic cook, and he's got a gluten-free backyard putting green.

But, in a larger sense, we can dedicate, we can consecrate, we can hallow this ground where I can get away from my wife, my mother-in-law, Uncle Joe, Congress and all the other hazards in my life.
The brave foursomes, living and dead, who struggled here in the sand, in the trees, in the water, have consecrated it, far above our poor power to add or subtract a few strokes to improve our score. Bill Clinton was Mr. Mulligan, and he is twice at popular as I am.
The world will little note, nor long remember, what we shot here, or why I haven't invited a bunch of tiresome congressmen to tee it up. I'm trying to relax, guys. So I'd much rather stay in the bunker with my usual bros.
Why don't you play 18 with Mitch McConnell? And John Boehner is a lot better than me, so I don't want to play with him.
It is for us, the duffers, rather, to be dedicated here to the unfinished work which they who played here have thus far so nobly advanced to get young folks to stop spurning a game they find slow and boring.
It is rather for us to be here dedicated to the great task remaining before us of getting rid of our slice on the public's dime — that from this honored green we take increased devotion to that cause for which Bobby Jones, Jack Nicklaus, Tiger Woods and Rory McIlroy gave their last full measure of devotion — and divots.
We here highly resolve that these golfing greats shall not have competed in vain, especially poor Tiger, and that this nation, under par, shall have a new birth of freedom to play the game that I have become unnaturally obsessed with, and that golf of the people, by the people, for the people shall not perish from the earth.
So help me Golf.
It is all a game to the king!!!!!!
from drudge via xinhuanet
http://news.xinhuanet.com/english/china/2014-08/23/c_133578974.htm
Yes I know he is dead and NK but it fits.
Interesting article is it global warming (cooling) of the brain???????????? Of course problem solving, logical, rational, intellectual thought processes are being shot down and everybody knows everything right??????
http://www.dailymail.co.uk/sciencetech/article-2730791/Are-STUPID-Britons-people-IQ-decline.html
My brain is a blue volcanic eruption contributing to global brain "cooling".......
Last Edited: August 21, 2014, 11:33 pm
http://www.cnsnews.com/commentary/terence-p-jeffrey/354-percent-109631000-welfare
barry is achieving his goals, subjugation of the American people we can stop this <snip> <basturd> in Nov. Every Dem I know is starting to see the light. YAY!
From Drudge Report via Breibart.com
http://www.breitbart.com/Breitbart-TV/2014/08/20/GOP-Rep-ISIS-and-Mexican-Drug-Cartels-Are-Talking-to-Each-Other
OK if this is true, and one of these cretins gets into this country and kills one single person in the USA, we push the Mexico border 100 miles south with extreme prejudice, 24hr notice, napalm, chemical, nuclear whatever get the hell out or you are DEAD!!!!!!!!!!!!!!. If a second jihadist cretin gets in and kills a second person in the USA we declare war on Mexico, comprede cabrones??? I am dead serious I am fuc*ing tired and everyone I know is fuc*ing tired of this GD country getting stepped on. <snip> mejico and the sand they rode in on.
July 30, 2014, 11:20 pm
Kim Jong-un
from onlydummys locked blog post:
"Just remember that his ideals aren't that far from home. Some people in this country were bullied when they were young, so they feel the need to control others to equalize the pain. They're usually people like cops, business owners, websites owners, and political leaders.
Suppression, censorship, and Fascism are rampant right here on our soil. Unfortunately, the ones who look up to the dictator are too mesmerized, and in such a stupor, that they'll never allow anyone to expose him, or anyone of his cohorts, no matter how GOOD the FACTS are. The cash cow must never be interrupted, no matter what it takes."
I think from what is written on this blog post was done under the influence of some drug, probably a hybrid sinsemilla, molly, synthetic dingle berries etc. I think he is trying to say that Kim Jong-un is like barry?????? Has barry thrown anyone into a pit of 120 hungry dogs to execute them????????????? I think the years of drug abuse have messed up onlywasjokerpacattacks brain. WDYT?
Ok that explains it. from a comment from the "Does pot make you dumb?" Trusee blog post:
I've always smoked pot after work, and I'm not dumb. But I have friends who smoke from the time they wake up till they go to sleep. They even go to work in that condition. It's morons like them who give post a bad name. Pot is just like alcohol, you use it responsibly. You don't drive or work in environments that may cause harm to others.

The few ruin it for the rest of us.

# posted by onlymoney : 10:29 PM
Last Edited: July 30, 2014, 11:21 pm