CajunWin4's Blog
CajunWin4's Blog has 774 entries (0 private) and has been viewed 504,543 times.
Lottery Post members have made 1068 comments in CajunWin4's Blog.
CajunWin4 is a Standard member
Revealed: Bill Clinton, Mick Jagger and Donald Trump in black book of Prince Andrew's sex abuser friend Jeffrey Epstein
Saturday, Jan 31st 2015

Revealed: Bill Clinton, Mick Jagger and Donald Trump were in black book of Prince Andrew's sex abuser friend Jeffrey Epstein

Court document reveals pages and pages of telephone numbers, home addresses and emails held by Epstein - including The Queen's residences

Address book includes string of other politicians - among them Kennedys, former Israeli PM Ehud Olmert and ex-new York mayor Michael Bloomberg

Epstein's former employee Alfredo Rodriguez discovered book - and called it 'The Holy Grail'

He kept it as security, fearing Epstein would make him 'disappear'

Epstein admitted he was a sex abuser and served 18 month sentence after plead deal to avoid full-scale criminal trial

Prince Andrew has been accused by victim of Epstein of having sex with her when she was underage and vehemently denies the allegation

No suggestion of any wrongdoing by any of the names in the book

By Sara Nathan for DailyMail.com and Martin Gould in Florida for DailyMail.com

Jeffrey Epstein, the billionaire child abuser friend of Prince Andrew , cultivated an extraordinary range of contacts - from President Bill Clinton to Mick Jagger - it is revealed today.

Court documents obtained by MailOnline disclose how Epstein kept multiple phone numbers, email and home addresses for the great and the good on both sides of the Atlantic.

The document was presented as an exhibit as lawyers sought a court's permission to take evidence from Bill Clinton and his staff, for whom Epstein had 21 numbers, all under the name of his former advisor Doug Band.

Epstein also had multiple contact details for a string of celebrities, including the Rolling Stones frontman Sir Mick Jagger; Donald Trump's ex-wife Ivana and their daughter Ivanka; and a series of women recorded under 'massage' in the document, nicknamed 'The Holy Grail' by a former employee.

The contents of the document are disclosed by MailOnline as Prince Andrew, the Queen's second son, fights back against allegations that he had sex with Virginia Roberts - who claims she was kept by Epstein as a 'sex slave' - when she was a 17-year-old minor.
Texans Make A Stand Against Muslims And Sharia Law In Texas
Saturday, January 31, 2015
Christian's Stand in Texas against Muslim Fundraiser
It is astonishing how little the mainstream media is talking about the backlash Muslim events are receiving in Texas. God fearing Texans are protesting the use of public buildings for Muslim events. This was fueled by the Sharia-law board or tribunal that was convened in Breitbart, Texas.
This was reported by sonsoflibertymedia.com
Breitbart Texas confirmed Tuesday that "an Islamic Tribunal using Sharia law" is indeed operating in Texas. But not to worry: an attorney for the tribunal assures us that participation is "voluntary." This is how it starts. This is how it started in the United Kingdom. When Sharia courts were instituted there, Muslim and non-Muslim officials alike all assured the British public and the world that they would be voluntary, restricted to matters involving non-criminal matters, and subject to the British courts. Any areas in which British law and Sharia law conflicted would be referred not to the Sharia courts, but to the British courts.
Then there was the event that took place in Austin, Texas. The 11th annual Muslim Capital Day. There were protestors there as well. But one woman went further.

Tim Brownreported:

A Christian woman took over the podium at the 11th annual Texas Muslim Capitol Day event on Thursday and declared, "Islam will never dominate the United States and, by the grace of God, it will never dominate Texas." You already know this bold and brave woman from an earlier stand she took at the National Cathedral in Washington. Her name is Christine Weick.

The 50-year-old approached the podium, grabbed the microphone and said, "I proclaim the name of the Lord Jesus Christ over the Capitol of Texas. I stand against Islam and the false prophet Mohammad. Islam will never dominate the United States and by the grace of God, it will not dominate Texas." The woman then walked away and joined the other protester.
Now christiannews.net has reported another Muslim event was disrupted.
Hundreds protested on Saturday outside of a Muslim conference in Garland, Texas that was intended to combat American "Islamophobia."
"Stand With the Prophet Against Terror and Hate" was held at the Curtis Culwell Center on Saturday and was reportedly a sold out event.
This event was touted as an effort to raise money to defend the faith. Their website read:
"Prophet Muhammad inspires love and devotion in the hearts of Muslims (??!!), peace be upon him; unfortunately, Islamophobes have turned him into an object of hate," it continues. "Hate groups in the U.S. have invested at least $160 million to attack our prophet and Islam. Isn't it time we invested in defending our faith?" (Invest in WHAT? More guns, scimitars and black hoods to hide behind like the cowards you are?)
I have said for years that this problem would continue to get worse. And though the Muslim believes that all the world will be Muslim, the media ignores such events. The Muslims are seeking peaceful and non-peaceful means of seeing this achieved, and the liberals want to separate them. We must stand like Christians in Texas have done. These protesters have not closed their eyes to the work the Islamists are doing. They have sought to stop the advance of Islam and Sharia law in Texas.

Christiannews.net further reports:
Tim Lee, who also is a Vietnam veteran, also told the publication that he feared what might become of the nation in light of the insurgency of Islam.
"America was built upon God and the word of God, not Allah, not Muhammad." He said. "The Muslim religion is a religion of death. They kill people, innocent people, little children, chop heads off, and we are going to bring this to Garland, Texas?"
With the violence these kind of events have led to in Europe, how is these observations not apparent to all people? How do you explain the media's blindness, except willful blindness? Why, in an effort to be pluralistic (fools), do we have to accept those who will lead to our destruction? How do we not see that peace in Islam only comes through submission to Islam? (And even then they cannot get along even among themselves, dicing and slicing each other like cucumbers.)

COMMENTS

- Hooray for Molly White and hooray for these defenders of our U.S. Constitution!
".."an Islamic Tribunal using Sharia law" is indeed operating in Texas." WHY? And where is the law of Texas? Where are the leaders to protect and defend our Constitution and our citizens of the United States?

- If we were defending our Country and living according to the Constitution……this tyranny would not exist and yet…..IT DOES. Shame on you for our blindness and funding this TYRANNY! http://www.texemarrs.com/082012/sayanim_everywhere.htm

- It happens when you have a 'president' who doesn't care about our country. His true colors are now showing true to most people. He has been against America from the day he was inaugurated. Michel even said a while back, she was ashamed to be an American. Impeach this thug and send both of them back to Kenya where he belongs.

- It happens when you have a 'president' who is a foreigner, a communist, a muslim. He has no allegiance to America because he is not an American.

- We ALL need to be well informed and vigilant before we succumb to the demands of Shariah law!

- We should NEVER succumb to Shariah Law !!!

- Sharia must never be allowed in America. In fact, it would be a blessing to the world if it were expunged completely. We must never, never succumb!

- This daesh that calls himself muslam in chief has lied, killed our wild life, put America's wild horses in storage. They are stock piled so America is footing the bill to round them up to send them to slaughter silently. The numbers don't add up to what the BLM is telling us. obozo has turned the 'Dept. of Interior' into acting like his own little killing mafia. They (BLM) are killing predators by heaping piles by having killing contests. One deserter for 5 taliban leaders. For the horses alone is 1 million + per round-up. In prison 750,000 per month in care for these animals. The cattlemen complained about the horses eating all thhe forage. Now that cattle and sheep at… 1.35 per cow, calf pair or 5 sheep same price. Take up more than 3/4 of the public lands – the places cattle and sheep go are turning to dust. And get this - the cattle are on the same grounds the horses just vacated. Fracking has become out of control. The air strikes that have been taking place - 1 million + per airstrike. Every thing our military fought and lost their lives for was turned over by the cowards we trained to stay the course. i really don't know what is wrong with our congressmen or senators, but this has to stop. I don't give a <snip> about the color of his skin. Our law makers need to quit going over past wrongs and show this piece of s–t what Americans are made of and what it means to be an American.

- Well it starts at the top. Get rid of him first.

- I will spit on the muslim. They are an evil religion with hate in their hearts for anyone who is not islam. They DO NOT want to be your friend like they want you to think. They will get you to be their friend and then turn around and slit your throat. They kill all religions. There is only one way to them and that is by a false prophet. All enclaves, holes or parts of America that you find them coming together, we must fight them so there is NO SHARIA LAW (LAWS OF EVIL AND TERRORISM) or - where they take over like Dearborn, MI. - we Americans will fight you, for we hate you and what you stand for.

http://freedomforce.com/1341/christians-stand-texas-muslim-fundraiser/
Open Jihad Declared in Egypt Following State Dept. Meeting with Muslim Brotherhood-Aligned Leaders
Muslim Brotherhood call for 'long, uncompromising jihad'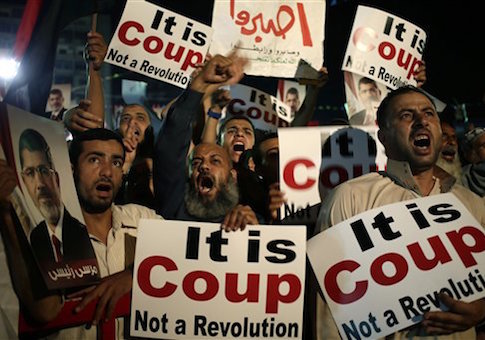 AP
BY: Adam Kredo
January 30, 2015
The Muslim Brotherhood called for "a long, uncompromising jihad" in Egypt just days after a delegation of the Islamist group's key leaders and allies met with the State Department, according to an official statement released this week.
Just days after a delegation that included two top Brotherhood leaders was hosted at the State Department, the organization released an official statement calling on its supporters to "prepare" for jihad, according to an independent translation of the statement first posted on Tuesday.
The State Department meeting was attended by a deputy assistant secretary for democracy, human rights, and labor and other State Department officials.
The Muslim Brotherhood statement also was issued just two days before a major terror attack Thursday in Egypt's lawless Sinai region that killed at least 25.
"It is incumbent upon everyone to be aware that we are in the process of a new phase, where we summon what is latent in our strength, where we recall the meanings of jihad and prepare ourselves, our wives, our sons, our daughters, and whoever marched on our path to a long, uncompromising jihad, and during this stage we ask for martyrdom," it states.
Preparation for jihad is a key theme of the Brotherhood's latest call for jihad.
An image posted with the statement shows two crossing swords and the word "prepare!" between them. Below the swords it reads, "the voice of truth, strength, and freedom." According to the statement, "that is the motto of the Dawa of the Muslim Brotherhood."
The statement also invokes the well-known Muslim cleric Imam al-Bana, who founded the Brotherhood and has called for the death of Jews.
"Imam al-Bana prepared the jihad brigades that he sent to Palestine to kill the Zionist usurpers and the second [Supreme] Guide Hassan al-Hudaybi reconstructed the 'secret apparatus' to bleed the British occupiers," the statement says.
The Brotherhood's renewed call for jihad comes at a time when current Egyptian President Abdel Fattah al-Sisi is cracking down on the group and imprisoning many of its supporters, who notoriously engaged in violence following the ouster of Brotherhood-ally Mohamed Morsi.
Egypt experts said the timing of this declaration is an embarrassment for the State Department.
"The fact that the Brotherhood issued its call to jihad two days after its meeting at the State Department will be grist for endless anti-American conspiracy theories about a supposed partnership between Washington and the Brotherhood," said Eric Trager, a fellow at the Washington Institute for Near East Policy (WINEP). "The State Department should have foreseen what an embarrassment this would be."
One member of that U.S. delegation, a Brotherhood-aligned judge in Egypt, posed for a picture while at Foggy Bottom in which he held up the Islamic group's notorious four-finger Rabia symbol, according to his Facebook page.
"Now in the U.S. State Department. Your steadfastness impresses everyone," reads an Arabic caption posted along with the photo.
Other members of that group included Gamal Heshmat, a leading member of the Brotherhood, and Abdel Mawgoud al-Dardery, a Brotherhood member who served as a parliamentarian from Luxor.
When asked on Tuesday evening to comment on the meeting, a State Department official told the Washington Free Beacon, "We meet with representatives from across the political spectrum in Egypt."
The official declined to elaborate on who may have been hosted or on any details about the timing and substance of any talks.
The meeting was described by a member of the delegation, Maha Azzam as "fruitful," according to one person who attended a public event in Washington earlier this week hosted by the group.
The call for jihad, while surprising in light of the Brotherhood's attempts to appear moderate, is part and parcel of organization's longstanding beliefs, Trager said.
"Muslim Brothers have been committing violent acts for a very long time," Trager explained. "Under Morsi, Muslim Brothers tortured protesters outside the presidential palace. After Morsi's ouster, they have frequently attacked security forces and state property. "
"But until now, the official line from the Brotherhood was to support this implicitly by justifying its causes, without justifying the acts themselves," he added. " So the Brotherhood's open call to jihad doesn't necessarily mean a tactical shift, but a rhetorical one."
Terrorism expert and national security reporter Patrick Poole said he was struck by the clarity of the Brotherhood's call.
"It invokes the Muslim Brotherhood's terrorist past, specifically mentioning the 'special apparatus' that waged terror in the 1940s and 1950s until the Nasser government cracked down on the group, as well as the troops sent by founder Hassan al-Banna to fight against Israel in 1948," he said.
"It concludes saying that the Brotherhood has entered a new stage, warns of a long jihad ahead, and to prepare for martyrdom," Poole said. "Not sure how much more clear they could be."
Poole wondered if the call for jihad would convince Brotherhood apologists that the group still backs violence.
"What remains to be seen is how this announcement will be received inside the Beltway, where the vast majority of the 'experts' have repeatedly said that the Brotherhood had abandoned its terrorist past, which it is now clearly reviving, and had renounced violence," Poole said. "Will this development be met with contrition, or silence? And what says the State Department who met with these guys this week?"
The State Department did not respond to a request for comment before press time.
Secret emails to finally nail Obama in major scandal?
GOP Senate demands all communications with IRS
The new GOP majority in the U.S. Senate is turning up the heat on its investigation of allegations the Internal Revenue Service shared private taxpayer information with President Obama, demanding Obama turn over communications he and his staff had with the agency.
The Washington Times reported it obtained a copy of a letter signed by Senate Finance Committee Chairman Sen. Orrin Hatch, R-Utah, and the 13 other Republicans on the panel.
Addressed to Obama, the letter asks for his communications with the IRS since 2010 for their investigation into whether the agency has been engaging in illegal distribution of private taxpayer information. Republicans have accused the Obama administration of using the IRS as a political weapon since discovering the agency obstructed the applications for tax-exempt status of conservative organizations critical of Obama's policies.
The letter said: "We have an obligation to conduct oversight of the federal government's administration of our tax laws. As part of this oversight, we are seeking to determine the degree to and manner in which the Internal Revenue Service shares taxpayer information with the executive office of the president."
IRS documents filed by the National Organization for Marriage, for example, were released to a citizen who asked for them, and they ended up in the hands of a homosexual activist who posted the confidential information online.
A judge ruled the IRS simply made a mistake, but the agency agreed to pay the group $50,000.
The documents requested by the Senate panel were also requested by the interest group Cause of Action, which has gone to court to try to compel the IRS inspector general to turn them over, the Times reported. The inspector general says it can't turn over most of the 2,500 pages of records from its investigation because it would violate the privacy of taxpayers.
Texas-based True the Vote and 42 other groups have filed a lawsuit claiming the IRS targeted them based on their beliefs and politics.
Catherine Engelbrecht, founder of True the Vote, said the "notion that the IRS can target Americans for years because of their political beliefs is reprehensible."
The IRS exacerbated the scandal by repeatedly telling disbelieving congressional investigators that it couldn't provide relevant emails because of hard-drive failures.
U.S. District Judge Reggie Walton also ordered the agency to find out what happened to the hard drive after IRS Commissioner John Koskinen claimed a computer malfunction had caused the loss of two years of emails belonging to IRS executive Lois Lerner, whose tax-exempt division improperly targeted conservative groups.
Lerner claimed her emails were lost when her hard drive crashed July 13, 2011. She said the crash caused her to lose all her emails sent to recipients outside the IRS from mid-2009 to mid-2011.
David Ferriero, the archivist of the United States for the National Archives and Records Administration, testified the federal agency failed to follow the law in handling Lerner's emails, raising even more suspicion about their content.
A key House leader addressing the issue, Oversight Committee Chairman Darrell Issa, R-Calif., told IRS officials, at a minimum, "You did not tell the whole truth.
The committee accused the IRS of sending the FBI a database containing more than a million pages of confidential taxpayer information.
Officials later said the emails that had been "destroyed" were found, but they were unsorted and details were unavailable.
Robert Wood commented in Forbes: "First, there was no targeting by the IRS. Then there was, but only by those rogue IRS employees down in Cincinnati. … Then, top IRS official Lois Lerner refused to testify. IRS Commissioner Miller seemed defiant too and was sacked. Then, there was a year-long congressional investigation before the IRS finally admitted the 2009 through 2011 Lois Lerner's emails 'disappeared.' Then, the backups … were recycled. Then, the new IRS commissioner said the IRS needs a bigger tech budget."
Wood said American taxpayers, as well as thousands of dedicated IRS employees, deserve an explanation.
"The vast bulk of them are doing their best and helping not hurting the system. Their position is undermined by the awful bumbling and worse the IRS scandal … has revealed."
Obama, meanwhile, insisted in an interview there's "not even a smidgen of corruption" in the IRS.
Breaking: Obama's Bergdahl Nightmare May Have Just Gotten A Whole Lot Worse With This Bombshell
Thursday, January 29, 2015
As Fox News dogs the Obama administration about the delayed release of the Army's investigation into what happened before and after Sergeant Bowe Bergdahl disappeared from his unit in Afghanistan, CNN is now reporting a bombshell that could blow up the White House strategy of stalling the long-expected report.
Western Journalism has reported that sources with close ties to military intelligence say the Army has concluded its investigation and will charge Bergdahl with desertion. The White House and the Pentagon have vigorously pushed back, saying no decision to prosecute Bergdahl has been made and that Fox News is way off base.
Now, in an exclusive report, CNN says that one of the five Taliban commanders Obama agreed to release from Gitmo in exchange for Bergdahl may be back on the battlefield, a prospect that many critics of Obama's swap deal warned could happen.
This dramatic development could prove to be a major reason that a nervous Obama White House has held back the release of the Army's investigation of the Bergdahl affair.
Via CNN.com: "The U.S. military and intelligence community now suspect that one of the five Taliban detainees released from Guantanamo Bay in return for Sgt. Bowe Bergdahl in May of last year has attempted to return to militant activity from his current location in Qatar."
CNN says that its report that one of the so-called Taliban Five is back fighting for radical Islamists has been confirmed by "several U.S. officials across different agencies and branches of the U.S. government."
Obama's deal to exchange the Taliban Five for Bowe Bergdahl was celebrated at the time in a big Rose Garden ceremony at which Obama took credit for the freedom of a soldier held in captivity for five years.
Shortly after the deal was made and the Taliban Five were set free, Obama's Security Adviser, Susan Rice, went on TV to praise Bergdahl as a good soldier who served his country "honorably."
If it turns out that Obama ordered the release from Guantanamo Bay of a seasoned terrorist commander who is now back in the fight against U.S. forces and our allies, the Bergdahl nightmare for the administration may grow even darker and more ominous.
This post originally appeared on Western Journalism – Informing And Equipping Americans Who Love Freedom
Source:
http://www.westernjournalism.com/breaking-obamas-bergdahl-nightmare-may-have-just-gotten-a-whole-lot-worse-with-this-bombshell/
Judicial Watch obtains 'smoking gun' Benghazi documents
Clear evidence U.S. State Dept. peddled false story
Published: 1 hour ago
Jerome R. Corsi
Jerome R. Corsi, a Harvard Ph.D., is a WND senior staff reporter. He has authored many books, including No. 1 N.Y. Times best-sellers "The Obama Nation" and "Unfit for Command." Corsi's latest book is
"Who Really Killed Kennedy?"
Secretary of State Hillary Clinton testifies to a congressional committee probing the Benghazi attack.
NEW YORK – Documents obtained Monday through a federal court order show State Department officials disseminated the false story that the 2012 Benghazi attack that killed a U.S. ambassador was nothing more than the violent escalation of a demonstration by Muslims against an insulting video, even though they knew it was a coordinated military-style assault.
Among the documents obtained by the Washington-based government watchdog Judicial Watch was a memo sent the day after the Sept. 11, 2012, attack to the U.S. Embassy in Tunis, Tunisia, by the State Department's Diplomatic Security Command Center titled "Emergency Message to U.S. Citizens: Demonstrations."
The Diplomatic Security Command Center, or DSCC, was well aware that the attack was carried out by highly organized and armed Islamic militia, because the DSCC was the unit that monitored the attack in real time via video transmissions from a drone.
The message is identical to the emergency message issued by the U.S. Embassy in Tunis and archived on the embassy's website.
Your guide to the Benghazi hearings is here, in "The REAL Benghazi Story: What the White House and Hillary Don't Want You to Know," by WND's Aaron Klein!
The emergency message reads in the first paragraph: "On September 11, 2012, violent demonstrations took place at the U.S. Embassy in Cairo, Egypt and at the U.S. compound in Benghazi, Libya, resulting in damage in both locations and casualties in Benghazi. Media reports indicate that demonstrations may take place at the U.S. Embassy in Tunis on Wednesday, September 12, 2012."
'They knew'
Judicial Watch President Tom Fitton said the DSCC "clearly knew in real time that a full-fledged terrorist attack was taking place on September 11 at the U.S. compound in Benghazi, and the American people deserve to be told the truth."
"We are now into the fourth year of a massive Obama administration cover-up," Fitton said.
He said the DSCC communiqués "may further help unravel the Obama administration's growing web of deceit."
"I've always believed that the Benghazi cover-up was about two presidential campaigns – the Obama re-election effort and Hillary Clinton's nascent presidential campaign. I have little doubt that the State Department is protecting Hillary Clinton with this latest cover-up," he asserted.
Even after the Benghazi attack, the Obama re-election campaign maintained its narrative that al-Qaida was on the run. The boast would have been impossible to sustain had the State Department told the truth about the terrorist attack in documents such as the emergency warning for U.S. citizens.
Judicial Watch insists the testimony of Deputy Assistant Secretary of State Charlene Lamb under oath to the House Oversight Committee on Oct. 10, 2012, proves the State Department's Diplomatic Security Command Center knew the Benghazi compound was under hostile fire from the moment the attack began.
"That brings me to the events of September 11 itself," Lamb testified. "The account I am about to present is based on first-hand reports from several security personnel present that night. Additionally, I was in our Diplomatic Security Command Center monitoring multiple open lines with our agents for much of the attack."
"The attack began at approximately 9:40 pm local time," Lamb continued. "Diplomatic Security agents inside the compound heard loud voices outside the walls, followed by gunfire and an explosion. Dozens of attackers then launched a full-scale assault that was unprecedented in its size and intensity. They forced their way through the pedestrian gate, and used diesel fuel to set fire to the Libyan 17th February Brigade members' barracks, and then proceeded toward the main building."
A Judicial Watch statement claimed Lamb's testimony was in direct conflict with initial false claims by the Obama administration that the attack arose from a spontaneous demonstration in response to an Internet video.
"False information and the lies put out by this office, the State Department's Diplomatic Security Command Center, that knew even as the Benghazi attack was going on that it was a terrorist attack, recklessly endangered U.S. lives by drafting for the U.S. Embassy in Tunisia claims the Benghazi attack involved only a protest demonstration over a movie," Fitton said.
"When the State Department only warned U.S. citizens in Tunisia about demonstrations, the U. S. government was lying to them," he maintained.
"You are making people think they only needed to worry about demonstrations, when the truth was Americans in North Africa needed to know the night before Benghazi was hit by an intense terrorist attack, that came on violently, with heavily armed al-Qaida-backed militia carrying AK-47s and RPGs. 'Be Warned' should have been the message, 'There was a terrorist attack, and you should be very careful right now."
Fitton stressed that by not telling Americans in Tunisia the truth, the State Department was engaging in "reckless disregard" of their safety.
"To the extent this information was withheld from personnel in the State Department, in Tunisia or elsewhere in the area where U.S. State Department personnel were deployed, these lies placed these people in jeopardy," Fitton said. "U.S. citizens in Tunisia should have been told honestly to be worried about and to watch out for terrorists, not demonstrators."
"The State Department Diplomatic Security Command Center knew that Benghazi was a terrorist attack that ended up killing the ambassador, and it was unconscionable for the Obama State Department to lie in the 'Emergency Message for U.S. Citizens' we now know the DSCC drafted for the U.S. Embassy in Tunisia to publish."
Fitton explained why he considered the statement to be a breach of trust between the State Department and State Department personnel deployed internationally, which compounded the offense.
"It's no wonder the morale of State Department officials overseas was decimated after Benghazi," he said. "Not only did the State Department and the Obama administration leave Ambassador Stevens and the other brave Americans who died without timely rescue and defense, the State Department with Benghazi tore up that implicit compact that certainly soldiers in the U.S. military have, not only that they won't be left behind, but also that they won't be lied to about the dangers they are facing."
Last Edited: January 26, 2015, 9:48 pm
So, Just How Tired IS The Economy? Well, It's So Worn Out That Even The Lotteries Are Collapsing

Date: Wednesday, 14-Jan-2015 21:26:49
For what appears to be the first time on record, Powerball Lottery Sales declined year-over-year. As the following slides show, lottery sales declined 19% in FY14 vs FY13 and even more stunningly reflective of a nation whose disposable income (and hope) is in such short supply, sales in the first half of FY15 are down 40% from the first of FY14. As LaFleurs concludes, this will make it very challenging for most Lotteries to manage their budgets…

more plus charts: http://www.fromthetrenchesworldreport.com/the-us-economy-is-so-bad-even-lottery-sales-are-collapsing/118896
Everything Obama Touches, Turns to Trash
Sunday, January 11, 2015
FAR AND WIDE, RIGHT OR LEFT, POLLS SAY AMERICANS SEE OBAMA AS A FAILURE!
If, as this article suggests, everything Obama touches turns to trash, that would go a long way toward explaining Michelle Obama… a true class act. Think I'm being harsh? Just ask the hotel she stayed at on her vacation to to China. THE HOTEL STAFF SAID MICHELLE AND HER MOTHER WERE UNBEARABLE. Unlike the press here, the Chinese media have no "Obama Cheerleading" team.
BA-DUM-TSSSHHH!!!
THAT WAS JUST TOO EASY!
Is That Baloney Reports: Even though a majority of voting Americans cast their ballot for Barack Obama in the last 2 elections, now, a majority of all Americans think that the presidency of Barack Obama is a COMPLETE failure. After nearly 6 years of scandal, broken promises, weakness and incompetence, most Americans believe electing Obama was the wrong thing for our country.
While Obama wants to blame George W. Bush, Republicans and so-called "RACIST" Tea Party members, most people have figured out it is Barack Obama himself that has made his presidency such an abysmal failure.
SERIOUSLY OBAMA: SHUT THE HELL UP!
Ex-FBI Agent's Epic Open Letter To Eric Holder Stuns Administration
Friday, January 9, 2015
Former FBI Special Agent K. Dee McCown wrote an open letter to Eric Holder. The letter is going viral as it apparently resonates with the vast majority of American citizens.

http://www.politicalears.com/blog/exfbi-agents-epic-open-letter-to-eric-holder-stuns-administration/
NOTE FROM PNN: This letter is posted in many places on the Internet. We have checked it at several fact-checking sites and none report it as a hoax or fraud. McCown has a LinkedIn page where his credentials are substantiated. We can find no posting where McCown himself denies writing the below letter. If we find out differently – we will let you know. For now, the letter appears to be genuine.
===============================
K. Dee McCown
College Station, Texas
December 28, 2014
Attorney General Eric Holder
U.S. Department of Justice
950 Pennsylvania Avenue, NW
Washington, DC 20530-0001

Dear Attorney General Holder,

It is unlikely that we met while I served in the FBI. That being said, we served at the Department of Justice (DOJ) during the same years and on the same "team" conceptually speaking. During my service in the FBI I worked with a number of U.S. Attorney Offices in the United States to include a tour at FBIHQ where I worked with the Department of Justice (Main) on a daily basis.

I begin my letter with this comment to highlight that I am not a bystander on the topic of law enforcement in the United States. I worked and managed a variety of federal investigations during my 12 years of service in the FBI, to include the management of several Civil Rights cases in the State of Texas. In fact, during my last tour in the Bureau, I was an FBI Supervisor responsible for managing federal investigations in nine (9) Texas counties, many of which were rural; in places where one would suspect racism to flourish given the narrative often pushed by Hollywood and urban progressive elites like yourself. I performed this mission diligently and under the close supervision of two FBI managers; an Assistant Special Agent in Charge (ASAC) and Special Agent in Charge (SAC,) both of which happened to be African American and outstanding law enforcement professionals. I also performed this mission serving side by side with a variety of law enforcement agencies at the Federal, State and local level.



I have observed you closely during your tenure as Attorney General and notably during these last tumultuous years; watching you negotiate a number of controversial public matters to include the ATF Fast and Furious scandal, Black Panther Party intimidation at voting booths, IRS targeting of American citizens (citizen groups opposed to the Obama Administration,) the ignoring of US Immigration laws, DOJ criminal indictments of select news reporters and your management of several high profile criminal investigations involving subjects of race, notably African Americans.

Until today, I chose to hold my tongue. However, with the assassination of two NYPD Lieutenants last weekend in New York City, at the hands of a African American man with a lengthy criminal record, fresh from his participation in anti-police activities; coupled with numerous "don't shoot, hands up," and "black lives matter" anti-police protests (some of which are violent) occurring daily around the nation, I am compelled to write you this letter.

To be blunt Mr. Holder, I am appalled at your lack of leadership as the Attorney General of the United States and your blatant politicizing of the Department of Justice. Your actions, both publicly and privately, have done nothing to quell the complex racial issues we face in our country and have done everything to inflame them. As the "top cop" of the United States, you share in the blame for much of the violence and protests we are now witnessing against law enforcement officers honorably serving throughout our nation.

During one of your first public speeches as Attorney General you made it a point to call America "a nation of cowards" concerning race relations. That speech, followed by other public announcements where you emphatically opined that the odds were stacked against African Americans in regard to the enforcement of law, your intention to change the law and permit convicted felons to vote after incarceration, and your changes to federal law ending "racial profiling," are poignant examples of how detached you remain from the challenges faced by law enforcement officers serving in crime ridden neighborhoods throughout the nation.
These opinions are also indicative of a man that lives and works in the elitist "bubble" of Washington D.C.

Your performance, as the nation's Attorney General, during the Trayvon Martin case in Sanford, Florida and the Michael Brown case in Ferguson, Missouri clearly highlights your myopic view on this topic. Contrary to your embarrassing prejudgment in the Brown case and evasive post trial remarks on the Martin case, neither Brown nor Martin were targeted and/or killed because of their African American race.
Rather, as non-emotive investigations determined, both teens died as a consequence of their own tragic and egregious behavior; behavior that involved a violent assault on a law abiding citizen in the Trayvon Martin case, and a violent assault on a young police officer in the Michael Brown case. Yet you, as the number one spokesman for law enforcement in the country, blame the deaths of these men on years of institutional racism and the alleged epidemic targeting of African American men by police departments around the country; nothing could be further from the truth. Following the Michael Brown case Grand Jury decision all you could muster was the following comment: "The Department of Justice is currently investigating not only the shooting but also the Ferguson police department in what is called a "patterns and practices" inquiry to determine if the police department has engaged in systematic racism."
So, let's get this straight. At a decisive moment in history when our nation required a strong and unbiased voice from its' senior law enforcement official, you Mr. Holder, made it your personal mission to join with other racial antagonist and politicize a tragic event, accusing a young white police officer of a racially motivated killing in what we now know was a justified self-defense shooting of a predatory felon. Your behavior is unbelievable. You sir, have sacrificed your integrity on the altar of political expediency. You, Mr. Holder, are the "coward" and hypocrite you so loudly denounce when speaking of broken race relations in America.

Further to this point Mr. Holder, law enforcement officers around the country remain dismayed and shocked at the counsel you keep; that being your close relationship with none other than Al Sharpton, a racist "shake down artist" who spreads hate, divisiveness and the promotion of anti-law enforcement sentiment throughout the country; a tax evading fraudster who has unbelievably visited the White House over 80 times in recent years. It is simply beyond my comprehension as a former federal law enforcement professional, that you, the Attorney General of the United States, joined arms in common cause with a charlatan like "the Reverend" Al Sharpton; and it speaks volumes to your personal character and lack of professional judgment.

Violent crime, out of wedlock births, drug abuse, rampant unemployment and poverty found in many low-income minority neighborhoods are not a result of racist community policing and racial profiling as you so quickly assert, and frankly most law abiding Americans are exhausted of hearing this false narrative repeated time and again by you and others in the racial grievance industry. While no one, me included, would ever suggest that African Americans have not suffered from institutional racism in the past, I would strongly argue that we no longer live in the Mississippi of 1965, nor do we live in a country that even closely resembles the "Jim Crow" South of yesteryear. Those days, thankfully, are in the past as are the generations of Americans that supported such egregious behavior and endured such suffering.

Rather, Mr. Holder, we live in a day and time where the root cause of many problems faced in our African American communities can be attributed to the breakdown of civil order due to the rejection of institutional and family authority and the practice of counter-culture values; and most notably, from the absence of strong male leadership in fatherless black families. The reason that our local police officers are so often entwined in tragic events in black communities is because it is the police that have filled the void in these communities that should be occupied by moral and strong black men leading family units with Godly values. You, Mr. Holder, especially, should be thanking the police rather than persecuting them for the gap they fill in these communities because if it were not for the intervention of local police many African American neighborhoods would be in a state of total anarchy.

Yet tragically, you and your race-baiting colleague Al Sharpton (a paid media personality under contract with MSNBC news) choose to remain silent because to publicly speak this self-evident truth threatens to not only alienate and offend the most loyal voting constituency of the Democratic Party but diminish your and Al Sharpton's self-serving power base in these suffering communities. God forbid that you would suggest individual citizens accept responsibility for their own behavior and the collective failure of their communities; it is so much easier for you and others like you to make excuses, play the victim card, and pander rather than address the real root causes that plague many low income neighborhoods.

Mr. Holder, the public is aware of FBI statistics that tell a different story than the one you and Sharpton preach. We know that young African American males, representing a tiny fraction of the U.S. population, are by far the greatest perpetrators of violent crime in America when compared to their peers in other ethnic groups, and, we know that citizens of African American descent overwhelmingly make up the majority of their victims. We also know that incidents where white police officers shoot and kill black perpetrators are rare and on the decline. We know further that although there are legitimate and bona fide Federal Civil Rights investigations in the United States worthy of pursuing, they are miniscule when compared to the false narrative portrayed by you, President Obama and Sharpton declaring rampant discrimination against African American men by police officers throughout the country. You are just plain wrong.


In closing Mr. Holder I will leave you with this thought; you were given a rare opportunity to lead with integrity during a variety of divisive and controversial issues during your tenure as the 82d Attorney General of the United States and rather than be a man of moral courage you chose instead to cower, further inflame racial tensions, advance false narratives and play progressive political activist.

Time and again you chose to "politicize" the mission of the Department of Justice rather than pursue justice and now, tragically, we are witnessing the fruits of your irresponsible behavior in the murder of two innocent police officers in New York City, assassinated by a man motivated by the flames of racial hatred that you personally fanned. How many more police officers will be injured or die in the coming days because of the perilous conditions you helped create in this nation. You, President Obama and Al Sharpton own this problem lock, stock and barrel and now it is your legacy.

As thousands of NYPD officers turn their collective back on New York Mayor Bill de Blasio, another dishonest politician and Sharpton disciple, so too do countless Federal law enforcement officers turn our backs on you.

K. Dee McCown
FBI (1997 – 2008)

CC: Senator Mitch McConnell
Senator John Cornyn
Senator Ted Cruz
Senator Harry Reid
The Honorable Bill Flores
The Honorable John Boehner
The Honorable Nancy Pelosi
==================
FROM MCCOWN'S LINKEDIN PAGE:
Director, Global Security Operations
Corporate Risk Inernational/Altegrity
August 2008 – February 2011 (2 years 7 months)Houston
CRI specialized in major domestic (USA) and international due diligence and investigative projects,
white collar crime investigations, business intelligence gathering,
undercover investigative operations and anti-money laundering analyses.
CRI also conducts security and risk assessment surveys, executive
protection, emergency evacuations, and responds to cases involving
kidnapping, illegal detention and extortion.
Special Agent/Supervisory Special Agent
FBI
March 1997 – August 2008 (11 years 6 months)
Counterterrorism, Counterintelligence, Criminal Programs, Hostage Rescue Team (HRT)
CPT
US Army Infantry & Special Operations (75th Ranger Regiment)
September 1987 – March 1997 (9 years 7 months)
New York mayor's secret past comes to light
De Blasio's unreported history stirring racial protests
Published: 60mins ago
Aaron Klein

Largely unreported in the news coverage of the recent race-related demonstrations is that New York Mayor Bill de Blasio has a history of working with extremist activist groups to stir protests.
Further, de Blasio has a largely unreported history with the controversial Association of Community Organizations for Reform Now, or ACORN.
ACORN's renamed group, the New York Communities for Change, is one of the organizations helping to lead the protests over the death of Eric Garner, who was killed by police in July.
De Blasio has been accused by critics, including New York police officers, of helping to fuel racial tension between police and protesters.
One of the major anti-police protests in New York that received media attention was an attempt to shut down Manhattan's Fifth Avenue shopping district before Christmas.
The protest was led by the group Act Now To End War & Stop Racism Coalition, or ANSWER, together with Occupy Wall Street and at least 10 other so-called economic justice and pro-Palestinian groups.
ANSWER has worked with ACORN and has led protests in the past with MoveOn.org, a group with which de Blasio previously worked.
De Blasio, Soros, MoveOn.org and protests
During the mayoral race last year, New York City media reported billionaire George Soros had endorsed de Blasio. But the reports failed to disclose the billionaire's major financial donation to de Blasio's nonprofit as well as the candidate's cozy working relationship with Soros-funded activist groups. De Blasio worked with some of those groups to stir protests.
In 2011, using his position of public advocate, de Blasio launched a nonprofit called the Coalition for Accountability in Political Spending, or CAPS. The group received its primary launch donation of $400,000 from Soros' Open Society Institute.
De Blasio used his group and his public office to organize with other Soros-funded groups.
In 2011, Chris Bragg at CityAndStateNY.com reported de Blasio pursued a case against the Minnesota-based Target Corporation after it contributed $150,000 to an organization that promoted a local politician, Tom Emmer, for governor. Emmer had drawn controversy for reportedly opposing a law that sought to combat the bullying of homosexual youth.
De Blasio's office responded by organizing a protest with MoveOn.org, which is funded directly by Soros as well as by the Soros-funded Tides Foundation.
De Blasio also worked with other Soros-funded groups, noted Bragg, including Common Cause, the advocacy group Public Citizen and the D.C.-based Center for Political Accountability.
According to Braggs, de Blasio first became more familiar with Soros after the politician was invited to speak in 2011 at an intimate panel discussion at the billionaire's Fifth Avenue apartment.
"I really didn't know Soros before this," de Blasio later stated. "At the end of it, I talked to him a bit, and he expressed some appreciation for the notion of finding a constructive way to address this. He said, 'Stay in touch,' and we did."
He added, "Then we went to his staff and said, 'Look, we're trying to build this out nationally, and here's an idea how to do it.'"
De Blasio the ACORN mayor?
In September 2013, WND was first to report de Blasio has a long history with the controversial ACORN, once even steering public funds to an ACORN front group.
De Blasio previously served several terms on the city council and as New York City public advocate from 2010 to the present.
He was endorsed by ACORN for his 2010 public advocate race.
De Blasio spent $43,000 to hire N.Y. Citizens Services Inc., an affiliate of ACORN, to run canvassing, consulting and field work for his public advocate campaign.
As a councilman, de Blasio steered $115,000 in taxpayer dollars directly to ACORN as well as to the organization's affiliate, the New York Agency for Community Affairs.
De Blasio's 2010 public advocate campaign was also endorsed by the ACORN-founded Working Families Party, with which the politician demonstrates a larger working relationship.
As a councilman, de Blasio was hired as a consulate by a group called the Progressive America Foundation, which reportedly paid him $33,000 to lobby for election regulations that would ease restrictions on third parties such as the Working Families Party, or WFP. The foundation is closely tied to WFP.
De Blasio turned around and spent $67,740 to hire WFP's for-profit branch, Data and Field Services, for canvassing and election consulting. The organization was run from the same office as New York ACORN.
WFP was founded by progressive activist Dan Cantor, who also was a founder of the socialist-oriented New Party.
De Blasio reportedly served as executive director of the New York branch of the New Party.
WND previously exposed that President Obama himself was listed in New Party literature as a member.
De Blasio is clearly still supported by the ACORN nexus.
Bertha Lewis, the former executive director of ACORN, spoke for de Blasio at numerous events during the mayoral election.
"I've known Bill for decades, and we've fought on the front lines together. We've organized together," Lewis said, according to EAG News.
"[He's] proud to say he's liberal. [He's] proud to say he is severely progressive and was proud to stand with me, to back me, to back ACORN, and said, 'We will march down the street together and I dare you, I dare you, to say something against my friend!'" Lewis continued.
With additional research by Brenda J. Elliott.
BENGHAZI BOMBSHELL! VALERIE JARRETT, COMMANDER IN CHIEF
Thursday, May 29, 2014

CONFIDENTIAL SOURCES CLOSE TO CONSERVATIVE REPORT HAVE CONFIRMED THAT VALERIE JARRETT WAS THE KEY DECISION-MAKER FOR THE ADMINISTRATION, THE NIGHT OF THE BENGHAZI TERRORIST ATTACK ON 9/11/2012.
The chronology of the evening of 9/11 are as follows:
<a href="http://ox-d.beforeitsnews.com/w/1.0/rc?cs=5125e7a33c8bf&cb=INSERT_RANDOM_NUMBER_HERE" ><img src="http://ox-d.beforeitsnews.com/w/1.0/ai?auid=326914&cs=5125e7a33c8bf&cb=INSERT_RANDOM_NUMBER_HERE" border="0" alt=""></a>
At approximately 5 PM Washington time, reports came in through secure-channels that Special Mission Benghazi was under attack. Secretary of Defense, Leon Panetta and Chairman of the Joint Chiefs of Staff, General Martin Dempsey summoned the President,and briefed him on the crisis, face to face.
Subsequent to that brief meeting, President Obama proceeded to the White House to dine in his living quarters.
After supper, Barack Obama had a telephone conference scheduled with Israeli Prime Minister Benjamin Netanyahu. Senior Advisor to the President, Valerie Jarrett was present for that conference, which was held due to problems the President was having with the perception of him snubbing Netanyahu in previous, formal encounters.
The telephone call between Obama and Netanyahu carried on for a full two-hours, creating the appearance of respect between the two world leaders.
As that meeting drew to a close, Ms. Jarrett, who is also the Assistant to the President for Public Engagement and Intergovernmental Affairs, went from the living quarters to the White House Situation Room, where the attack in Benghazi was being monitored by Dempsey, Panetta and other top-ranking officials.
Whether she was instructed by the President to go there, or if she went of her own volition, is only known by the President and herself.
A critical question that needed to be answered, and the sole military-order that could have launched offensive-actions, neutralizing the Ansar al Sharia terrorists attacks on the Mission (the purpose of which is detailed here) and its subsequent attacks on the adjacent CIA Annex, was the issuance of "Cross Border Authority", an order that can only be issued by the Commander in Chief, himself.
As was reported earlier by Conservative Report, Cross Border Authority was denied.
Two revelations are deeply troubling:
First, it is reported that an Army Special Forces team was present with an AC-130U Spooky (also known as a Spectre Gunship) on the tarmac at the airport in Tripoli, Libya. The Spooky is a technologically sophisticated, tactical aircraft, operated by the U.S. Air Force Special Operations Command.
It operates under the overall Special Operations Command stationed at MacDill Air Force Base in Tampa, which is reportedly in charge of all military special operations units, including: Army Special Forces, Navy SEALS, Rangers and certain Marine units, as well as the USAF AC-130Us, and "stealth Blackhawks," used in the Bin Laden raid.
Sp Forces thumbThe AC-130U Spooky is equipped with weapons that sync with laser-designators, like those that Woods, Doherty and Ubben had on that lonely rooftop above the CIA Annex. The laser-designator was used to "paint" the mortar targets during the attack, subsequently claiming the lives of Woods and Doherty, and leaving Ubben without a leg. Had the AC-130U been on station, over the CIA Annex in Benghazi, moments before the mortar rounds were fired, instead of "awaiting further instructions," the entire outcome of the Benghazi fiasco would have been different.
Add to that, a team of Green Berets on the ground to secure and/or evacuate the Annex, and the outcome would have been two SEALS still alive, and a mess of dead terrorists.
Val JarrettThe second, and most troubling aspect of the refusal to issue Cross Border Authority is, who issued the refusal. Rather than the President, the Commander In Chief, making critical decisions, granting or denying the authority to initiate offensive-actions in support of our valiant fighting men, the decision not to take action was made by a person, to whom the people did not elect, nor did the Congress have confirmation power over.
The military-order, not to initiate action, saving our men in Benghazi, was issued by the President's Advisor, Valerie Jarrett.
And this is a "phony" scandal?


Source: http://itmakessenseblog.com/2014/05/29/benghazi-bombshell-valerie-jarrett-commander-in-chief/
Rumor?: U.S. Chief Justice Roberts "Signed Off On Interpol To Arrest And Remove Obama on 25 Charges of Treason".
Saturday, April 19, 2014
"Since obama reneged on his resignation, all offers of safe haven throughout the world have been removed.
"Obama will be prosecuted for multiple counts of treason to the fullest extent."
Charges of Treason against Obama including 2nd Amendment infringements, declaring war without consent of Congress and misuse of Posse Comitatus in the Bundly Land Management case…
Picture: John Roberts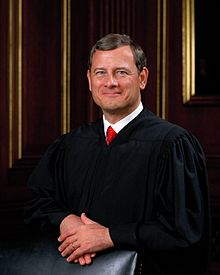 Obama took the Presidential Oath, swearing to ".. preserve, protect and defend the Constitution of the United States" but has: Article 1, Sect. 1
1. Used Executive Privilege in regards to Fast & Furious gun running scandal. When Government misconduct is the concern Executive privilege is negated.
2. Issued 23 Executive Orders on gun control – infringement of the 2nd Amendment.
3. Executive Order bypassing Congress on immigration – Article 1 Section 1, ALL Legislative power held by Congress.
4. NDAA – Section 1021. Due process Rights negated. Violation of 3rd, 4th, 5th, 6th, and 7th Amendments. White House: 'War on terrorism' is over Thursday, August 6, 2009
5. Executive Order 13603 NDRP – Government can seize anything.
6. Executive Order 13524 – Gives INTERPOL jurisdiction on American soil beyond law enforcement agencies, including the FBI.
7. Executive Order 13636 Infrastructure Cyber security – Bypassing Congress
Violations: Article 1 Section 1, Art. 4 sect. 4,
8. Signed into law the establishment of "NO Free Speech Zones" – noncompliance is a felony.
9. Attempt to tax political contributions –
1st. Congress shall make no law respecting an establishment of religion, or prohibiting the free exercise thereof; or abridging the freedom of speech, or of the press; or the right of the people peaceably to assemble, and to petition the Government for a redress of grievances.
Article I Section 7. All Bills for raising Revenue shall originate in the House of Representatives; but the Senate may propose or concur with Amendments as on other Bills.
Violations: 1st Amendment, Art.1 sect. 7
10. Defense of Marriage Act (DOMA) Law – Obama directed DOJ ( Dept. of Justice ) to ignore the Constitution and separation of powers and not enforce the law.
Violations:
Article III, Section 3 – Treason against the United States, shall consist only in levying War against them, or in adhering to their Enemies, giving them Aid and Comfort. No Person shall be convicted of Treason unless on the Testimony of two Witnesses to the same overt Act, or on Confession in open Court. The Congress shall have Power to declare the Punishment of Treason, but no Attainder of Treason shall work Corruption of Blood, or Forfeiture except during the Life of the Person attained. White House: 'War on terrorism' is over Thursday, August 6, 2009
11. Drone strikes on American Citizens – 5th Amendment Due process Rights negated.
Article II Section 2. The President shall be Commander in Chief of the Army and Navy of the United States, and of the Militia of the several States, when called into the actual Service of the United States; he may require the Opinion, in writing, of the principal Officer in each of the executive Departments, upon any Subject relating to the Duties of their respective Offices, and he shall have Power to grant Reprieves and Pardons for Offenses against the United States, except in Cases of Impeachment.
[The Trading with the Enemy Act (Public Law 65-91, 65th Congress, Session I, Chapters 105, 106, October 6, 1917) ] 18 USC 241 – Sec. 241
Violations : Art. 2 sect.2 , 5th amendment, 18 USC 241 – Sec. 241
12. Bypassed Congress and gave EPA power to advance Cap-n-Trade
Article I Section 1. All legislative Powers herein granted shall be vested in a Congress of the United States, which shall consist of a Senate and House of Representatives.
Violations: Art. 1 Sect. 1
13. Attempt for Graphic tobacco warnings (under appeal) –
Art. 1 sect. 8 Section 8. The Congress shall have Power To lay and collect Taxes, Duties, Imposts and Excises, to pay the Debts and provide for the common Defense and general Welfare of the United States; but all Duties, Imposts and Excises shall be uniform throughout the United States; (see list)
1st Amendment. Congress shall make no law respecting an establishment of religion, or prohibiting the free exercise thereof; or abridging the freedom of speech, or of the press; or the right of the people peaceably to assemble, and to petition the Government for a redress of grievances.
Violations: 1st Amendment. Art. 1 sect. 8
14. Four Executive appointments – Senate was NOT in recess (Court has ruled unconstitutional yet the appointees still remain)
Art. 1 sect 2 Section 2. The House of Representatives shall be composed of Members chosen every second Year by the People of the several States, and the Electors in each State shall have the Qualifications requisite for Electors of the most numerous Branch of the State Legislature.
Art. 1 sect . 5 Each House shall be the Judge of the Elections, Returns and Qualifications of its own Members, and a Majority of each shall constitute a Quorum to do Business; but a smaller Number may adjourn from day to day, and may be authorized to compel the Attendance of absent Members, in such Manner, and under such Penalties as each House may provide.
Violations: Art. 1 sect 2 & 5 ,
15. Obama took Chairmanship of UN Security Council -
Art 1 Sect. 9. Section 9. The Migration or Importation of such Persons as any of the States now existing shall think proper to admit, shall not be prohibited by the Congress prior to the Year one thousand eight hundred and eight, but a Tax or duty may be imposed on such Importation, not exceeding ten dollars for each Person.
Violation : Art 1 Sect. 9.
16. Obamacare ( A.C.A. ) mandate – SCOTUS (U.S. SupremeCourt ) had to make it a tax because there is no Constitutional authority.
Art. 2 sect. 1 Before he enter on the Execution of his Office, he shall take the following Oath or Affirmation:–"I do solemnly swear (or affirm) that I will faithfully execute the Office of President of the United States, and will to the best of my Ability, preserve, protect and defend the Constitution of the United States."
Violations : Art. 2 sect. 1 , Amendments 1, 2, 9, 10, & 14, Art. 1 sect. 7
18. Healthcare waivers – No president has dispensing powers
1st. Congress shall make no law respecting an establishment of religion, or prohibiting the free exercise thereof; or abridging the freedom of speech, or of the press; or the right of the people peaceably to assemble, and to petition the Government for a redress of grievances.
2nd. A well regulated Militia, being necessary to the security of a free State, the right of the people to keep and bear Arms, shall not be infringed.
9th. The enumeration in the Constitution (narrative), of certain rights, shall not be construed to deny or disparage others retained by the people.
10th. The powers not delegated to the United States by the Constitution, nor prohibited by it to the States, are reserved to the States respectively, or to the people.
14th. The Fourteenth Amendment, guaranteeing equal protection for all citizens, was necessary to secure for freed slaves the same rights as whites. Simply ending slavery was not enough. Prior to the Civil War, it was automatic in many states to treat blacks, whatever their status, as second-class citizens. A ruling by a court in Virginia in 1824 stated, without any effort at dissimulation, that, "And, yet, nobody has ever questioned the power of the legislature to deny to free blacks and mulattoes one of the fist privileges of a citizen — that of voting at election."
Art 1: Sect. 7 All Bills for raising Revenue shall originate in the House of Representatives; but the Senate may propose or concur with Amendments as on other Bills.
Violations: 1st, 2, 9,10, & 14th Amendment, Art 1: Sect. 7
19. Refuses to acknowledge state's 10th Amendment rights to nullify Obamacare ( Affordable Care Act ) .
Article I Section 1. All legislative Powers herein granted shall be vested in a Congress of the United States, which shall consist of a Senate and House of Representatives.
Violation: Art. 1 sect. 1 , Art. 2. sect. 1 , 10th Amendment
20. Congress did not approve Obama's war in Libya. Article I, Section 8, First illegal war U.S. has engaged in. Impeachable under Article II, Section 4. Obama falsely claims UN can usurp Congressional war powers.
Violations: Article I, Section 8, Art.2 sect. 1
21. Obama has acted outside the constitutional power given him – this in itself is unconstitutional.
Violations: Art. 2 sect 1
22. With the approval of Obama, the NSA and the FBI are tapping directly into the servers of 9 internet companies to gain access to emails, video/audio, photos, documents, etc. This program is code named PRISM. NSA also collecting data on all phone calls in U.S. Violation of 4th Amendment.
Violations: 4th Amendment.
23. Plans to sign U.N. Firearms treaty – 2nd Amendment.
Violation: 2nd ,4th, 9th, 10th , & 14TH Amendment, Art.1 Sect. 4 , Art. 2 sect. 1
24. The Senate/Obama immigration bill (approved by both) raises revenue – Section 7. All Bills for raising Revenue shall originate in the House of Representatives;
Violations: Art. 1 sect 4th, 7 , & 8th, Art. 2 sect. 1, Art. 4 sect. 4,
25. Obama refuses to uphold the Business Mandate Law (ACA) for a year. President does not have that authority – Article. I. Section. 1. All legislative Powers herein granted shall be vested in a Congress of the United States. The president "shall take care that the laws be faithfully executed" Article II, Section 3. posted on popular forum tonight
Posted by Midwest at 1:42 am
Posted by John MacHaffie at 10:09 PM
intel-rumors-update-4-18-judge-roberts-signed-off-on-interpol-to-arrest-and-remove-obama-action-expected-this-weekend
Shocking! The Most Corrupt Politicians List
Sunday, April 13, 2014
MOST CORRUPT POLITICIANS LIST
President Obama leads the "Top Ten Most Wanted Corrupt Politicians" for 2013, named by the Washington watchdog Judicial Watch.
This year the "honor" is for acting "as a one-man Congress, rewriting entire sections of federal law on his own."
Judicial Watch annually releases a list of the top politicians who misbehave while purportedly representing taxpayers in Washington. The 2013 "honors" go to, in alphabetical order, House Speaker John Boehner, CIA Director John Brennan, Sen. Saxby Chambliss, Hillary Clinton, Attorney General Eric Holder, former IRS commissioner Steve T. Miller and former IRS official Lois Lerner, ex-DHS Secretary Janet Napolitano, Obama, Sen. Harry Reid and Health and Human Services Secretary Kathleen Sebelius.
Several are perennial selections, including Obama, who has been on the list for seven years already, and Holder.
Obama, the organization contends, "is a master at catch-me-if-you can, corrupt politics."
"Not only is his administration secretive and dishonest; its callous disregard for the rule of law undermines our constitutional republic," the report said.
"Perhaps Obama's most outrageous actions over the past year were his continual lies about the ability of Americans to keep their own health insurance under Obamacare. According the Free Beacon, Obama misled the American people a total of 36 times between 2008 and 2013 with his promise, 'If you like your health insurance, you can keep it.' And according to NBC News, Obama knew, even as he repeated his lie, that 'more than 40 to 67 percent of those in the individual market would not be able to keep their plans, even if they liked them.'
"According to the Galen Institute, Obama has now unilaterally rewritten the Obamacare law as passed by Congress 14 times by executive fiat, with the majority of those changes coming in 2013. Those changes include such major overhauls as the congressional opt-out, eviscerating the individual mandate, and delaying the employer mandate. The latest Obama fix came on December 20, when he suddenly moved to allow hundreds of thousands of people who have lost their insurance due to Obamacare to sign up for bare-bone 'catastrophic' plans," it said.
The list also said that throughout 2013, the Obama family "continued to use the White House as its own personal travel bureau and the taxpayers as their personal expense account."
While Obama, the report said, "quickly disavowed any knowledge of the IRS assault on tea party and other conservative groups leading up to the 2012 presidential election, the fact is that it was the president himself who fingered the groups for what might be called 'special handling.'"
Obama had blasted conservative groups with attacks such as "We don't know who's behind these ads and we don't know who's paying for them," "You don't know if it's a foreign controlled corporation" and "The only people who don't want to disclose the truth are people with something to hide."
Boehner
Judicial Watch charged that House Speaker John Boehner has become a master at what Government Accountability Institute President Peter Schweizer calls the "Tollbooth Strategy."
That's when donations are accepted to move legislation down the road toward law, the report explained.
Among the actions cited were the Wireless Tax Fairness Act, which was brought up for a vote the day after Boehner's campaign collected "33 checks from wireless industry executives, totaling almost $40,000."
Brennan
Judicial Watch cites Brennan's decision to reveal the extent of U.S. penetration into al-Qaida, which forced a successful spy operation to be shut down. He also apparently orchestrated the administration's attempt to influence the storyline of the movie "Zero Dark Thirty."
Chambliss
The Georgia Republican was cited because the New York Times reported his abuses of loopholes through which campaign cash was converted into a lavish lifestyle.
The expenses included $10,000 on golf at Pebble Beach, nearly $27,000 at Ruth's Chris Steakhouse and $107,752 at the exclusive Breakers resort in Palm Beach, Fla., the report said.
Clinton
Judicial Watch said Hillary Clinton's downfall was Benghazi.
"On Jan. 23, 2013, outgoing Secretary of State Hillary Clinton testified to congressional committees regarding the terrorist attacks on the U.S. Consulate in Benghazi, which led to the murder of U.S. Ambassador Chris Stevens and three other American citizens. At times evasive, at other times defensive and aggressive, Clinton delivered her version of events in the days before and after the murders in Benghazi. And, in the end, the Secretary of State pretended to take 'responsibility,' but gave a predictable response regarding who is to blame: '…the level of responsibility for the failures…was set at the Assistant Secretary of State level and below,' Clinton said, referring to an investigation of the incident. In other words, this was not my fault," Judicial Watch reported.
Holder
He's a "regular" on the list, Judicial Watch said.
"In May 2013, Holder may well have committed perjury when he was involved in a back-and-forth with Rep. Hank Johnson, D-Ga., about whether the Department of Justice (DOJ) could prosecute reporters under the Espionage Act for publishing classified material. In response to Johnson's interrogatories Holder made the following statement: "In regard to potential prosecution of the press for the disclosure of material – this is not something I've ever been involved in, heard of, or would think would be wise policy."
However, Holder previously had approved a search warrant for the email account and phone records of Fox News reporter James Rosen, Judicial Watch said.
Miller and Lerner
The trouble for Miller and Lerner was that the IRS admitted to targeting anti-Obama tea party organizations and other conservatives during the 2012 election. The IRS "purposely stonewalled the approval of nonprofit applications from 'tea party' and other conservative groups that were seeking tax exempt status."
"According to a report by the agency's inspector general released in May 2013, for more than 18 months beginning in early 2010: 'The IRS used inappropriate criteria that identified for review tea party and other organizations applying for tax-exempt status based upon their names or policy positions instead of indications of potential political campaign intervention.'"
Lerner headed the department that was involved.
Napolitano
Judicial Watch explained she "played a major role in doing an end-run around existing immigration law by helping President Obama implement his Deferred Action for Childhood Arrivals (DACA) directive in lieu of DREAM Act passage."
Sebelius
"The Obama administration's own lawyers determined Sebelius could be fired for violating federal law when reports surfaced that she had campaigned for Obama while acting in her official capacity as an executive branch official during the last presidential campaign. This made Kathleen Sebelius the first member ever of a president's cabinet to be found guilty of violating the Hatch Act," Judicial Watch said, among other issues.
Dishonorable mentions went to former New York Mayor Michael Bloomberg, outgoing Virginia Gov. Bob McDonnell and incoming Virginia Gov. Terry McAuliffe, former Rep. Rick Renzi, R-Ariz., and National Security Adviser Susan Rice.
Last year's list included Obama, GOP Rep. Vern Buchanan, Holder, Clinton, Rice, Steven Chu, Illinois Democrat Jesse Jackson Jr., New Jersey Sen. Robert Menendez, Reid, Florida Republican David Rivera and Sebelius.
The entire 2011 list: Rep. Spencer Bachus, R-Ala.; former Sen. John Ensign, R-Nev.; Rep. Alcee Hastings, D-Fla.; Holder; Rep. Jesse Jackson Jr., D-Ill.; Obama; Rep. Laura Richardson, D-Calif.; Rep. David Rivera, R-Fla.; Rep. Maxine Waters, D-Calif.; and Rep. Don Young, R-Alaska.
Huge! Members Of Both Houses Of Congress Begin Receiving Copies Of Documents demanding the resignations of six top government officials including…
Wednesday, April 9, 2014
From the American Spring Headquarters
PRESS RELEASE
Effective April 8, 2014
America Demands 'Administrative Revisions'
At nine o'clock, the morning of April 8, Members of both houses of Congress began receiving copies of
documents demanding the resignations of six, top government officials, including Articles of Impeachment against
President Obama, for violating their oath of office, and/or by committing high crimes against the state, and requiring
Congress to enforce the demands, or be held accountable.
This bold move is only the second time in our nation's rich history such a demand has been made to relieve our
oppressed and abused people from an egalitarian, corrupt, and unresponsive regime.
As polls and water cooler conversations continue to reflect America's resistance growing stronger against
administration policies and actions in flagrant violation of the Constitution and our Bill of Rights, it is clear something
must change. We have only two options: surrender to totalitarian rule by Marxist ideologues, or enforce our American
ideals and principles.
So who has the boldness to make such declarations? None other than the American People; Citizens, constituents,
just us 'folks', demanding to be heard. Standing up as our spokesman is retired Army Colonel Harry Riley, who feels
compelled to act by the pervasive litany of illegal legislative and administrative actions, compounded by the
Administration's rebuff last October of WWII veterans just trying to pay their respects to their fallen comrades at an openair
memorial (paid for by their blood and treasure) in their nation's capital.
"But when a long train of abuses and usurpations, pursuing invariably the same Object evinces a design

to reduce them under absolute Despotism, it is their right, it is their duty, to throw off such Government,

and to provide new Guards for their future security." –Declaration of Independence
Operation American Spring (OAS – www.oas2014.com) is modelled after Arab Spring, Ukrainian Spring, and
other successful, popular, and massive demonstrations against oppressive bureaucracies. The one distinguishing
characteristic of OAS over other regime-altering events is our Founding Documents: the Declaration of Independence—
which clarifies such a change in government as our duty; and the Constitution—which not only allows such change, but
provides the process by which the change may take place in a peaceful and civil manner.
Although OAS has set the bar high, 10 to 20 million Americans committed to reform our government under
Constitutional constraints, there are indications they may well reach, perhaps, even exceed their goals. Another key factor
that differentiates OAS from previous attempts to reach the deaf ears of our Administration is that OAS leaders are
committed to stay in DC until their demands are met. And in the face of those who claim that even if those numbers are
achieved, there is no way our corrupt leadership will comply with the People's demands—one only has to witness the
Arab and Ukrainian movements—where they turned out their corrupt and incompetent usurpers without the benefit of
Constitutional validation.
Which brings us to one point no one can deny: The People outnumber their administrators, and regardless how
much control the ones at the top seize, they always fall—always have, always will. It only matters how much pain they
are willing to inflict on the People, and how much pain our 'leaders' are willing to bear themselves, before they collapse.
PRESS RELEASE
Effective April 8, 2014
# # #


Source: http://ppsimmons.blogspot.com/2014/04/breaking-members-of-both-houses-of.htm