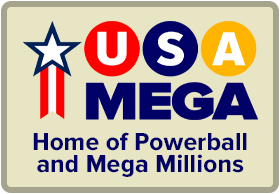 The time is now 3:37 am
You last visited
March 29, 2023, 1:49 am
All times shown are
Eastern Time (GMT-5:00)
New Jackpot Alerts
Published:
Those who are subscribed to Mega Millions and/or Powerball Jackpot Alerts at USA Mega surely have noticed the new graphical alert e-mails. It was a fun mini-project for me to give the Jackpot Alerts a complete makeover — something I've been meaning to do for a while.
One of the nice delivery features is that I have created the e-mails such that the one e-mail will work perfectly for both plain text e-mail readers and those who can display the graphics. Both versions of the e-mail are enclosed every time.
The other nice thing is that it will display the nice graphics even in those e-mail software applications that block external graphics. (Such as Outlook Express.)
That was actually a learning experience for me, as I worked to create an e-mail that would display correctly in any e-mail program. It is VERY difficult, because they are all so different from each other.
The way it accomplishes the task is that instead of including links back to a web server to show images, it encodes the graphics and stores them inside the e-mail itself, so once the e-mail is downloaded, it already includes a plain text version, a graphical version, and all the graphics necessary to display.
I even tested the e-mail in Microsoft's new Outlook 2007, which is not available to the general public yet. From my experience with it now, that e-mail software (Outlook 2007) is going to be a real challenge for web sites that deliver graphical e-mails, as it completely changes the way they are rendered [displayed]. It took a while, but I eventually figured it out, and the Jackpot alerts now look good on that software as well.
If you are receiving the Jackpot Alerts and would prefer to see just the plain text version, most e-mail software programs have an option to just show the plain text version. For example, in Outlook Express, you would open the Options window, then go to the Read tab, and then find the checkbox for switching to the plain text view.
If there is anyone who is having trouble viewing the Jackpot Alerts in their e-mail software (I obviously could not test every software package out there!) please send me a PM and let me know what the problem is, what e-mail software you're using, and what version of Windows or Mac OS you're using.