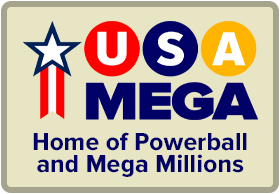 The time is now 12:20 pm
You last visited
December 3, 2023, 11:19 am
All times shown are
Eastern Time (GMT-5:00)
Whitelist Lottery Post in your ad blocker
We kindly request you allow Lottery Post to display ads in your web browser when you visit our website. Lottery Post only uses high-end advertising companies in our display advertising, so it is unlikely you will see any "malvertising" or other bad ads originating from our website once you whitelist it.
Why you should whitelist Lottery Post
Operating a very large and popular website like Lottery Post costs a lot of money. If there were no advertising, Lottery Post would literally not be able to function. It would go dark.
If you think that you can keep blocking ads, but everyone else will help out, then please understand that everyone else is thinking the same thing. We need you to help us by whitelisting Lottery Post in your adblocker.
We hate ads too
That is why the ads on Lottery Post are typically not intermingled with the content. We purposely place the ads in their own sections in order to be sure to provide a good content experience, while still being able to pay the bills.
How to whitelist Lottery Post
If you don't see your specific ad blocker below, it will work similarly to the way these ad blockers work below. See your ad blocker's website or help pages for detailed instructions.
AdBlock
If you are using AdBlock, click on the red AdBlock icon in the top right part of your browser. From the menu that opens, click on Always under the Pause on this site heading.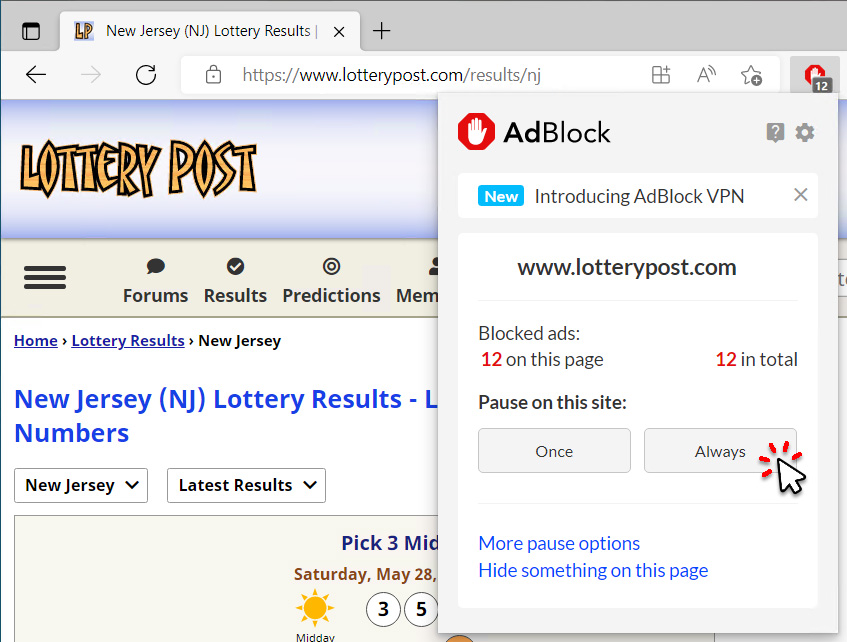 AdBlock Plus
If you are using AdBlock Plus, click on the red ABP icon in the top right part of your browser. From the menu that opens, click the toggle Off for Block ads on This website.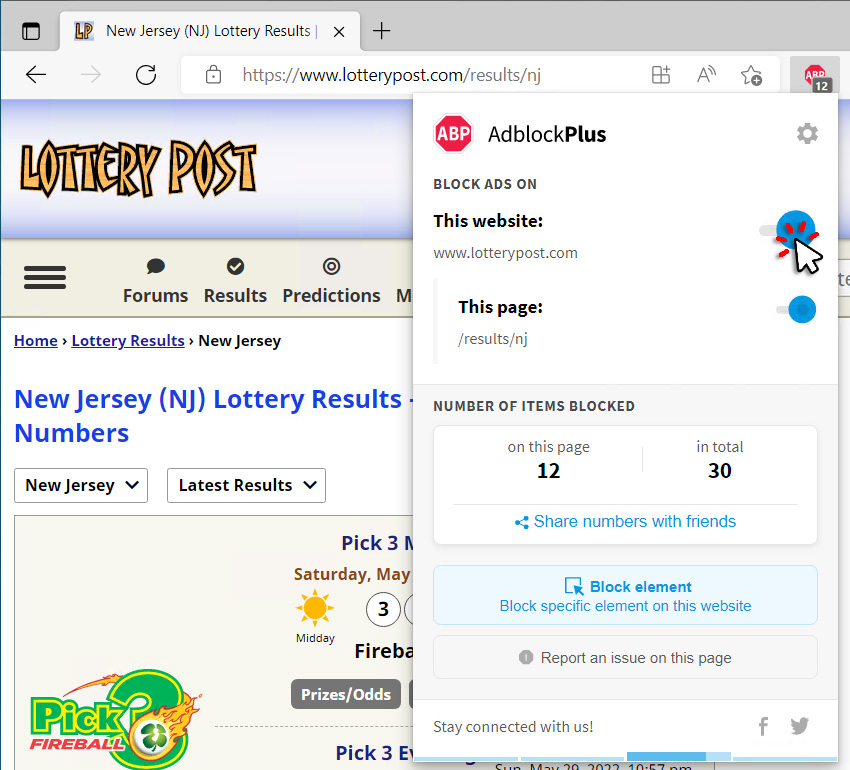 uBlock
Click on the icon in your browser toolbar. Then click on the Blue Power icon.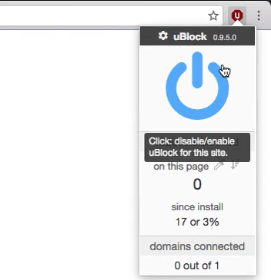 uBlock Origin
Click on the uBlock icon and the click on the blue circular Power icon.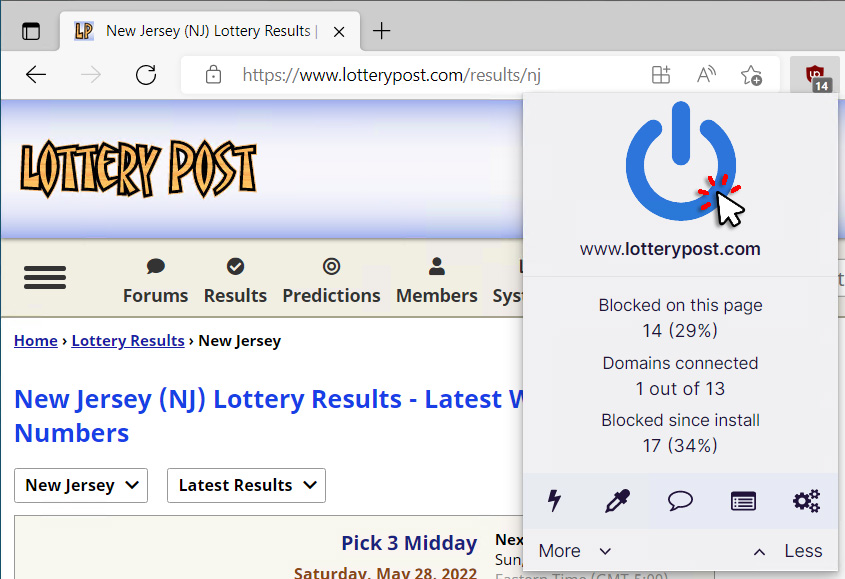 Adguard AdBlocker
Click on the icon in your browser toolbar and then toggle-off the Protection on this website button.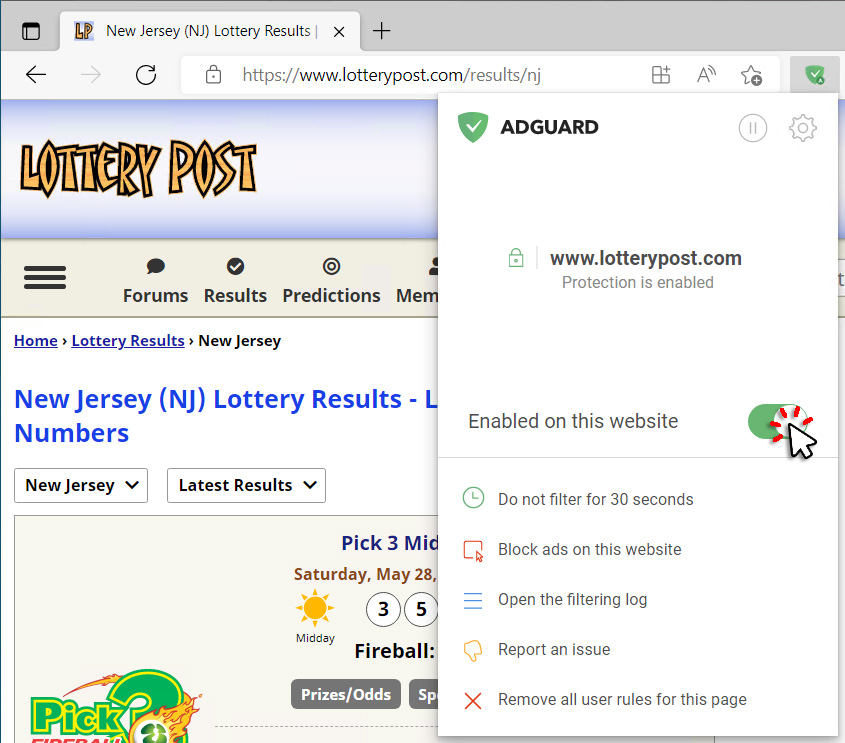 Opera browser
Open your Opera browser and click on the Privacy Protection shield icon in the address bar. Then click on Turn off for this site.
Ghostery
Click the Ghostery icon.
Click Trust Site or add lotterypost.com to your Trusted Site list.
Kaspersky Internet Security (and others)
If you have installed an Internet security application that blocks ads, such as Kaspersky, go into the Settings and disable ad blocking for lotterypost.com.
In Kaspersky, open Settings > Protection and click on Anti-Banner.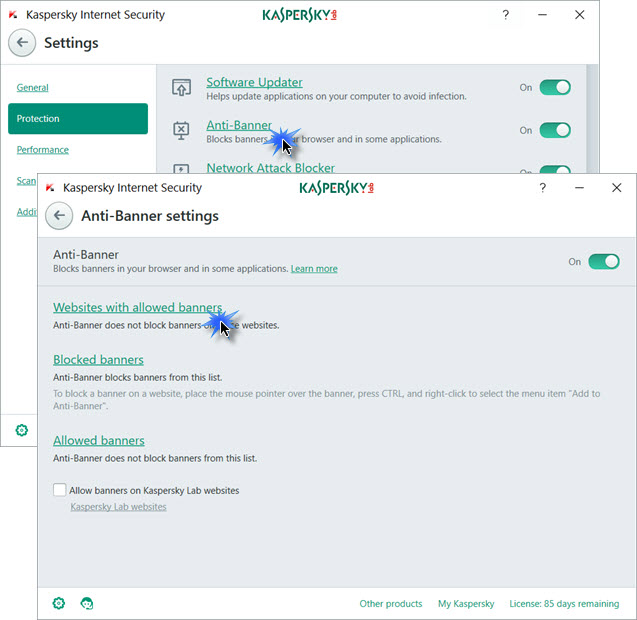 Next click on Websites with allowed banners link as shown above and add https://lotterypost.com in the space provided.
Click Add and then exit the settings.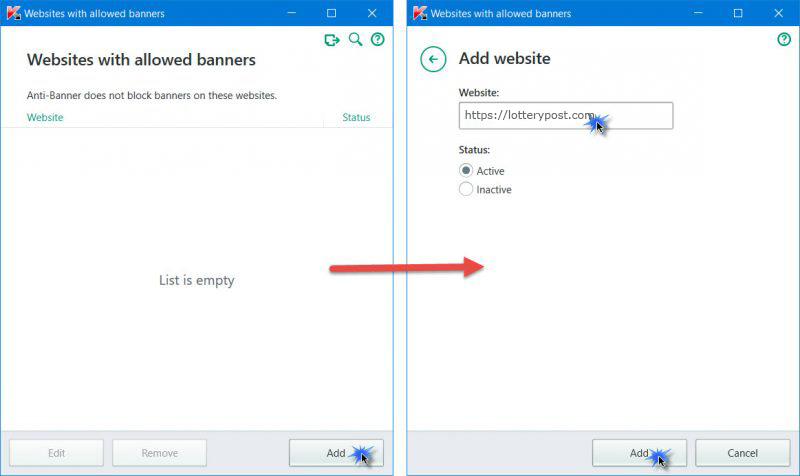 VPN software
If you are using a VPN software, you may have to enter its Settings and then disable ad blocking there.
This example shows CyberGhost, but it should be a similar process to disable ad blocking in other VPN software.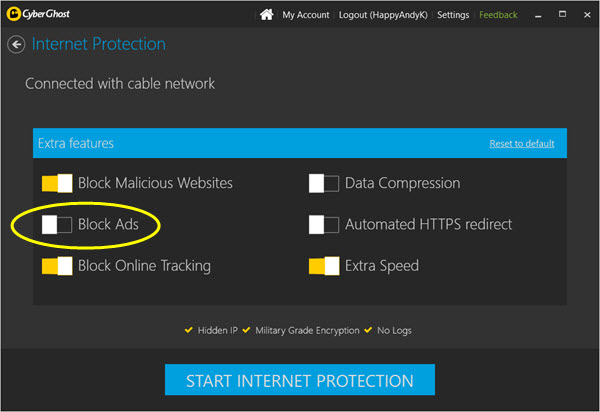 Thank you for whitelisting Lottery Post and supporting us!