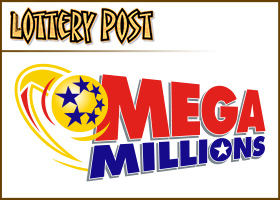 By Todd Northrop
What's a big jackpot lottery player to do when the Powerball jackpot has been won? These days, the answer is to play Mega Millions.
Thanks to adjustments made to the Mega Millions game last year, the multi-state game's jackpots are once again growing quickly — and typically growing quite large before being won.
The new Mega Millions jackpot for the upcoming Tuesday drawing has now reached $195 million, just 2 months after exploding to a near-record $636 million.
(See $636 Million Mega Millions jackpot split by 2 tickets, Lottery Post, Dec. 18, 2013.)
And in that 2-month stretch the Mega Millions game even produced another win for $61 million. (See Woman and son claim Tennessee's first Mega Millions jackpot win, Lottery Post, Jan. 15, 2014.)
The lump-sum cash value of Tuesday's grand prize is $107.1 million. That's a big chunk of cash.
Tuesday's Mega Millions jackpot is the accumulation of 14 consecutive drawings without a top prize winner. The current jackpot run-up started on January 7 as a $15 million grand prize.
Players should note that jackpot amounts are conservative estimates provided by the lotteries, and are often somewhat higher by the time the drawing occurs. Occasionally the official jackpot estimate is raised even before the drawing, due to larger-than-expected sales.
In Friday night's Mega Millions drawing, there was no jackpot winner, but 2 lucky players matched the first 5 numbers for a $1,000,000 prize: 1 from Pennsylvania and 1 from Virginia.
Neither of the second-prize winners purchased the Megaplier for an extra $1 per ticket. If they had, their tickets would have been worth an astonishing $5,000,000, since the Megaplier number drawn Friday evening was 5. The Megaplier offers players a chance to multiply non-jackpot prizes by the random Megaplier number drawn that evening for an extra $1 per play.
The Megaplier option is not available in California, because the fixed nature of the prize increase offered with the Megaplier is not compatible with California's pari-mutuel payouts. By law, California awards all prizes on a pari-mutuel basis, meaning the prizes will change each drawing based on the number of tickets sold and the number of tickets that won at each prize level.
Also, a total of 62 tickets matched four of the first five numbers plus the Mega Ball to win a $5,000 prize. Of those tickets, 7 were purchased with the Megaplier option, increasing their prize to $25,000, and 13 were sold in California, where the prize awarded this drawing is $2,649.
The Mega Millions winning numbers for Friday, February 21, 2014, were 23, 29, 32, 45, and 46, with Mega Ball number 15. The Megaplier number was 5.
Following the Friday drawing, the Mega Millions annuity jackpot estimate was raised $23 million from its previous amount of $172 million. The cash value was raised by $12.2 million, from its previous amount of $94.9 million.
Mega Millions is currently offered for sale in 43 states, plus Washington, D.C. and the U.S. Virgin Islands. Drawings are Tuesdays and Fridays at 11:00 pm Eastern Time. Tickets cost $1 each.
A 44th Mega Millions state may be added later this year, as the state of Wyoming has approved a new state lottery with the intention of joining multi-state lottery games. (See Wyoming officially becomes 44th state with a lottery, Lottery Post, Mar. 14, 2013.)
The Mega Millions winning numbers are published at USA Mega (www.usamega.com) minutes after the drawing takes place.