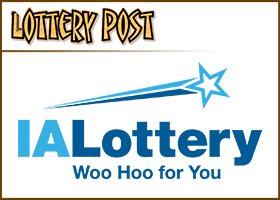 CEDAR RAPIDS, Iowa — Nothing seems farther away from the world of the smartphone, computer tablet and the future than the line at the grocery or convenience store to buy a lottery ticket.
However, Terry Rich, president and chief executive officer of the Iowa Lottery, on Monday said the Iowa Lottery is not a stodgy outfit, and he said it is educating itself for a coming time when Iowa Lottery players likely will be able to purchase tickets for lotto games like Powerball and Mega Millions via phone, tablet or computer.
Illinois and other states already offer the option, which Rich said is especially popular in Europe.
"I personally don't sense the desire to jump into it head first is here in the state right now," Rich said in an interview in Cedar Rapids. "But I think there is a desire to have that convenience, and that desire or convenience factor continues to increase. Everybody has a cellphone. Everybody has a mobile device they are using."
He said younger adults especially depend on mobile devices, and he said the Iowa Lottery may need to provide an online option to get access to the next generation of lottery players.
In states that already allow the mobile or online purchase of lottery tickets, a customer deposits money in a lottery account, and then the lottery withdraws money from the account as the customer purchases tickets. Applications for mobile devices can alert the customer as a drawing deadline approaches, can report if the ticket was a winner or loser and can limit the amount of money per particular period that the customer can spend. The system also verifies if the player is an adult and if he or she lives in the state.
"All those safeguards are technologically available today," Rich said.
He said the Illinois Lottery has experienced incremental growth, but not exponential growth, since online lottery sales began.
"This isn't something that everybody is going to run out and do, but it fills the gaps and allows you to work with the 21 to 30 age group that uses only cellphones," Rich said.
The Iowa Lottery saw sales drop 7.4 percent in the fiscal year that ended June 30, 2014, though Rich said the view that mattered was the five-year one, In the five-year view, the proceeds from the Iowa Lottery that go to the state of Iowa has increased more than 20 percent, from $60 million to $74 million a year, he said.
He said the Iowa Lottery always is working on new scratch-ticket designs and he said the operation has added a new lotto game, "All or Nothing," in the last year.
"We've been successful enough in the last few years," Rich said, explaining that there was no pressure for the Iowa Lottery to rush into online ticket sales.
"Taking some time, talking through the social implications with elected officials is absolutely a nice thing to be able to do. To take our time, do it right and do it in a methodical way," Rich said.
He said any push by Congress to put the federal government in the business of online gaming or lottery sales could accelerate the Iowa Lottery's move to online sales. It is important that states control oversight of the gaming business, he said.
Rich said the Iowa Lottery also is interested in working in concert with Iowa's casinos as the casinos look to provide online gaming for games like poker as a way to keep Iowa online gaming dollars in the state rather than lose them to international gaming sites.
Rich said Iowans who see that residents next door in Illinois can buy lottery tickets online may begin to more frequently ask why Iowans can't do the same thing in Iowa.
"That's why we go to the (workshop) sessions and learn about what's happening in Illinois and in Europe and all the different places," Rich said. "So we're ready, so we don't start from scratch. We're not going to be number one. But we don't want to be last either."
Sixty percent of Iowa Lottery sales are from instant scratch tickets, 35 percent from lotto tickets, and 5 percent from pull-tabs, according to Iowa Lottery figures.