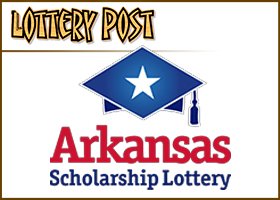 Starting this summer, retailers selling tickets for the Arkansas Scholarship Lottery will be authorized to accept payment by debit cards, thanks to a new law that zipped through the Legislature in 23 days with little fanfare.
Since the lottery started selling tickets on Sept. 28, 2009, the law allowed only cash to be used in transactions. Now Arkansas will join most other state lotteries by allowing debit-card use.
Senate Bill 617 — sponsored by Sen. Trent Garner, R-El Dorado — is now Act 876 of 2017. The law will go into effect 90 days after the Legislature adjourns this year's regular session, which is now in recess and scheduled to end May 1. If the session ends on that date, the law will become effective in late July.
Lottery Director Bishop Woosley said the lottery doesn't have any projections on whether the new law will lead to increased ticket sales or an increase in retailers selling tickets.
Asked why the lottery doesn't have such estimates, Woosley said, "The short answer is we can't track purchases by whether they are made through a debit card.
"But moving to start accepting debit-card payments is as much about remaining relevant in an increasingly cashless economy as it is increasing sales. We think this move is needed to keep up with how people are buying items like lottery tickets," he said.
Act 876 will allow lottery retailers to choose to accept payment in cash as well as "noncash, noncredit methods of payment, including... debit cards or other electronic transfer of funds of the consumer to the retailer." Lottery retailers accepting those methods of payment will be responsible for any costs, fees or charge-backs that go with those transactions, under Act 876.
The law will bar lottery retailers from selling tickets with "in-store credit, credit cards, charge cards, checks or any form of deferred payment."
SB617 sailed through the Senate in a 23-6 vote on March 13 and the House in a 60-23 vote on March 29 in this year's regular session.
Two years ago, Rep. Chris Richey, D-Helena-West Helena, said he couldn't muster enough votes for his similar legislation in the House Rules Committee, where the bill died in the 2015 regular session.
The now-defunct Arkansas Lottery Commission shied away from asking the 2013 Legislature to authorize debit-card lottery purchases because its chairman, Ben Pickard of Searcy, said there was a lack of support among lawmakers and then-Gov. Mike Beebe.
In February 2012, Woosley raised the debit-card idea during his interview with the lottery commission before he was promoted from chief legal counsel to director. At that time, he pointed out that about three-fourths of the 44 state lotteries allowed debit-card ticket purchases.
Now lotteries in 39 states and Puerto Rico allow the use of debit cards, according to a list provided by Woosley. Arkansas will join the list this summer.
Among Arkansas' neighboring states with lotteries, Louisiana, Missouri and Texas allow debit cards for ticket purchases, while Oklahoma and Tennessee don't. Maryland, South Carolina and Wyoming are the other states that don't allow debit cards for ticket purchases.
Woosley said a combination of factors likely helped SB617 sail through the Legislature this year.
"We've been working on this issue for some time, and our staff has worked hard to help persuade members of the General Assembly that this was necessary," he said in a written statement.
"But also, our society is changing. People, especially young people, carry less cash and rely on debit cards for small purchases. With 40 other states' lotteries accepting debit cards, and as society becomes increasingly cash-less, it was just time to allow this."
Family Council President Council Jerry Cox, a lottery opponent, said, "This Legislature is more libertarian than previous legislatures," so he wasn't surprised that SB617 zipped through the Republican-dominated House and Senate.
He said lawmakers expanded gambling and access to alcohol and were reluctant to reshape Amendment 98 to the Arkansas Constitution, which is the Arkansas Medical Marijuana Amendment approved by voters in November. But the Legislature also approved legislation that will restrict the use of the most common method of second-trimester abortions.
Cox said it also was difficult to argue against SB617 because most state lotteries already accept debit cards.
Also, "the governor's position on legislation loomed larger in the past session," Cox said.
In March, Republican Gov. Asa Hutchinson said he supported SB617 because allowing the use of debit cards and not credit cards on lottery purchases "is just an adjustment for today's economy, technology and lifestyle. Also, it is easier for the retailers to utilize that, so it makes sense."
The lottery has been under Hutchinson's control since February 2015, when he approved legislation abolishing the nine-member Arkansas Lottery Commission and putting the lottery under the Department of Finance and Administration.
Richey said Hutchinson's support and a recommendation by lottery consultant Camelot Global Service for debit-card ticket purchases helped clear the way for SB617 to zip through the Legislature.
"I was really surprised it came through the Senate so easy," Richey said.
Sen. Jimmy Hickey, R-Texarkana, said, "It seemed like people got comfortable" with using debit cards to buy lottery tickets, although he worries a bit about players with debit cards having overdraft protection and creating a debt instrument.
"I thought it was a decent business decision for the lottery," he said.
John Skrimshire, vice president of commercial operations for Camelot Global Services, said in a March 3 memo to Woosley that research indicates that "the opportunity to pay for lottery using non-cash payment such as debit cards will increase engagement, particularly for those under the age of 55."
Allowing such purchases will lessen "the perceived stigma of lottery play by some consumers by allowing tickets to be purchased in the same way as most other consumer products," said Skrimshire, who is Camelot's point man in Arkansas.
Debit-card purchases "will further attract both infrequent and new players to the lottery category to the benefit of scholarships in Arkansas," Skrimshire wrote in his memo before Garner filed his bill March 6.
The lottery has helped fund more than 30,000 Arkansas Academic Challenge Scholarships during each of the past seven fiscal years.
But some lawmakers are leery about debit-card purchases.
Senate President Pro Tempore Jonathan Dismang, R-Searcy, voted "present" on SB617 because, he said, "At a basic level, since most bank accounts allow for overdrafts with substantial fees, I believe the use of debit cards will allow individuals to use what is essentially debt to play."
Since the Missouri Lottery started selling tickets in 1986, its retailers have had the option to allow ticket purchases using debit cards and credit cards and "we have no evidence that it's had any effect on retailer recruiting," said Susan Goedde, a spokesman for the Missouri Lottery.
She said an informal survey conducted by the Missouri Lottery a few years ago found about 61 percent of retailers accept both debit and credit cards and "we looked at their sales and saw they average about 12 percent higher."
Charles Spakes, president of the Arkansas Grocers and Retail Merchants Association, said some Arkansas lottery retailers will accept debit cards, while others decided against doing so.
"I think most of the people with competitors close by will move towards accepting debit. Especially in C-stores, it will affect them in big metropolitan stores," he said.
Kroger Co. spokesman Teresa Dickerson said, "Basically, it is a bit too early to tell" what the company will do.
"Kroger is always searching for avenues to provide convenience for our shoppers. At this time, we will continue to research the new option," Dickerson said.
A spokesman for Wal-Mart Stores Inc. didn't respond to this newspaper's questions on the matter.
According to the lottery's website, 32 of the 109 ticket vending machines are at Wal-Mart stores and 29 are at Kroger stores.
Woosley said there are no plans at this time to change the vending machines to allow debit-card purchases.
Although the state hasn't monitored whether retailers adhere to current law on cash-only transactions, "if we learn that tickets have been sold using a debit card, we will inform the vendors of the law and remind them that sales are to be conducted on a cash-only basis," Woosley said.
In fiscal 2012, lottery revenue peaked at $473.6 million and net proceeds for scholarships reached $97.5 million, before falling for three consecutive years. With the help of a record Powerball run in January 2016, revenue rebounded in fiscal 2016 to $456.3 million and net proceeds hit $85.3 million.
Woosley has projected revenue at $463.4 million and net proceeds at $80.9 million in fiscal 2017, which ends June 30.
The Arkansas Academic Challenge Scholarship is financed with lottery net proceeds plus $20 million a year in state general revenue. A lottery reserve fund of $20 million covers temporary cash shortages to cover scholarships and is later replenished with net proceeds.
The Department of Higher Education distributed $96.4 million for the scholarship program in fiscal 2016 and expects to distribute $87 million to $88 million in fiscal 2017 because of a change in eligibility and reduction in the size of the first-year award, said Tara Smith, deputy director at the department.