eddessaknight's Blog
eddessaknight's Blog has 968 entries (4 private) and has been viewed 362,865 times.
Lottery Post members have made 2595 comments in eddessaknight's Blog.
eddessaknight is a Standard member
Creepy Creeping Shari'a. WAKE UP, America ALERT!

Muslim Takeover.mp4
4 MB

No Need to open images, just read down:
If you had any doubt why Obama, the Manchurian candidate, was put into the highest office in the land the following information will re-re-reconfirm what those of us with a brain have known all along. His sole purpose was to usher in the Caliphate. Please read below as well as watch this one minute video (scroll down) and see, with their own words, their master plan for our country. They are patient and they have done an excellent job in creeping into our country's government. Their plan is to disrupt our lives...big time!.
Also, check out the number of Muslims running for office in 2020. We have got to do everything we can to fend off this infiltration.
NOTE: ALL Moslem candidates believe that the Koran is the literal word of their god and that Muhammad is their best example to follow......
Both Allah, in the Koran, and Muhammad in his Sunnah call for war against non-Moslems until Islam is victorious over all other religions!
These candidates must be opposed vigorously. There are many of
them already
Emboldened: List Of Jihadis Running in 2020
From: "Geller Report" <feedblitz@mail.feedblitz.com>
Date: May 18, 2019 at 1:35:33 AM EDT
Reply-To: "Geller Report" <pamelageller@gmail.com>
Emboldened: List Of Jihadis Running in 2020
Want more Ilhan Omars, Rashida Tlaibs, Hakim Muhammads? Wake up the woke.
Muslims Emboldened:
List Of Islamists Looking To "Represent" You
in 2020 (Updated)
By: Tim Brown May 17, 2019 :
Those holding to the false teachings of Islam are at odds not
only with Christianity, which our country was built upon, but
also against our Constitution.
Yet, with this last election, we saw many Muslims elected to
office and in the coming election, we are sure to see many more.
The following is a list of Muslims who are already preparing to run for office to "represent" you.
Movita Johnson-Harrell is a Democratic candidate for
Pennsylvania House of Representatives, District 190, in the
general special election on March 12, 2019. Read more about
Johnson-Harrell here. – UPDATE: Movita Johnson-Harrell was
elected to Pennsylvania House of Representatives.
Ali Saleh is a Democratic candidate for California State
Senate in District 33. Saleh is running in the primary special
election on March 26, 2019. Read more about Saleh here.
UPDATE: Ali Saleh was defeated in the primary election.
Ammar Campa-Najjar is a Democratic candidate for Congress in
California's 50th District, for the 2020 election. Campa-Najjar
claims he is not muslim but his grandfather was a muslim terrorist,
therefore I thought he should be added to this list. Read more
about Campa-Najjar here.
Imtiaz Ahmad Mohammad is a Democratic candidate for Florida
House of Representatives, District 104, for the 2020 election.
Read more about Mohammad here.
Dr. Mohammad "MoDar" Dar is a Democratic candidate for U.S.
House of Representatives in Massachusetts, District 8, in the 2020
election. Read more about Dar here.
UPDATE: Mohammad Dar has dropped out of the race.
Altaf Ahmed is a Democratic candidate for Broward County
Commission District 1, in the 2020 election.
Yasmine Taeb is a Democratic candidate for State Senate in
Virginia's 35th District for the 2019 election. Read more about Taeb
here.
Nabila Mansoor is a candidate for Sugar Land City Council, District 2
in Texas. The General Election is on May 4, 2019. UPDATE:
Nabila Mansoor will face Naushad Kermally in the runoff election
Naushad Kermally is a candidate for Sugar Land City Council, District
2 in Texas. The Election is on May 4th 2019. UPDATE: Naushad
Kermally will face Nabila Mansoor in the runoff election on June 8th
Mohammad Usman Aijaz is a candidate for Sugar Land City Council,
District 1 in Texas. The General Election is on May 4, 2019.
UPDATE: Aijaz was defeated on May 4th.
Abrar Omeish is a candidate for Fairfax County School Board
in Virginia.
Omar Sabir is a candidate for Philadelphia City Commissioner
in Pennsylvania. The primary election is on May 21, 2019.
Qasim Rashid is a candidate for Virginia Senate, District 28. The
primary election is on June 11th 2019. Read more about Rashid here.
Ibrahim Moiz is a Democratic candidate for the Loudoun County
Board of Supervisors in Virginia.
Khurrum Wahid is a candidate for Coral Springs City Commission,
seat 2, in Florida.
Mahmoud Mahmoud is a candidate for the New Jersey General
Assembly, District 32. The primary election is on June 4, 2019.
Kaisar Ahmed is a candidate for the 3rd District seat on the San
Bernardino County Board of Supervisors, in California, for the
2020 election. Read more about Ahmed here.
Sharafat Hussain-Babu is a Democratic candidate for Virginia State
Senate in the 33rd district. The election is on June 11th 2019. Read
more about Hussain-Babu here.
Hassan Ahmad is a progressive Democrat running for the
Virginia House of Delegates, District 87. The election is on
June 11th 2019.
Aisha Wahab is a progressive Democrat running for Congress
in California, district 15. Read more about Wahab here.
Adil Syed Ahmed is a progressive candidate for Commissioner in West New York, NJ. The election is on May 14th 2019.
Sri Preston Kulkarni is a Democratic candidate for Congress in
Texas, District 22, in the 2020 Election.
Ghazala Hashmi is a Democratic candidate for Virginia State Senate,
District 10. The primary election is on June 11th 2019.
Awais Qazi is a Democratic candidate for New Jersey General
Assembly, District 29. The primary election is on June 4th 2019.
We'll update the list as more file to run for office.
I ask, where are you Christian Americans who will stand and be
counted and represent your people and faithfully execute your
duty before God (Romans 13:1-5)?
Where are true, God-fearing Americans that take seriously the
responsibility of the civil magistrate as the minister
of God? Where are those who seek to uphold the law rather
than violate it like Rep. Ilhan Omar,
A 1 minute message from the new congresswoman Michigan, Rep. Rashida Tlaib -

Check out her latest extremest statements on line

The new Congresswoman from Michigan, Rep. Rashida Tlaib shares her goals for America in this 1 minute film clip. If you don't think these people have an agenda –think again.

New freshmanDemocratic Congresswoman Rashida Tlaib on Trump: "We're Going To Impeach The Motherf*cker"
State: Man in church shooting aimed to kill 10 white people :-(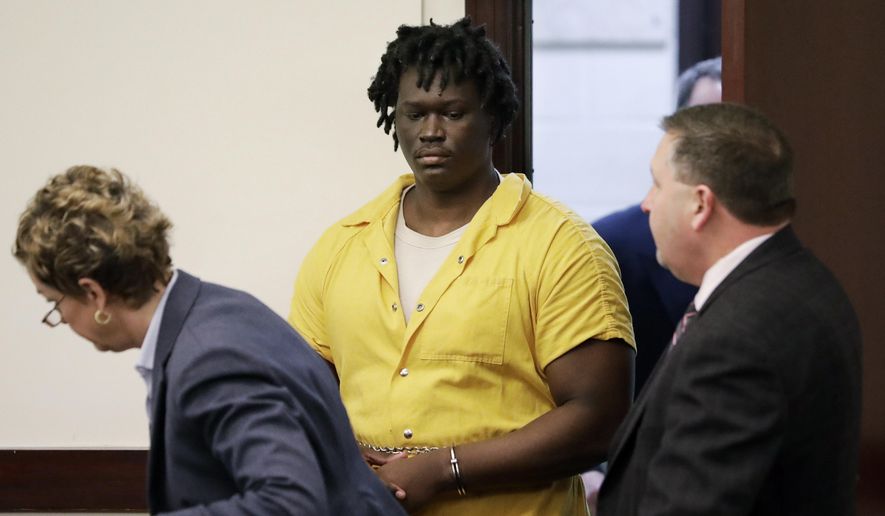 Emanuel Kidega Samson, 27, center, enters the courtroom Monday, May 20, 2019, in Nashville, Tenn. Samson is accused of fatally shooting a woman and wounding seven people at a Nashville church in 2017. Prosecutors have said they're seeking life without parole for Samson. (George Walker IV/The Tennessean via AP, Pool)
NASHVILLE, Tenn. — A prosecutor said Monday that a black man charged with fatally shooting a woman and wounding seven people at a Nashville church aimed to kill at least 10 white churchgoers and cited a 2015 massacre at a black church in South Carolina.
Nashville Deputy District Attorney Amy Hunter made the comments during opening statements in the trial of Emanuel Kidega Samson, 27. Prosecutors have said they're seeking life without parole for Samson, who faces a 43-count indictment, including a first-degree murder charge, in the September 2017 shooting at Burnette Chapel Church of Christ.
Samson's attorney, Jennifer Lynn Thompson, countered that Samson's true intention was to kill himself. He left a suicide note for his girlfriend and sent a goodbye video to his cousin, according to Thompson.
Members of the church packed the courtroom, at times becoming emotional when attorneys and witnesses recounted a Sunday filled with chaos, tragedy and heroism. The shooting rampage killed 38-year-old Melanie L. Crow of Smyrna, Tennessee. She was shot in the church parking lot, and dropped her Bible and notes from a recently concluded worship ceremony that had just concluded, Hunter said.
Samson, who used to attend the church, is black and the victims are white. Hunter explained that a note in Samson's car cited white supremacist Dylann Roof's massacre at a black church in Charleston, South Carolina, in 2015. It also referenced the red, black and green Pan-African flag, sometimes called RBG.
"Dylann Roof is less than nothing," the note read, Hunter said. "The blood that 10 of your kind will shed is that of the color upon the RBG flag in terms of vengeance." The note included an expletive and ended with a smiley face, Hunter said.
"This state will prove beyond all reasonable doubt that on Sept. 24, 2017, this defendant, Emanuel Kidega Samson, went to the Burnette Chapel Church of Christ with the intent to murder a minimum of 10 white churchgoers on that day," Hunter said. "You won't have to take the state's word for it though."
An arrest affidavit said Samson waived his rights and told police he arrived armed and fired at the church, described by the prosecutor as a multicultural, multigenerational community where everyone knows everyone.
Hunter also said the calamity revealed a "true life hero."
Churchgoer Robert Caleb Engle has testified that during the rampage, he twice confronted the gunman, who was wearing a tactical vest and a motorcycle-style mask with a clown smile on it. Engle said he was pistol-whipped three times in the head. At one point, he pushed the gun back on the shooter and a shot fired, striking the gunman and sending him to the ground.
Engle said his father kicked the gun away, stood on the shooter's hand and told Engle to go get his gun out of his truck.
Engle came back with his weapon, put his foot on the shooter's back and stood guard until first responders arrived.
A judge's order had kept many details of the case secret until trial.
At a hearing in April, it was revealed that a psychiatrist diagnosed Samson with "schizoaffective disorder bipolar type" and post-traumatic stress disorder after an abusive, violent upbringing.
"What this case is about is a man who was very sad, very suicidal, and he was looking to die that day," Thompson told jurors Monday.
~
CASTRATION WITHOUT REPRESENTATION
TIME TO SAY GOOD BYE
My Twilight Years at 84.
If you realize each day is a gift, you may be near my age. As I enjoy my twilight years, I am often struck by the inevitability that the party must end. There will come a clear, cold morning when there isn't any "more." No more hugs, no more special moments to celebrate together, no more phone calls just to chat.
It seems to me that one of the important things to do before that morning comes, is to let everyone of your family and friends know that you care for them by finding simple ways to let them know your heartfelt beliefs and the guiding principles of your life so they can always say, "He was my friend, and I know where he stood."
So, just in case I'm gone tomorrow, please know this:
I voted against that incompetent, lying, insincere, narcissistic, double-talking, socialist hypocrite, and fiscally irresponsible moron who spent eight years in the White House trying to destroy our wonderful country and turn it into Muslim loving, socialist <snip> hole like the one he came from, and I don't mean Hawaii!
One more thing, participating in a gun buy-back program, because you think criminals have too many guns, is like having yourself castrated because you think your neighbors have too many kids.
Regards,
Clint
Make My Day ~ Pass it on!
DID SHE JUMP?
PRICELESS!!!
Back on January 9th, a group of HELL'S ANGELS,
South Carolina bikers were riding east on 378
when they saw a girl about to jump off the Pee Dee River Bridge.
So they stopped.
George, their leader, a big burly man of 53, gets off his Harley,
walks through a group of gawkers, past the State Trooper
who was trying to talk her down off the railing, and says,
"Hey Baby . . . whatcha doin' up there on that railin'?"
She says tearfully, "I'm going to commit suicide!!"
"Why don't you give ol' George here your best last kiss?"
So, with no hesitation at all, she leaned back over the railing and did just that . ..........
and it was a long, deep, lingering kiss followed immediately by another even better one.
After they breathlessly finished, George gets a big thumbs-up approval from his biker-buddies,
the onlookers, and even the State Trooper, and then says, "Wow! That was the best kiss I have ever had!
That's a real talent you're wasting there, Sugar Shorts. You could be famous if you rode with me.
Why are you committing suicide?"
"My parents don't like me dressing up like a girl."
It's unclear if she jumped or was pushed.?
EISENHOWER WAS A TRUE VISIONARY

It is a matter of history that when the Supreme Commander of the Allied Forces, General Dwight Eisenhower, found the victims of the death camps he ordered all possible photographs to be taken, and for the German people from surrounding villages to be ushered through the camps and even made to bury the dead.
He did this because he said in words to this effect:
'Get it all on record now - get the films - get the witnesses - because somewhere down the road of history some will get up and say that this never happened'
This week, the UK debated whether to remove The Holocaust from its school curriculum because it 'offends' the Muslim population which claims it never occurred . It is not removed as yet. However, this is a frightening portent of the fear that is gripping the world and how easily each country is giving into it.
It is now more than 7 0 years after the Second World War in Europe ended. This e-mail is being sent as a memorial chain, in memory of the, 20 million Russians, 10 million Christians, six million Jews, and 1,900 Catholic priests Who were 'murdered, raped, burned, starved, beaten, experimented on and humiliated' while many in the world looked the other way!
Now, more than ever, with Iran, among others, claiming the Holocaust to be 'a myth,' it is imperative to make sure the world never forgets.
This e-mail is intended to reach 400 million people! Be a link in the memorial chain and help distribute this around the world.
How many years will it be before the attack on the World Trade Center
'NEVER HAPPENED',
Because it offends some Muslims ???

Do they even teach our children about the World Trade Center attacks in 1993 and 2001, or did it go the way of Pearl Harbor and Veterans Day?
Last Edited: May 18, 2019, 4:55 am
In an interview, General Norman Schwarzkopf was asked if he thought there was room for forgiveness toward the people who have harboured and abetted the terrorists who perpetrated the 9/11 attacks on America.
His answer was classic Schwarzkopf.
The General said, "I believe that forgiving them is God's function... OUR job is to arrange the meeting."
The "M" Word....by comedian Jeff Foxworthy
Have you ever wondered why it's OK to make jokes about Catholics,
Jews, Christians, the Pope, the Irish, the Italians, the Polish, the
Hungarians, the Chinese, the French (including French Canadians), the elderly, bad golfers, men/women, blacks/whites, etc, but its insensitive to make jokes about the Muslims?
Well, it's time to level the playing field and be politically
incorrect, by including our friends, the Muslims, on this grandiose
list.
So Jeff Foxworthy did his part to include the Muslims on his list ...
1. If you grow and refine heroin for a living, but morally object to
the use of liquor, You may be a Muslim.
2. If you own a $3,000 machine gun and a $5,000 rocket launcher, but
can't afford shoes, You may be a Muslim.
3. If you have more wives than teeth, You may be a Muslim.
4. If you wipe your butt with your bare hand, but consider bacon to be
unclean, You may be a Muslim.
5. If you think vests come in two styles, Bullet-proof and suicide,
You may be a Muslim.
6. If you can't think of anyone that you haven't declared jihad
against, You may be a Muslim.
7. If you consider television dangerous, but routinely carry
explosives in your clothing, You may be a Muslim.
8. If you were amazed to discover that cell phones have uses, other
than setting off roadside bombs, You may be a Muslim.
9. If you have nothing against women and think every man should own at least four, then you, too, may be a Muslim.
10. If you find this offensive t, you are likely part of
the problem here in America …but if you delete this, you are highly
likely a Muslim.
Last Edited: May 16, 2019, 7:36 pm
"A culture that fails its children"

Sad, Bad & dangerous Muslim grooming gangs from Telford to Rotherham.....

https://www.youtube.com/watch?v=FK4QA3Xg_bw&feature=youtu.be
"A culture that fails its children" | Muslim grooming gangs from Telford to Rotherham - youtube.com

A short reality video of the Muslim grooming scandal that grips Great Britain.
ANikita Khrushchev's words of 'wisdom'? Sounds like most of the Democratic Candidates running for President. Watch out America!

Hey, think about it.....

https://scontent-dfw5-2.xx.fbcdn.net/v/t1.0-9/51562108_10161354463420297_8627345535264620544_n.jpg?_nc_cat=104&_nc_ht=scontent-dfw5-2.xx&oh=e3433bbbc26a06a52ec33618d2a6aa92&oe=5CF1DF0A

And: Here we are now!
Norman Mattoon Thomas (Presidential candidate; 1956-64)
"The American people will never knowingly adopt socialism. But, under the name of "liberalism," they will adopt every fragment of the socialist program, until one day America will be a socialist nation, without knowing how it happened. I no longer need to run as a Presidential Candidate for the Socialist Party. The Democratic Party has adopted our platform", or are they really the same?
Last Edited: May 13, 2019, 8:01 pm
For the interested An excellent presentation
Very short
(Only about 6 minutes).

https://www.youtube.com/watch?v=5IMecwZA3KA

Why Socialism and Communism Are the Same
What's the difference between socialism and communism, or are they really the same?
Was Note Dame fire an "accident"?
Last Edited: May 12, 2019, 5:48 pm
The Brave Young Men of Highlands Ranch and Charlotte
Remarkable courage stops the carnage.
Colorado School Shooting: Douglas County Sheriff Responds
Kendrick Castillo was killed during a shooting at the STEM School Highlands Ranch in Colorado. On May 8, 2019, Douglas County Sheriff's office announced more information about the shooters. Image: Getty
Amid the heartbreak resulting from recent school shootings comes news of exceptional bravery displayed by students.
USA Today reports:
Kendrick Castillo – only days from graduation – acted fast inside of his British literature class at a suburban Denver school Tuesday afternoon. And he paid with his life.
When a gunman burst through the door at STEM School Highland Ranch, barking at students to stay in place and not move, Castillo, 18, rushed the shooter. It was a quick-thinking move that fellow students said gave them a chance to bolt for safety or take cover under desks.
This is Kendrick Castillo, the student who died in yesterday's shooting. Another student says he lunged at one of the shooters, saving the lives of many others. #9NEWS

Rachel Short of Bacara USA, a manufacturing business where Castillo began an internship last year, said he performed so well the company gave him a part-time job. Short said Castillo loved engineering and was eager to help people.
"To find he went down as a hero, I'm not surprised,'' said Short, the company's CEO. "That's exactly who Kendrick was."
The Denver Post reports on the hero and the people he left behind:
The father of the 18-year-old killed at STEM School Highlands Ranch on Tuesday confirmed to The Denver Post that his son, Kendrick Castillo, was the sole fatality in the school shooting that left eight others injured.
"He was the best kid in the world," John Castillo said through tears Wednesday morning...
"I wish he had gone and hid," Castillo continued, "but that's not his character. His character is about protecting people, helping people."
The Post story also reveals an early influence on his character:
...Cece Bedard spent a lot of time with Kendrick throughout their childhood, their fathers dragging them to Knights of Columbus meetings. Kendrick immediately took to the organization's creed of helping others, Bedard said.
"He told me he wanted to be a Knights of Columbus because he wanted to help not only people, but his community," Bedard told The Denver Post in a message. "He was the bravest soul I've ever met and never even cared what others thought because he was too busy finding ways to make you smile."
The New York Times reported this week on another kind soul who confronted a shooter:
WAYNESVILLE, N.C. — He kept charging. A bullet to the torso did not stop Riley Howell. A second bullet to the body did not prevent him from reaching his goal and hurling himself at the gunman who opened fire last week inside a classroom at the University of North Carolina at Charlotte. The third bullet came as Mr. Howell was inches from the gunman, who fired at point-blank range into his head.
Mr. Howell's parents said their 21-year-old son, who is being heralded for his bravery, was shot at least three times. He tackled the gunman so forcefully that the suspect complained to first responders after his arrest of internal injuries, the parents said the authorities told them.
According to CNN:
Howell grew up taking care of his three younger siblings on his family's farm in Waynesville. He spent time working out with first responders and dreamed of serving in the military or firefighting.
In a statement, Howell's family said he always stood up for what he believed and didn't hesitate to help those in need.
"His faith was strong and he knew what he had to do when people needed him most," the family said in a statement Wednesday. "He was always the guy you could count on and he delivered."
Fox News adds that Howell was honored as a member of the U.S. armed forces that he had long dreamed of joining:
The University of North Carolina at Charlotte student and ROTC cadet -- who died a "hero" during a confrontation with the gunman during last week's shooting at the college -- was laid to rest Sunday with full military honors.
His family's obituary notes:
Riley died the way he lived, putting others first. Our hope is that his example resonates with everyone. We hope others will, if ever the need arises, answer the call to be selfless and do the right thing without hesitation. We hope his example of loving, living large, being kind always and finding laughter in the little things will be remembered as Riley's gift to us all.
The gifts that Riley Howell and Kendrick Castillo gave to the students they saved can hardly be measured. In photographs Howell and Castillo appear to be just kids. They were men of great courage.
Last Edited: May 9, 2019, 6:58 pm
An Excellent History Lesson
The Global Islamic population is approximately 1,200,000,000; that is ONE BILLION TWO HUNDRED MILLION or 20% of the world's population.
They have received the following Nobel Prizes:
Literature: 1988 - Najib Mahfooz
Peace: 1978 - Mohamed Anwar El-Sadat
1990 - Elias James Corey
1994 - Yaser Arafat:
1999 - Ahmed Zewai
Economics: (zero)
Physics: (zero)
Medicine: 1960 - Peter Brian Medawar
1998 - Ferid Mourad
TOTAL: 7 SEVEN
The Global Jewish population is approximately 14,000,000; that is FOURTEEN MILLION or about 0.02% of the world's population.
They have received the following Nobel Prizes:
Literature: 1910 - Paul Heyse
1927 - Henri Bergson
1958 - Boris Pasternak
1966 - Shmuel Yosef Agnon
1966 - Nelly Sachs
1976 - Saul Bellow
1978 - Isaac Bashevis Singer
1981 - Elias Canetti
1987 - Joseph Brodsky
1991 - Nadine Gordimer World
Peace: 1911 - Alfred Fried
1911 - Tobias Michael Carel Asser
1968 - Rene Cassin
1973 - Henry Kissinger
1978 - Menachem Begin
1986 - Elie Wiesel
1994 - Shimon Peres
1994 - Yitzhak Rabin
Physics: 1905 - Adolph Von Baeyer
1906 - Henri Moissan
1907 - Albert Abraham Michelson
1908 - Gabriel Lippmann
1910 - Otto Wallach
1915 - Richard Willstaetter
1918 - Fritz Haber
1921 - Albert Einstein
1922 - Niels Bohr
1925 - James Franck
1925 - Gustav Hertz
1943 - Gustav Stern
1943 - George Charles de Hevesy
1944 - Isidor Issac Rabi
1952 - Felix Bloch
1954 - Max Born
1958 - Igor Tamm
1959 - Emilio Segre
1960 - Donald A. Glaser
1961 - Robert Hofstadter
1961 - Melvin Calvin
1962 - Lev Davidovich Landau
1962 - Max Ferdinand Perutz
Last Edited: May 9, 2019, 3:38 pm
Letter to Pelosi

This guy is really mad! Could we wonder what Pelosi did to him to make him so mad? FYI, this has been checked via Snopes, who contacted Mr. Guthrie, who confirmed he did indeed write & send this letter to Ms. Pelosi. This is one brave American!! AND---his credentials are impressive!! Check his credentials, then read his letter to Pelosi!
___________________________________________________

Born St. Louis, Missouri , August 21, 1944
Bar Admissions: North Carolina, 1969
U.S. District Court, Eastern, Middle and Western Districts of North Carolina, 1969
U.S. Tax Court
Fourth Circuit Court of Appeals
Education: Woodford College, 1966 A.B.
Mercer University, 1969 J.D. Phi Alpha Delta
Vice-Justice, District XIV, 1968 - 1969
Professional Associations and Memberships:
North Carolina and American Bar Associations (Member, Sections on: Administrative Law; General Practice; Litigation)
26th Judicial District and North Carolina State Bar
Mecklenburg County Bar Association
American Association of Justice
North Carolina Trial Lawyers Association
Captain, U.S. Army, 1969-1971, Vietnam, National Defense Medal, 1969
Republic of Viet Nam Service Media. Bronze Star Medals (2), 1971
Assistant District Attorney, Mecklenburg County, 1971 - 1974
Charlotte Chamber of Commerce
Chairman, Board of Trustees Providence United Methodist Church
Board of Directors, Alexander Children's Home
Wofford Alumni Executive Council
Scoutmaster, Boy Scouts of America
Board of Directors, Boy Scouts of America of Mecklenburg County
Board of Directors, Girl Scout Council
Life Member, National Eagle Scout Association
Life Member, Girl Scouts of America
~~~~~~~~~~~~~~~~~~~~~~~~~~~~~~~~~~~~~~~~~~~~~~~~
Dear Ms. Pelosi:

I write to you out of utter disdain! You are as despicable and un-American as the traitor Jane Fonda.
I am a soon to be 75 year-old who has voted in every state and local election since 1966. I have voted for both Republicans and Democrats alike. I have worked on campaigns for both Republicans and Democrats, white and black. I served the country that I love in Vietnam, as my son did in the Middle East. I was awarded two bronze stars. I have been involved in politics since age 6 when my father was campaign manager for a truly great American Congressman, Charles Raper Jonas, who worked for his constituents and his country, and was to be admired, unlike you.
You obviously haven't read the Constitution recently, if ever, the Federalist Papers, or even David McCullough's book on John Adams.

You ought to take the time while riding around in your government provided, luxury executive jet to do just that. You represent Socialistic and even Marxist principals that our founding fathers tried to avoid when setting out the capitalistic republican form of government represented by our Constitution.
I find it interesting that you and your husband are multi-millionaires with much of your fortune being made as a result of your public service. You have controlled legislation that has enhanced your husband's investments both on and off-shore. At the same time you redistributed the wealth of others. Our system of a free market economy is being destroyed by the likes of you. You ride around in a Gulfstream airplane OR the 757 you requested, at the taxpayer's expense while criticizing the presidents of companies who produced something positive for the economy. You add nothing to the economy of the United States; you only subtract therefrom.
I would like to suggest that you return to the city of fruitcakes and nuts and eat your husband's canned tuna and pineapple produced by illegal immigrants and by workers who have been excluded from the protection that 90% of the legal workers in the United States have. I await your defeat in the next election with glee...
Don't ever use the term un-American again for protesters who love this country and are exercising their rights upon which this country was founded. By the way, while I served in the Army, I was spit on by the same type of lunatics who support you and who you probably supported in the 60s and 70s. You are an embarrassment to all of us who served so that you would have the protected right of free speech to call us un-American. But at the same time, I have the right to write you to notify you that I consider you to be un-American, as do the majority of the people of this formerly great country. You are a true disgrace to most of the people who served this country by offering themselves for public service in the United States Congress.