Harve$t Moon's Blog
Harve$t Moon's Blog has 174 entries (0 private) and has been viewed 232,313 times.
Lottery Post members have made 319 comments in Harve$t Moon's Blog.
Harve$t Moon is a Platinum member
This Crazy Tree Grows 40 Kinds of Fruit | National Geographic
.
https://www.youtube.com/watch?v=ik3l4U_17bI
https://www.youtube.com/watch?v=ik3l4U_17bI
.
Sam Van Aken, an artist and professor at Syracuse University, uses "chip grafting" to create trees that each bear 40 different varieties of stone fruits, or fruits with pits. The grafting process involves slicing a bit of a branch with a bud from a tree of one of the varieties and inserting it into a slit in a branch on the "working tree," then wrapping the wound with tape until it heals and the bud starts to grow into a new branch. Over several years he adds slices of branches from other varieties to the working tree. In the spring the "Tree of 40 Fruit" has blossoms in many hues of pink and purple, and in the summer it begins to bear the fruits in sequence—Van Aken says it's both a work of art and a time line of the varieties' blossoming and fruiting. He's created more than a dozen of the trees that have been planted at sites such as museums around the U.S., which he sees as a way to spread diversity on a small scale.
Lottery Stories Review Marathon
Run time 1:10:50
https://www.youtube.com/watch?v=am-wV-lY4Qc
https://www.youtube.com/watch?v=am-wV-lY4Qc
This 1 hour and 25 minute video is well worth your
full and complete attention. (In My Humble Opinion)
You will be glad that you watched this and transferred
its information to the various aspects of your life.
.
Yes, even that aspect and that one, also!
.
Water Has Memory
https://www.youtube.com/watch?v=FMrQme-DEas
https://www.youtube.com/watch?v=FMrQme-DEas
Love and Gratitude for the gift of WATER!
Last Edited: August 7, 2021, 11:21 pm
The WHOLE TRUTH about Whole Foods (FULL)
https://www.youtube.com/watch?v=0_vKeup9XNI
https://www.youtube.com/watch?v=0_vKeup9XNI
.
Sorry to say that my family and I have been

duped for MANY years by this corporation!
Music from around the world!
This map has all the radio stations on it!
Check this out!
This is so much FUN!
Click on the link to get the globe map.
http://radio.garden/live/toulouse/radiopresence
http://radio.garden/live/toulouse/radiopresence
.
YouTube instructions:
Listen to World-Wide Radio Stations
FREE with Radio Garden
https://www.youtube.com/watch?v=GEQQ-szMnkE
.
https://www.youtube.com/watch?v=GEQQ-szMnkE
.
Last Edited: February 25, 2021, 2:50 pm
Forwarding this email from Europe
without my comments or changes.
---------- Forwarded message ---------
Date: Sun, Jan 3, 2021 at 9:35 AM
Subject: C19
Breaking Covid news! Italy has allegedly discovered covid is not a virus, but a bacterium. It clots the blood and reduces the oxygen saturation from dispersing throughout the body. They went against the World Health Organization's that no bodies be autopsied. When Italian Ministry of Health ordered many autopsies, they found the blood was clotted in all of the patients veins. They immediately started using aspirin 100mg and a coagulant medication. And have had immense success. 14,000 people were released from the hospital as healthy and covid free. Italy is demanding Bill Gates and the World health Organization be held accountable for crimes against humanity for misleading, misdirecting, and withholding life saving information from the world, which cost the lives of thousands. Ventilators and ICU units were not necessary. A mandated vaccine is not necessary. Covid19 is a bacterium, easily
treated with aspirin and coagulant. Spread the word! Make this global. Hopefully our president will learn about this and do something about it! Before we lose all of our constitutional freedoms.
Another article regarding it:
Carlie J Gardipee 2020
Coronavirus / Health
Discovery: Autopsies Prove that COVID-19 is a Disseminated Intravascular Coagulation (Pulmonary Thrombosis)
Posted by Chinonyerem Emmanuella
It is now clear that the whole world has been attacking the so-called Coronavirus Pandemic wrongly due to a serious pathophysiological diagnosis error.
According to valuable information from Italian pathologists, ventilators and intensive care units were never needed.
Autopsies performed by the Italian pathologists has shown that it is not pneumonia but it is Disseminated Intravascular Coagulation (Thrombosis) which ought to be fought with antibiotics, antivirals, anti-inflammatories and anticoagulants.
If this is true for all cases, that means the whole world is about to resolve this novel pandemic earlier than expected.
However, protocols are currently being changed in Italy who have been adversely affected by this pandemic.
The impressive case of a Mexican family in the United States who claimed they were cured with a home remedy was documented: three 500 mg aspirins dissolved in lemon juice boiled with honey, taken hot.
The next day they woke up as if nothing had happened to them! Well, the scientific information that follows proves they are right!
Also Read: Coronavirus: Safety Health Measures Beyond the Surgical Mask and Hand Sanitizers
"THE END OF COVID-19 IS NEAR"- GAIN AFRICA DIRECTOR DECLARES, BACKED W.H.O CHIEFS
This information was released by a medical researcher from Italy:
"Thanks to 50 autopsies performed on patients who died of COVID-19, Italian pathologists have discovered that IT IS NOT PNEUMONIA, strictly speaking, because the virus does not only kill pneumocytes of this type, but uses an inflammatory storm to create an endothelial vascular thrombosis."
In disseminated intravascular coagulation, the lung is the most affected because it is the most inflamed, but there is also a heart attack, stroke and many other thromboembolic diseases.
In fact, the protocols left antiviral therapies useless and focused on anti-inflammatory and anti-clotting therapies. These therapies should be done immediately, even at home, in which the treatment of patients responds very well.
If the Chinese had denounced it, they would have invested in home therapy, not intensive care! So, the way to fight it is with antibiotics, anti-inflammatories and anticoagulants.
An Italian pathologist reports that the hospital in Bergamo did a total of 50 autopsies and one in Milan, 20, that is, the Italian series is the highest in the world, the Chinese did only 3, which seems to fully confirm the information.
In a nutshell, the disease is determined by a disseminated intravascular coagulation triggered by the virus; therefore, it is not pneumonia but pulmonary thrombosis, a major diagnostic error.
Some world leaders doubled the number of resuscitation places in the ICU, with unnecessary exorbitant costs.
According to the Italian pathologist, treatment in ICUs is useless if thromboembolism is not resolved first. "If we ventilate a lung where blood does not circulate, it is useless, in fact, nine (9) patients out of ten (10) will die because the problem is cardiovascular, not respiratory."
"It is venous microthrombosis, not pneumonia, that determines mortality."
According to the literature, inflammation induces thrombosis through a complex but well-known pathophysiological mechanism.
Unfortunately, what the scientific literature said, especially Chinese, until mid-March was that anti-inflammatory drugs should not be used.
Now, the therapy being used in Italy is with anti-inflammatories and antibiotics, as in influenza, and the number of hospitalized patients has been reduced.
He also discovered that many deaths, even in their 40s, had a history of fever for 10 to 15 days, which were not treated properly.
The inflammation does a great deal of tissue damage and creates ground for thrombus formation. However, the main problem is not the virus, but the immune hyperreaction that destroys the cell where the virus is installed.
In fact, patients with rheumatoid arthritis have never needed to be admitted to the ICU because they are on corticosteroid therapy, which is a great anti-inflammatory.
With this important discovery, it is possible to return to normal life and open closed deals due to the quarantine, though not immediately, but with time.
Kindly share so that the health authorities of each country can make their respective analysis of this information, prevent further deaths and redirect investments appropriately; the vaccine may come later.
I Completely agree it's inflammation and DIC
Which is why I treat with
Tylenol- anti inflammatory
Hydroxychloraquine- anti inflammatory
Zithromax- antibiotic
Medrol dosepak- steroid
They tried to discourage use of ibuprofen or aspirin initially - better anti inflammatory than Tylenol ...
FORWARDED as received
paper or cloth diaper for the mouth/nose
and other "protective" face masks
*
smoke, mining, painting, pesticides,
radioactive, deadliest virus, masks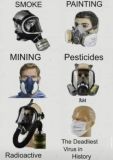 A picture is worth a 1000 words!
Last Edited: December 13, 2020, 1:58 pm
It's the female and not male reindeer that pull Santa's sleigh.True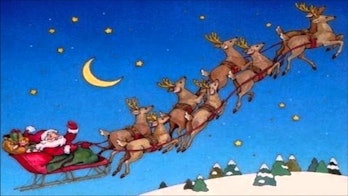 Why Rudolph the Red-Nosed Reindeer
Is a Lie, According to Science
Has nothing to do with the red nose.
You know Dasher and Dancer and Prancer and Vixen, Comet and Cupid and Donner and Blitzen. But did you know that all of Santa's reindeer are actually…ladies? A wildlife biologist has confirmed the stunning news to Inverse.
For so long, so many of us have incorrectly assumed that the famous reindeer are males, which is in part due to Hollywood propaganda from Rudolph the Red-Nosed Reindeer, in which the titular character is a male. And while St. Nick's reindeer are always depicted with full antlers, science suggests that this is almost a definite giveaway that none of them are males.
This revelation was inspired by a now-viral tweet on Tuesday, which accurately captures the gravity of the situation:
I know you're thinking that you can't believe everything you read on the internet. But according to wildlife biologist Imogene Cancellare, though both male and female reindeers grow antlers, at this time of year,
Santa's Squad would almost definitely be all-female.
"Males shed their antlers in late autumn, and antlered females shed in early spring," she tells Inverse. "This has to do with the female's need to defend resources during pregnancy. Not all female caribou (reindeer) have antlers, but for Santa's crew to have antlers in December, they would be females."
There's more to it than just the antlers. Around the time of winter we assume Santa makes his journey, male reindeer carry very little body fat — around 5 percent, in fact. Females, on the other hand, carry around 50 percent body fat in the winter, allowing them to keep warm during the cold months. Therefore, female reindeer are heartier and better prepared for a cheery romp around the world.
So while the mainstream media would have you believe Rudolph and his pals are just a bunch of good ol' boys, don't be fooled. The reality is that a powerful network of female reindeer support each other through the winter months to spread cheer each holiday season. We salute them.
https://www.inverse.com/article/39327-santas-reindeer-are-females-science-says
Last Edited: December 6, 2020, 3:13 pm
A veteran's car and a son's keepsake
If you are interested in COSTCO HACKS...
https://mindyourdollars.com/slideshow/costco-hacks
https://mindyourdollars.com/slideshow/costco-hacks
.
Save money, time and find the deals.
Best time to shop: Tuesdays and Wednesdays.
.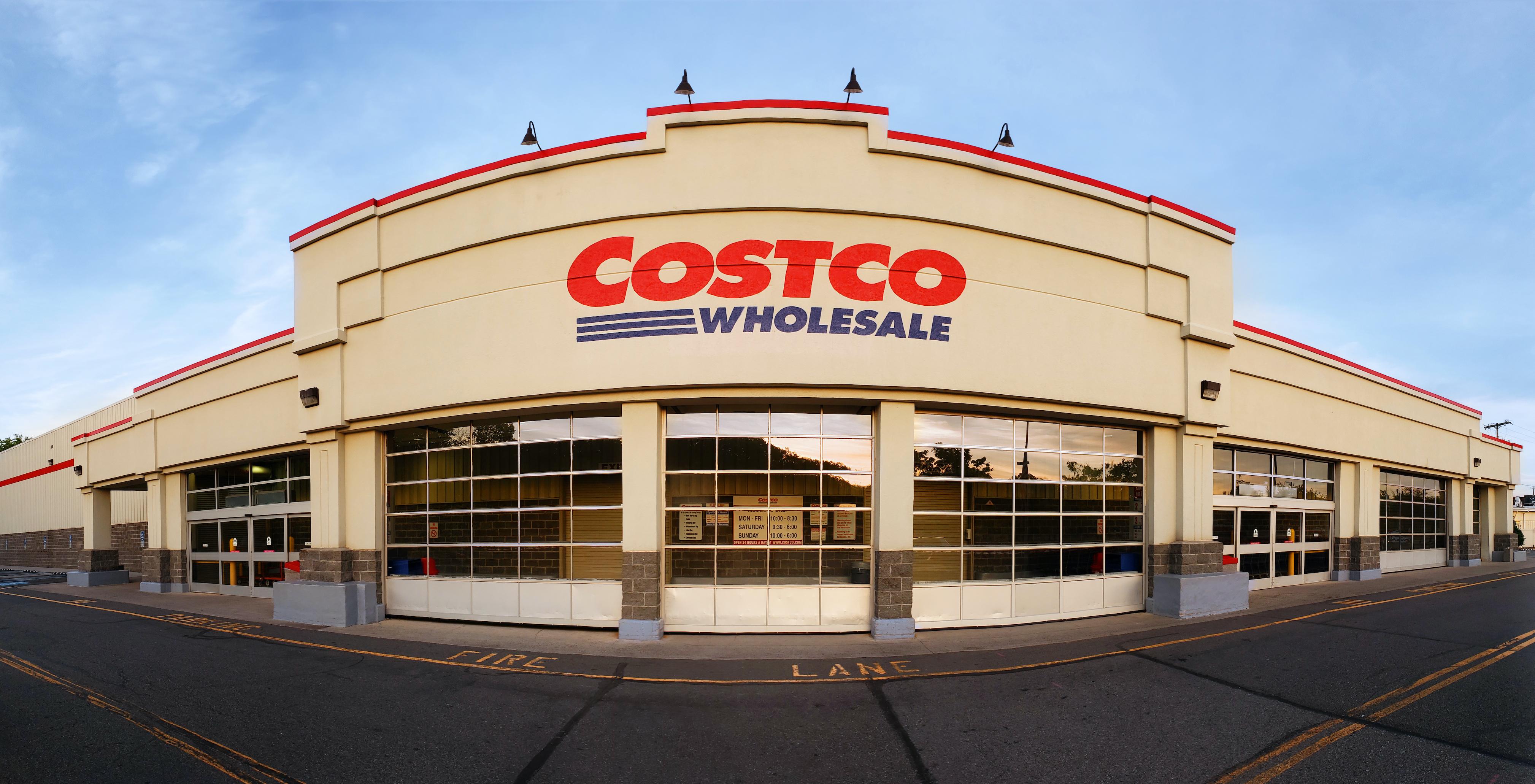 .
Here's a hack on pricing:
Sometimes, you'll see an asterisk* on a price tag for an item. It will be located in the top right corner – take a peek next time you're at the store.
.
This little sign means that Costco won't be getting that item back in. Or at the very least, that location won't. If it's a snack you've fallen in love with or an item you've been thinking about getting, you should pick it up pronto, because they won't be getting another shipment!
.
If you learn to decode the Costco price tag, you can save a ton of money! If the price ends in .97 cents, it means the item is on clearance. If the price ends in .88 or .00, the price has been lowered by that manager. That means that it could be open box, or missing pieces – look closely before you buy.
.
If it ends with .49 or .79 cents, it's a manufacturer deal, and should be grabbed – it won't be around for long.
.
Also:
You don't need a membership to buy prescription drugs. Just tell them at the door and they will let you in without a Costco card. You will only be able to buy them and no other store products.
BREATHTAKING AUDITION Makes Judges Cry | Kids Got Talent
Jan 20, 2020
These kids are AMAZING!!! WOW!
BREATHTAKING AUDITION Makes Judges Cry | Kids Got Talent
https://www.youtube.com/watch?time_continue=2&v=6G_p6QinbVE&feature=emb_logo
Grain Brain The Surprising Truth about Wheat, Carbs & Sugar
by David Perlmutter, MD
https://www.youtube.com/watch?v=DDrbm1_HOhM&t=1655s
Grain Brain: The Surprising Truth about Wheat, Carbs, and Sugar--Your Brain's Silent Killers
Description
From #1 New York Times bestselling author Dr. Perlmutter, the devastating truth about the effects of wheat, sugar, and carbs on the brain, and a 4-week plan to achieve optimum health.

In Grain Brain, renowned neurologist David Perlmutter, MD, blows the lid off a finding that's been buried in medical literature for far too long: carbs are destroying your brain. Even so-called healthy carbs like whole grains can cause dementia, ADHD, anxiety, chronic headaches, depression, decreased libido, and much more.

Groundbreaking and timely, Grain Brain shows that the fate of your brain is not in your genes, it's in the food you eat. Dr. Perlmutter explains what happens when your brain encounters common ingredients in fruit bowls and bread, how statins may be erasing your memory, why a diet high in "good fats" is ideal, and how to spur the growth of new brain cells at any age. And his revolutionary 4-week plan will show you how to keep your brain healthy and sharp while dramatically reducing your risk for debilitating neurological disease -- without drugs.

Featuring a blend of cutting-edge research, real-life stories of transformation, and accessible, practical advice, Grain Brain teaches you how to take control of your "smart genes," regain wellness, and enjoy lifelong health and vitality.
About the Author
---
David Perlmutter, MD, is president of the Perlmutter Health Center in Naples, Florida, and the co-founder and president of The Perlmutter Brain Foundation. He is the recipient of numerous awards, including the Humanitarian of the Year Award from the American College of Nutrition and the Linus Pauling Award, and he serves on the Medical Advisory Board of TheDr. Oz Show. A frequent lecturer, he writes a blog at VanguardNeurologist.com and is a contributor to TheHuffington Post. He is the author of The Better Brain Book, Raise a Smarter Child by Kindergarten, and Power Up Your Brain.
Praise For…
---
"Dr. Perlmutter outlines an innovative approach to our most fragile organ, the brain. He is an absolute leader in the use of alternative and conventional approaches in the treatment of neurologic disorders. I have referred him patients with wonderful results. He is on the cutting edge and can help change the way we practice medicine." --Mehmet Oz, MD
"Dr. Perlmutter takes us on a detailed tour of the destructive effects that 'healthy whole grains' have on our brains. Modern wheat, in particular, is responsible for destroying more brains in this country than all the strokes, car accidents, and head trauma combined. Dr. Perlmutter makes a persuasive case for this wheat-free approach to preserve brain health and functioning, or to begin the process of reversal." --William Davis, MD, author of Wheat Belly
"If you want to boost your brain power, keep your memory, and lift your mood and energy, as well as heal from a host of other common complaints, Dr. Perlmutter is your guide. This is the definitive instruction book for the care and feeding of your brain!" --Mark Hyman, MD, author of The Blood Sugar Solution
"Dementia and many other brain diseases are not inevitable, nor are they genetic. They are directly and powerfully linked to a diet high in sugar and grains. Grain Brain not only proves this, it also gives you everything you need to know to protect your brain--or a loved one's--now."--Christiane Northrup, MD, author of Women's Bodies, Women's Wisdom
"This book is a treasure. It is filled with self-empowering wisdom and easily understood leading-edge science. It can help you to avoid the devastating effects of an unhealthy diet and the dietary factors which are involved. By learning from the information presented in Dr. Perlmutter's book, you can avoid multiple health and neurological problems."--Bernie Siegel, MD, author of Faith, Hope, and Healing and The Art of Healing
"A provocative, eye-opening scientific account of how diet profoundly influences nerve health and brain function. Grain Brain explains how the American diet rich in gluten and inflammatory foods is linked to neurological conditions. Dr. Perlmutter outlines a blueprint for optimal health and a more resilient brain through proper nutrition and lifestyle. Grain Brain is a must-read!"--Gerard E. Mullin, MD, Associate Professor of Medicine, The Johns Hopkins School of Medicine, and author of The Inside Tract: Your Good Gut Guide to Great Digestive Health
"Dr. Perlmutter is the leading integrative medicine neurologist in North America today. His ability to fully integrate conventional medicine diagnosis and treatment with the latest innovations in nutritional and environmental medicine is phenomenal. As a teacher and clinician, he has fundamentally changed how physicians and patients think about neurological degeneration and, happily, regeneration." --Joseph Pizzorno, MD, coauthor of Encyclopedia of Natural Medicine
"Dr. Perlmutter provides sound advice, supported by the latest and most well respected medical research." --Russell. B. Roth, MD, Past President, American Medical Association
"A galvanizing call to arms against a gluten-heavy diet....Perlmutter's credentials as a board-certified neurologist and American College of Nutrition Fellow make him a uniquely qualified voice in the debate about which foods are best for the brain and body." --Kirkus Reviews


"Mind-blowing and disruptive to some long-standing beliefs about what our bodies require for optimal health...GRAIN BRAIN lays out an easy-to-understand roadmap packed with the latest science." --Max Lugavere, Psychology Today
"A tour de force that is destined to save many lives. As I read this important and well-written book I found myself nodding my head vigorously in agreement at practically every page. [Grain Brain] gives us what we need to know to be well again. Please read it." --Health Central
And...
~Moon
Marcelito Pomoy Sings With DUAL VOICES!
WOW! Marcelito Pomoy Sings "The Prayer" With DUAL VOICES! -
America's Got Talent: The Champions
https://www.youtube.com/watch?time_continue=423&v=hcgvYr2nlrk&feature=emb_logo