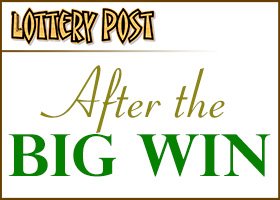 Day three in the lives of Georgia's newest multi-millionaires began with a round of interviews on Monday morning television shows for the winners of Friday night's $270 million Mega Millions jackpot.
Robert and Tonya Harris were expected to present their winning ticket to Georgia Lottery officials later in the day for validation, but Tonya Harris said early Monday that the couple's family was already plotting ways to spend some of the windfall.
Robert Harris, a 47-year-old iron worker from the small southeast Georgia hamlet of Portal, said he picked the winning numbers — 7, 12, 13, 19, 22, plus the Mega Ball number 10 — based on his grandchildren's birthdays.
At a family dinner over the weekend, those grandchildren began discussing what they wanted from the winnings, Tonya Harris said.
"A dirt bike. Four-wheelers. A Hummer 3, on and on and on," she said in an interview on Fox 5's Good Day Atlanta. "Things you dream about, as far as the Hummer 3's. Still, it just hasn't dawned on us yet that you can just go out and get it."
Tonya Harris said she doesn't want to be changed by the newfound wealth.
"We've really never had a whole lot in life," she said. "We've lived check-by-check. We want to build a home, get some land, do things for the grand babies, maybe travel a little bit. But as far as buying fancy things, that's not us."
Her husband told Fox 5 the one thing he had always wanted that he will now buy is a "big four-wheel drive truck."
Earlier Monday, Tonya Harris told CNN that "God blessed us... God is a good God."
She said the attention is "still just overwhelming to us."
The Harrises plan to have a "good friend" who is a lawyer and CPA set up their finances "for future generations."
"Hopefully, things will go well even after we're gone," she said.
Robert Harris said he plans to take the winnings in a lump sum. According to the Georgia Lottery Corp., that's about $164 million before taxes.
Harris said he and his wife would soon move out of their mobile home, but he wasn't sure they'd move out of town.
The ticket was sold at Clyde's Market on U.S. 80 in Portal, a farming town of about 600 between Statesboro and Swainsboro.