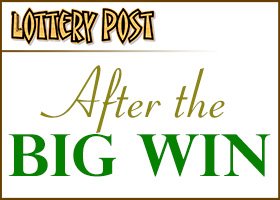 He wore shabby clothes, drove a wreck and took Lisa on cheap dates. Then they got engaged and Joe revealed the truth: having been stung by other women, he'd concealed his £10 million lottery fortune from her.
Lisa Johnson treasures a ring given to her by husband Joe even though it is unremarkable, with a tiny stone, and cost less than £200 from High-Street jeweler H. Samuel.
It was her Christmas present during their first heady months of dating, and when he presented it to her, she was thrilled.
'I could see Joe didn't have a lot of money,' she recalls. 'So for him to spend what little he had on such a thoughtful gift was lovely. It meant the world to me — it still does.'
Ten months later, when Joe proposed, she tearfully accepted. It was only once they were engaged that he told her he had a secret.
Far from being hard-up, he was a £10 million (US$16.2 million) lottery winner, with a property portfolio, a fleet of expensive cars and the money to fly around the world in private jets.
Lisa says: 'When he first told me the truth, I was furious. Our whole life together had been a lie.
'I thought he was a struggling divorce who could only afford to take me to cheap noodle bars and Beefeater restaurants. Suddenly, he was telling me he could afford anything he wanted. It felt like a betrayal.
'It was only when he explained how badly he'd been hurt before, by women who just wanted his money, that I started to realize why he'd gone to such lengths to hide his fortune from me.
'Now we are married, I'm relieved that he did lie. Because there is a 23-year age gap between us, people sometimes look at me and think I'm after his money.
'But I can say with complete honesty that I fell in love with a man who I believed had nothing.'
The extraordinary story of how multi-millionaire Joe kept his fortune a secret from his wife-to-be reads like a script from a Hollywood movie and involved an intricate web of deceit.
'I would drive to meet Lisa in an old, dirty Land Rover,' says Joe. 'I dressed down, took her to a £20 noodle bar for our first date and let her pay half on all our meals out.
'When I did take her home, I pretended I was house-sitting for a rich friend. Our first holiday together was a £200 budget break in Tenerife in a two-star hotel.
'I forced myself to carry on deceiving Lisa because I wanted to ask her to marry me - and I had to know for sure that she was saying yes for the right reason.'
Lisa, 40, was a single mother with a five-year-old son when she first met Joe Johnson in October 2000.
She says: 'My eight-year marriage had just ended and I was working in a cafe trying to build a new life with my son Alfie.
'Joe started coming into the cafe in the mornings for breakfast before work. Then he would come back for a coffee in the afternoon and sit talking to the waitresses.
'To begin with, he annoyed me by placing orders and joking about how long it took to get served. But when I said something about my divorce and he told me he had raised his children on his own, I realized what a kind and caring man he was.
'After some weeks of talking, he asked me out for a meal. The last thing I was looking for was a new romance, but I was desperately lonely and said yes, for the company.
'Joe picked me up from the two-bedroom flat I rented in Clayhall, Essex. He was dressed in jeans and an old top and he asked me if I liked Chinese food.
'I was delighted. I imagined a lovely little restaurant with a quiet table for two. Instead, Joe took me to a cheap noodle bar. I was stunned.
'People were squeezed onto long benches. We sat opposite each other, but any conversation was impossible because of the people on either side.
'The bill came to £20 and I asked Joe if he wanted me to pay half. He thanked me and took my money.
'It sounds incredible looking back, but I didn't mind, because I was used to paying my own way.
'Joe asked me out again the following week and this time he took me to a Beefeater pub. I offered to pay my half again and once more Joe accepted. When I told my sister, she said "He does seem quite tight with money", but I didn't care.
'Joe told me he was a printer and I simply assumed he didn't earn much. But he was generous in spirit, a kind man who made me feel special when we were together.'
Within three months, companionship turned into romance.
'At Christmas, Joe gave me a ring,' recalls Lisa. 'I saw he had bought it from H. Samuel, and when I opened the box it was obviously one of their cheaper ranges.
'The stone was so small that I had to lift the ring to the light to see it. But just the thought of Joe going to the shop and carefully choosing it for me meant a lot.
Then I gave him his present. I had felt so sorry for him having no money, and wearing old tatty clothes, that I had treated him to two designer sweaters. He was thrilled and quite emotional.'
Joe's £10 million secret
But unbeknown to Lisa, Joe had won £10 million on the National Lottery back in 1998 and owned a wardrobe of designer clothes.
Far from going to work every day after his breakfast at the cafe, he was off to check on his investments.
He was also falling in love, but begged family and friends not to let Lisa know about his secret money.
Joe says: 'In many ways, winning the Lottery had been one of the loneliest things that had ever happened to me.
'I met a couple of women after winning my fortune, but they were more interested in my money than me.
'Just before I met Lisa, I had spent £200,000 on one ring for a woman I had loved. I thought she loved me, too, but a week later she left me - with her ring.
'I've never felt so low and worthless in all my life. I realized then that no woman could ever judge a man properly if he was worth millions. I vowed that the next time I met someone, I would hide my money from them.
'If I fell in love, I would reveal my fortune only after we were engaged. It was the only way I could ever tell that I was truly loved for who I was, not because of the money.'
By January 2001, Joe's relationship with Lisa had intensified and he invited her to a family meal to celebrate his 55th birthday.
He had been divorced from his first wife when his children were small and Lisa says: 'I was terrified, because it meant meeting his three grown-up children for the first time and I didn't know how they would take to me.
'Nick, his son, was a year older than me, Tina a year younger, and his youngest son Zak was 22.
'In fact, they greeted me with such kindness I could have wept. We had a wonderful meal, and when the bill came up I offered to pay. No one seemed to notice, so I settled the bill — for £180.'
When Joe suggested the couple went away on holiday together, Lisa readily agreed.
She says: 'We both decided on Tenerife, but when Joe came back from booking it, he told me he had chosen a two-star hotel and a budget flight with EasyJet.
'He was thrilled because it had cost just £100 each as a late deal. But I was secretly disappointed, because I really wanted our first break to be special.
'The hotel was awful. Our door had a padlock on it, because they had problems with security. The curtains were dank, horrible and the bed had an old mattress which sank in the middle. I nearly cried when I saw the bathroom — it was filthy.
'Joe said we could change hotels if I wanted. Then he quickly added: "But we are only really going to sleep here, so we could just make do." In the end, that's what we did.
'We went in the swimming pool just once — the water was so dirty that I couldn't even see my hand underwater. But we spent our time walking along the sea front, laughing and enjoying meals in local restaurants.
'Later, after flying home, we saw our hotel featured on television — in Holidays From Hell.'
Of course, what Lisa didn't know was that Joe owned a portfolio of property, including a £1.5 million Docklands penthouse and a £1.2 million Essex farmhouse, where his children lived, set in 13 acres, complete with swimming pool, tennis courts and quad-biking track.
His third home was a £900,000 14th century former Monk's grange in Moreton, Essex.
It was here that he first brought Lisa, telling her he was looking after the house for a rich friend who was working abroad for 18 months.
Tears of happiness
Lisa says: 'Joe led me through beautiful landscaped gardens and in through an ancient oak door.
'Inside was a huge hallway with tiled floors and a beamed roof. It was like stepping onto a film set.
'He showed me into the vast country kitchen and a dining room with a massive candelabra and an oak table which could seat ten. The lounge had an open fire and beautiful red velvet and gold furniture.
'I didn't suspect for a second that this was Joe's home.
'When I went outside, I saw three garages. I asked what was inside, but Joe said there was nothing, just spiders. I hate spiders, so I never went near them.'
Had Lisa looked inside, she would have seen Joe's two £90,000 Porsche Carreras with numberplates and his £65,000 Range Rover.
But she still thought Joe had no money. Not that it mattered.
She says: 'We saw each other twice a day at the cafe where I worked and went out two or three times a week, splitting our time between my home and the house he was "looking after", and I realized it was only when I was with this softly spoken man that I felt alive.'
In September 2001, as they sat together one evening, Joe proposed. Lisa says: 'I didn't hesitate. I just threw my arms around him and said yes.
'I remember telling him that we wouldn't have much money, but I was happy to carry on working. I just wanted us to be together.
'I was thrilled and excited and my son Alfie, who adored Joe, was happy too. I felt that after years of being alone, I could be a wife and mother once more. I imagined us in a small three-bedroom house, all happy together.'
In fact, a week later, Joe told Lisa that he had some news.
He says: 'The previous few months had been agony, because I loved Lisa so much and I was lying to her every single day. When she came home from work exhausted, all I wanted to do was tell her she didn't have to go back.
She worried about paying the bills and I wanted to just reassure her that she would never have to worry.
When I proposed and she said yes, I was the happiest man alive. I knew in that moment that I had to stop lying.'
Marriage proposals
Lisa says: 'I was sitting on the sofa, in what I thought was his friend's house, a week after our engagement and Joe said he had something important to tell me.
'He was always joking, so when he said "I won £10 million on the Lottery three years ago", I just snorted with laughter.
'Joe repeated it and I told him to stop mucking about. I was quite irritated — it seemed such a silly thing to say.
'He went into the study, opened the safe and came back with an armful of paperwork.
He showed me the copy of a check, made out to Joe Johnson, for £10 million, a booklet of advice for Lottery winners and a letter from Camelot.
'I froze in horror. All I could think of were the lies. I started to cry and scream at Joe that our whole relationship had been a sham. The man I had trusted and loved had lied all along.
'I was also scared. It seemed such a huge amount. I wanted a quiet life married to someone I loved.
'I couldn't see how I could trust Joe, or live a normal life with that sort of fortune hanging over us.
'It was only an hour later, when I had calmed down, that Joe told me about the women he had dated before.
'He'd spent £1.5 million on women who'd gone on to dump him and his self-esteem was shattered.
'When he told me he longed to be loved just for being himself, I understood. And in my heart of hearts I might well have judged him differently if I'd known about the money from the start.
Days later, Joe took me to Knightsbridge and bought me a £500 Gucci bag, a matching purse and a Burberry coat. I felt like I was in a dream. Then he whisked me to the Ritz for dinner, ordered champagne and went down on one knee to propose once more.
'I burst into tears and all the diners around us clapped. It really was a Cinderella fairytale come true.
'I had planned to buy a £70 suit to get married in. But when we did marry, on October 8, 2001, I wore a designer dress and Joe paid £17,000 for a beachside wedding in Mauritius.
'My wedding ring cost £10,000, but I still kept the £200 ring Joe had bought me when we first met.
'Our wedding party back home cost £70,000, and as we danced the night away, I couldn't believe that I had expected a cheap register office wedding.
'Our married life together has been the happiest seven years of my life. For about six months after he told me about his money, it felt as though I was living in a dream — a very nice dream, but it didn't feel real.
'I kept having to stop myself from offering to pay half like I'd always done. But there is just so much more to Joe than his money, so it didn't change our relationship.
'The arrival of our son, Blue, three years ago, was just the icing on the cake. We've never spoiled either of the boys, because we want them to have as normal a life as possible.
'Sometimes, people might look at us, notice the age gap and think: "She's only with him for the money." But nothing is further from the truth. I'm with the man I love — for exactly the right reasons.'
(Click for full-size; opens in new window)Joe Johnson didn't tell wife Lisa that he had a £10m fortune until after they had become engaged.
(Click for full-size; opens in new window)The couple married in a £17,000 ceremony in Mauritius seven years ago.
Thanks to rooney for the tip.