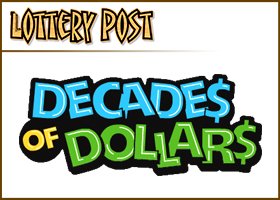 Decades of Dollars to replace Win For Life game
By Todd Northrop
UPDATED: Since the original news story was written, it has come to our attention that Arkansas will not be participating in the new lottery game, due to legislative hurdles, and the Win For Life game will continue to be played in Virginia. The title of the story has been changed to reflect three state lotteries, rather than the four state lotteries originally referenced, and the body of the article has been updated with the above two new facts.
. . . . .
The states of Georgia and Kentucky will be ending sales of the multi-state Win For Life game, and the three states of Georgia, Kentucky, and Virginia will be adding a new multi-state game called Decades of Dollars.
The state of Virginia will continue offering Win For Life as an in-state game. Virginia marketing materials indicate a desire to cross-sell Win For Life in other states.
The last drawing of Win For Life in Georgia and Kentucky will be Jan. 29, and the new game will go on sale the following day. The first drawing of Decades of Dollars will be on Thurs., Feb. 3, 2011.
Decades of Dollars drawings will be held on Mondays and Thursdays.
On each $2 ticket, players choose 6 numbers between 1 and 47, or they can have the lottery terminal randomly generate the numbers.
Matching all 6 numbers wins the top prize of $250,000 per year for 30 years or $4 million in cash. If more than two tickets win the top prize in one drawing, all the winning tickets will equally share a $10 million prize.
Prizes and odds
Players can win a prize by matching as few as two numbers. The complete list of prizes are listed below, along with the odds of winning.
Match 6 of 6 — $250,000 per year for 30 years or $4 million in cash (odds are 1 in 10,737,573)
Match 5 of 6 — $10,000, fixed prize for up to 25 winners; if greater than 25 winners, the second prize pool of $250,000 is shared among all winning tickets (odds are 1 in 43,649)
Match 4 of 6 — $100 (odds are 1 in 873)
Match 3 of 6 — $10 (odds are 1 in 50)
Match 2 of 6 — Free Ticket (odds are 1 in 7.1)
The overall odds of winning a prize are 1 in 6.2.
Thanks to Increase for the tip.