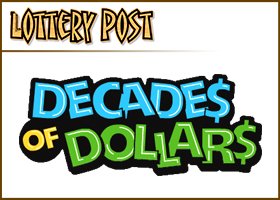 Making room for upcoming national Monopoly game
By Todd Northrop
There are just twenty remaining chances to play and win the multi-state Decades of Dollars game in Arkansas, Georgia, and Kentucky.
The first drawing of Decades of Dollars was on Feb. 3, 2011, in the states of Georgia, Kentucky, and Virginia. Arkansas later joined the game starting with the drawing on May 5, 2011.
Arkansas, Georgia, and Kentucky will not be participating in any drawings after October 16, 2014. After that date, Decades of Dollars will become a Virginia-only game.
Decades of Dollars is a $2 multi-state draw game. Drawings will continue to be held at 11 p.m. Eastern Time (10 p.m. Central) on Monday and Thursday, until the final drawing on Thursday October 16, 2014.
In the Decades of Dollars game, six numbered balls are drawn from 1 to 47. If all your numbers match those that are drawn, you win $250,000 per year for 30 years, or $4 million cash.
Secondary prizes range from $2, for matching two of the six numbers drawn all the way to the $10,000 prize, for matching five of the six numbers drawn.
Starting after the drawing on Monday, August 11, 2014 a countdown to end the game will begin, and players purchasing multi-draw tickets for Decades of Dollars will see a limited amount of draws available, starting from nineteen (19) and showing one less with each draw that takes place thereafter.
As Decades of Dollars ends in the three states, a new game will begin. The states will offer players a new national game, with a familiar name and theme that everyone will recognize. Starting on October 19th, 2014, Monopoly Millionaires' Club will kick off.
The new national multi-state draw game (5 of 52 plus 1 of 28 Monopoly properties), will have a drawing every Friday at 11:15 p.m. Eastern Time (10:15 p.m. Central). The game has a top prize that ranges from $15 million to $25 million, along with guaranteed $1 million Millionaires' Club cash prizes nationwide whenever the top prize is won.
Additional information about the new multi-state game will be published as the October game launch gets closer.
(Click to display full-size in gallery)