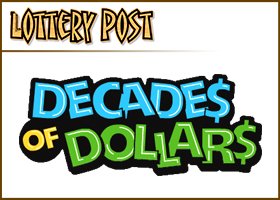 After a false start, Decades of Dollars finally lands in fourth state
By Todd Northrop
In January, a new multi-state lottery game called Decades for Dollars was introduced, and was intended to be offered in the state of Arkansas, but legislative obstacles stopped the plan dead in its tracks at the time.
Now those issues have been cleared, and Decades of Dollars has landed in the state three months after the game's first drawing.
Starting Tuesday, May 3, tickets for Decades of Dollars will go on sale state-wide at a price of $2 each. Decades of Dollars drawings will be held on Mondays and Thursdays at 10:00 pm Central Time. Tickets are on sale in the state until 9:45 pm Central Time.
The first drawing for Arkansas players will be Thursday, May 5.
On each $2 ticket, players choose 6 numbers between 1 and 47, or they can have the lottery terminal randomly generate the numbers (a "Quick Pick").
Matching all 6 numbers wins the top prize of $250,000 per year for 30 years or $4 million in cash. If more than two tickets win the top prize in one drawing, all the winning tickets will equally share a $10 million prize.
Three other states currently participate in the multi-state game: Georgia, Kentucky, and Virginia.
Prizes and odds
Players can win a prize by matching as few as two numbers. The complete list of prizes are listed below, along with the odds of winning.
Match 6 of 6 — $250,000 per year for 30 years or $4 million in cash (odds are 1 in 10,737,573)
Match 5 of 6 — $10,000, fixed prize for up to 25 winners; if greater than 25 winners, the second prize pool of $250,000 is shared among all winning tickets (odds are 1 in 43,649)
Match 4 of 6 — $100 (odds are 1 in 873)
Match 3 of 6 — $10 (odds are 1 in 50)
Match 2 of 6 — $2 (odds are 1 in 7.1)
The overall odds of winning a prize are 1 in 6.2.
New high-end scratch game
Also new for Arkansas this week is the state's most expensive game to-date: $1,000,000 Diamond Dazzler.
The $20 instant scratch game offers prizes ranging for $20 to $1,000,000, and has overall odds of winning a prize of 1 in 2.9.
The glitzy new game is printed on eye-catching holographic paper. Prizes are awarded for matching 2, 3, 4, 5 or 6 of the numbers.
According to the lottery, the $20 ticket will appeal to players who can afford to pay a little more to gain better odds and the chance of a big payout.
"Giving players more choices increases lottery revenue and provides more money for scholarships," said Dianne Lamberth of Batesville, Chair of the Arkansas Lottery Commission. "It's our job to maximize scholarship dollars, and we wanted to follow quickly the successful Arkansas Million Dollar Raffle game with new products that our players will like."
(Click to display full-size in gallery)