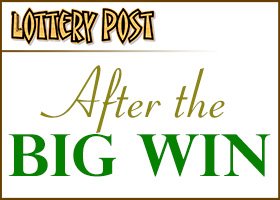 Ontario's biggest-ever lottery winner died a heartbroken and miserly recluse, estranged from family and too sick — or too tightfisted — to spend his millions.
Friends of 59-year-old Graham Gelineau, who won $37 million in 2007 from a Canada Lotto 6/49 ticket, told the Sun the "eccentric" and mysterious Graham disappeared after collecting his jackpot, not returning to the cheap room he rented in a boarding house on St. Clair Ave. W.
Friends aren't sure of the exact date of his death but have heard it was a week ago.
"He made his escape plan, and nobody ever saw him again," Tom Bailey, 57, says.
"He knew that (people) would be crawling all over that rooming house looking for him after he won."
Even in death, Gelineau remains an elusive mystery.
There will be no viewing for friends and family, and no funeral, says Ken Burnley of Trull Funeral Home and Cremation Centre on Yonge St., just south of Glencairn Ave., which is handling Gelineau's arrangements.
There won't even be a death notice, he says.
Burnley won't say who is handling Gelineau's estate, or the exact date he died, citing privacy legislation.
And he says he knows nothing of Gelineau's windfall.
When Gelineau won his millions he said little would change in his life although looking for an apartment — where he could live alone — was a priority.
He planned to help out family and friends, and give some cash to Mount Sinai Hospital, where he was being treated for an undisclosed illness.
"My life's going to stay pretty much the same," Gelineau said.
"That's what I think, but who knows what the future brings?"
Before winning the jackpot, Gelineau held down a low-paying job as a clerk at an off-track betting parlour in the Bathrust and Bloor Sts. area.
He revealed little of himself or his past to anyone, and according to one source, kept the money he earned as a clerk tucked away in books in his rented room.
He was also a chess fanatic, and an avid reader of science fiction.
But he also struggled with his weight — at one point hovering around the 300 pound mark — and was ill much of the time as a result, Bailey says.
After scoring his windfall, Gelineau quit his clerk's job, and apparently rented a small apartment at the foot of Spadina.
No one the Sun interviewed knew what Gelineau did with his millions, but there were rumours he donated some of it to hospitals.
Gelineau was a guarded, private man who never talked of his parents or any siblings, and never dated, Bailey says.
But at one point he did have a family of sorts — a woman he lived with and loved.
"At one time, he had a girlfriend," Bailey says, "but he came home one day and she had disappeared — walked out — and he never got over it. He clearly stated he would never be interested in a relationship again after she disappeared."
Gelineau, who Bailey says always earned a "modest" income, was tight with money but still likable.
"if he sat down, people would want to buy him drinks... you were just glad to have him around." A former landlord remembers Gelineau as an intensely private man who may have had "terminal cancer" the year before winning the big prize.
Gelineau rarely left his room during that time, other than for work.
"He was seriously ill, I think," says Tom, owner of a two-storey house on Follis Ave in the Bloor and Christie Sts. area where Gelineau rented a room from 1997 to early 2007.
"He kept to himself. He didn't really want anyone to really know him."
The only sign of possible family, says Tom, who declined to give his last name, were two women who showed up on Christmas Day a few years before Gelineau won the jackpot.
Gelineau lost his temper and screamed at them to "just leave".
Even though he lived close to the poverty line, Gelineau squirrelled away his money, Tom says. He once found a wad of thousands of dollars that Gelineau had accidentally thrown in the trash. He returned the money to a grateful Gelineau.
A woman, who worked on-and-off with Gelineau for 15 years at Albert's Parlour, an off-track betting lounge on the second floor of the Brunswick House bar, calls him a "generous spirit" who loved to read and play chess, but never spent money or talked about his personal life.
"He was an eccentric guy," says the woman who didn't want to be identified. "He was just Graham."
(Click to display full-size in gallery)
Thanks to Sherry for the tip.