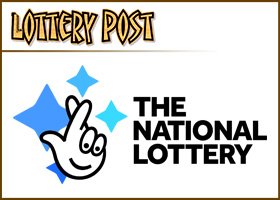 A mystery woman claimed today she has won £1.5 million (US$2.65 million) from the UK National Lottery — but has never told her husband.
The woman, a mother-of-two who gave her name as Jane, called a radio show to reveal her astonishing secret.
For the past three years she has hidden her fortune from colleagues, friends and family, she claimed.

Her husband had a drug problem 15 years ago and she fears living the high life would tempt him back to his old ways.
She also worries he would give up work and start demanding luxury holidays.
"Jane" has remained in her job and, if she ever splashes out on treats for the family, tells her husband she has had a pay rise or bonus.
The woman revealed her extraordinary story on BBC Radio Five Live this morning.
Presenter Victoria Derbyshire was hosting a phone-in which asked the question: "Is money guaranteed to make you happy?"
"Jane" called in and began, "I won quite a bit of money, just under £1.5 million, and I've never, ever told anybody. Not even my husband."
An incredulous Derbyshire said, "You're kidding me. Why not?"
"Jane" replied, "Fear that it would change our lives too dramatically. My husband had, many years ago, a small drug problem — around 15 years ago. And I'm scared with the money and perhaps the high life... he would go back there.
"So I just said that I've had a pay rise and I get bonuses, so every now and again I can have nice things."
She continued, "I do feel if I had said, yes, I've won this money, that he would have wanted holidays, he perhaps would have wanted to give up work, which would destroy our little family unit we've got now."
Derbyshire asked, "No-one has suspected?" to which "Jane" said, "No."
The presenter told her, "I'm flabbergasted, I can barely believe it, but it's clearly true. Do you feel it's made you happier?"
"Jane", who said her win was "about three years ago", said, "It's nice because I know I haven't got to worry about bills.
"One of the little white lies is that I've cut my hours down at work but I tell him I work from home for the other two days.
"There's no fear of not being able to pay the mortgage and things like that."
Derbyshire told her, "I'm full of admiration for you, but is it not a betrayal of your relationship? You call them little white lies but it's a huge one, isn't it?"
The woman admitted, "It's absolutely huge and I feel terribly guilty in one way, but in another way, we've got two young children and I think, well, if their lives change dramatically then it's not fair on them. So I just want to keep things as they are."
Lottery operator Camelot said they could not confirm whether or not the caller was genuine.