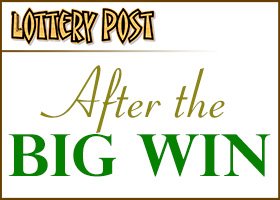 Once you've bought your £100,000 Jaguar XKR-S, paid off Dad's mortgage and given your best friend more than £1 million, how do you start wasting spending the rest of a £45 million lottery win?
The answer for Matt and Cassey Topham, a former decorator and supermarket worker from Nottingham who scooped the EuroMillions jackpot last year, is to erect a futuristic mansion on a suburban avenue with all the trappings of a James Bond villain's lair.
The couple on Thursday submitted a planning application for a sinuous solar panel-clad home in Nottinghamshire which will be 16 times larger than the average three-bedroom family house. The project is likely to be one of the most ambitious new homes to be built in the UK — if planners grant consent. It will feature a garage screened by a waterfall, a botanical garden and a grotto swimming pool as well as eight bedrooms, all at a estimated cost of £5 million. Until recently, the Tophams lived in an £90,000 ex-council house in Stapleford.
Matt and Cassey, 24 and 23, have had their lives turned upside down by the huge win in February 2012 and are understood to have told the designers they wanted to create a private bolt hole away from unwanted attention. They were victims of a break-in shortly after their win, and have been pursued by photographers.
The result is a ground-hugging structure dubbed Serenity that snakes around a courtyard formed by accommodation, leisure and entertainment pods. Inside are the paraphernalia of a lottery winner's life: a snooker room, swimming pool, whirlpool bath, cinema, music pod and staff quarters. There is also an underground garage for up to 10 cars to be glimpsed through a waterfall contrived from a pair of pools allowing water to tumble through the courtyard from one storey to the next.
"Must-haves included five bedrooms, a dramatic sweeping staircase, a large garage and a grotto-style pool," the couple said. "We also spent a lot of time debating with the architect how the rooms would be used and the split between open plan and entertaining spaces versus cosy, snug rooms. We were very clear we didn't want to live in a glass box. At the very top of our wish list was a strong desire to keep the design contemporary yet familiar, and flexible enough to accommodate a future family."
The Tophams are reported to have already paid off the mortgage of Matt's father and given £1.3 million to a close friend, as well as paying for holidays for friends and family in Spain, New York and Amsterdam.
The project involves demolishing a £1.2 million 1930s mansion they bought which overlooks a country park. They hired London-based Baca Architects, after seeing them present a seminar at a Grand Designs Live exhibition, a spin-off from the TV show in which Kevin McCloud looks on with a mixture of sympathy and disbelief as people struggle to build their dream homes. The Tophams were careful not to let on they were lottery winners and Richard Coutts, a Baca partner, admitted he was not sure they were serious at first. But the young firm, sensing a dream commission, grasped the opportunity.
Early inspirations for the couple came from films such as Iron Man, with its underground car park, and TV series such as Dynasty for its staircase. As the design progressed the architects took them to Eltham Palace, a medieval royal palace with an art deco interior, to the Marni fashion store on Sloane Street, with its space-age staircase designed by Future Systems, and to the Victoria and Albert Museum to look at materials and furniture.
Coutts said the house was organised into "clusters of activity", like country house wings. "Visitors arrive via a grand hall where a majestic staircase sweeps up to a cinema room and study, contained in two acoustically sealed pods hovering above a drawing room," he said. "In the drawing room a large picture window, set on an axis with the neighbouring country park, offers views over the maze." Not all lottery winners have found moving a smooth process. Neil and Kate Chester, who won £8.5 million in 2007, bought the £1.8 million Semple House in Hampshire, only to move out because it was too large: "We don't even watch TV together as we are all in different rooms."
The family hub in "Serenity" sets out to counter such a problem by creating almost a house within a house with conventional-sized bedrooms, bathrooms and a living room. A decision from planners on whether the Tophams' house will go ahead is expected this summer.
(Click to display full-size in gallery)
(Click to display full-size in gallery)
Thanks to myturn for the tip.