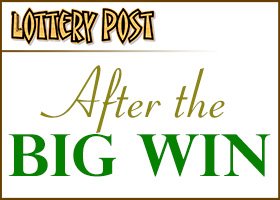 Builder who won millions is a model lottery winner
By Kate Northrop
A lottery winner who scooped up a whopping £105 million (US$127.9 million) EuroMillions jackpot in 2019 has kept a humble promise three years after the big win.
A West Sussex man has made good on his word over three years after winning over a hundred million pounds in the lottery, never losing sight of his generous goals.
When Steve Thomson, 45, won the massive jackpot in 2019, his immediate focus was not on what he could do for himself, but what he could do for others. The Selsey resident vowed to use the lottery winnings to help friends, family, and the local community.
"It's so much money — I'm going to be generous," Thomson said at the time he won. "I live in a small village. It's a nice village. I don't want to leave the village, so whatever I can do in the community, I will."
And the winner kept his word. One of the first acts of generosity he performed with his wife, Lenka, 44, was donate £200,000 (US$243,674) to various organizations in their hometown. £50,000 (US$60,919) went to Selsey Medical Centre to provide new equipment, which aided locals who previously had to travel miles for appointments. He donated another £50,000 to his son's school.
An avid cricket enthusiast, Thomson then donated £100,000 (US$121,837) to his local cricket club so they could build a new pavilion.
"He's not the kind of guy who wants recognition for doing something good," a local source told The Sun. "When he won the jackpot, he said he would look after friends in the community. He's certainly stuck to his word."
Thomson and his wife also took initiative to set themselves and their family up for success. They invested a chunk of the prize and reportedly put "tens of millions" into a trust for safekeeping.
The winner then turned his attention to his immediate family and bought up a comfortable 7,000 square-foot country estate set on 14.5 acres in Kent for £4.5 million (US$5.48 million). The luxurious property boasts two kitchens, six bedrooms, five reception rooms, a games room, two lakes, a pond, landscaped gardens, a tennis court, swimming pool, a party barn, and stables. They live alongside the likes of Hollywood actors, rock stars, and an IT tycoon.
It's a massive upgrade from their previous home, a three-bed terraced house in Selsey, West Sussex valued at around £150,000 (US$182,756). Now the couple and their three kids have plenty of space.
"The kids finally got their own bedrooms," Thomson said after the purchase. "It's a simple thing, but it was all they ever wished for."
Before moving in, however, Thomson still carried on working to complete outstanding orders for his windows and conservatories business and insisted on performing any work on the new house himself.
"I still haven't got over what happened to us and am honestly still trying to process it still," he had said. "It feels like yesterday we were in our old lives — it will take a little while to adjust. We are very lucky to be in this place, but there's a lot of work that needs doing, so I'll be focusing on that for the time being."
(Click to display full-size in gallery)