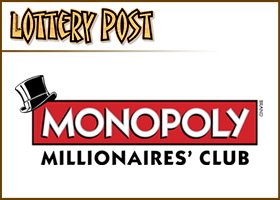 Triggers 14 additional $1 million prizes
By Todd Northrop
The Monopoly Millionaires' Club jackpot of $21 million was won in Friday night's drawing of the multi-state game by one ticket sold in New Jersey.
The fact that the jackpot was won triggered the award of an additional 14 $1 million winners.
One lucky player in New Jersey matched all five numbers plus one Property number in the Nov. 7 drawing, earning the ticketholder a Top Prize of $21 million. The lucky New Jersey ticket was purchased from Highland General Store, Inc. 111 Highland Lakes Rd., Highland Lakes in Sussex County.
The resulting Millionaires' Club drawing also netted million dollar winners in Arizona, Washington, D.C., three in Florida, Georgia, Maryland, Missouri, three in New York, Pennsylvania, Tennessee, and Texas. Friday's winning Monopoly Millionaires' Club numbers were 1, 9, 11, 12, and 27, with Property Number 18, B&O Railroad.
The complete list of winning numbers and $1 million Millionaires' Club winning numbers can be found on Lottery Post's Lottery Results page, by clicking any state that participates in the Monopoly Millionaires' Club game.
Carole Hedinger, New Jersey Lottery Executive Director said, "How appropriate that New Jersey, home of the iconic Atlantic City locations upon which the Monopoly game was created, sold the first Monopoly Millionaires' Club lottery game Top Prize winning ticket. I look forward to placing the emblematic top hat on the winner's head when he or she comes into Lottery headquarters to claim the prize."
The Monopoly Millionaires' Club lottery game debuted October 19. Its unique play style features three ways to win $1 million. Players can win the Top Prize that is capped at $25 million. Once that Top Prize is won, a separate drawing that awards a minimum of 10 Millionaires' Club prizes of $1 million each is conducted. Each week the Top Prize is not won, the number of $1 million prizes increases.
Players will also have a shot at a $1 million prize on the upcoming national primetime Monopoly Millionaires' Club TV show, which will debut in February. The show will feature an audience of players who have been randomly selected after completing MONOPOLY-themed Property Sets by entering the webcodes from their tickets at www.playmmc.com.
Selected players will be flown to Las Vegas where the show will be taped, and will receive a five-day, four-night stay for two plus spending money in Las Vegas. Billy Gardell, star of "Mike & Molly," will serve as the host of the show.
The Monopoly Millionaires' Club lottery game drawings are Fridays at 11:15 p.m. Eastern Time and tickets are $5 each.
Monopoly Millionaires' Club draw tickets are available in 22 states plus Washington, D.C. More participating states are scheduled to be included within the next months.