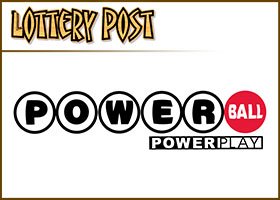 St. Patrick's Day brought the Luck of the Irish to the state of Pennsylvania Saturday night.
A single Powerball lottery ticket sold in Pennsylvania matched all the numbers in the drawing Saturday the win the $456.7 million jackpot. The lucky winner can choose to accept the full jackpot in 30 annually-increasing payments over 29 years, or as a $273.9 million lump-sum cash value.
The winning numbers were 22, 57, 59, 60, and 66, with Powerball number 7. The Power Play number was 2.
There no immediate word of who has the winning ticket or where in Pennsylvania it was sold.
There were other tickets that scored big payouts too. A ticket sold in Texas matching five numbers but not the Powerball won $2 million after a player or players opted to chip in an extra dollar for the Power Play option. Two tickets sold in California and Missouri also matched five numbers; the Missouri ticket is worth $1 million, while the California winner will take home a $1,211,614 prize. (California is the only state to have a pari-mutuel prize structure for Powerball and Mega Millions.)
The jackpot was the eighth largest in the game's history, and overall the 11th-largest US lottery jackpot of all time, growing after 19 rolls since a woman in New Hampshire claimed a $560 million jackpot in a Jan. 6 drawing. She fought and won a legal battle to remain anonymous, a judge ruled March 12.
If the winner or winners in Pennsylvania wants to keep their identity secret, they would likely face a similar legal hurdle. The Pennsylvania Lottery requires winners to be named to ensure the system operates with "integrity and transparency."
But past winners have argued the raised profile makes them targets.
Judge Charles Temple, who ruled in favor of the New Hampshire woman, concluded that revealing her name would be an invasion of privacy, in part because lottery winners in general are subject to "repeated solicitation, harassment, and even violence," he wrote.
He cited how a past lottery winner received a bomb threat, how another had received non-stop phone calls and how several others had received requests from strangers who wanted handouts.
Less than three years ago, an individual's chances of becoming an instant millionaire were 1 in roughly 175 million after starting with a $2 ticket. Now, the odds are 1 in roughly 292 million.
Tweaks to the game in October 2015 increased the number of total balls, from 59 to 69, from which players need to pick five. It may seem like a modest change, but the odds of winning the jackpot plummeted even though the number of Powerball numbers declined from 35 to 26.
The effect of decreasing the number of Powerballs was a rise in winners that just match that number, with a payout of $4. Even matching two numbers and the Powerball will net you just $7.
So now it's even harder to strike it rich with Powerball, leading to fewer chances of big payouts, which in turn results in ballooning jackpots. When a drawing is held and there's no winning ticket, the prize pool rolls over — and expands, drawing even more players.
In turn, the jackpots become bigger and bigger, making winnings of half a billion dollars — like this one — almost feel routine.
But that won't stop the next round of jackpot chasers. The winning sum has reset to $40 million, with the next drawing Wednesday night.
As for the other big jackpot game, Mega Millions, no winning tickets were sold on Friday. The next drawing is Tuesday for an estimated $377 million.
Powerball is offered in 44 states, plus the District of Columbia, the U.S. Virgin Islands, and Puerto Rico.
The drawings are held at 10:59 p.m. Eastern Time (7:59 p.m. Pacific) on Wednesdays and Saturdays. Because there was a winner Saturday, the jackpot resets at $40 million for the next drawing on Wednesday.