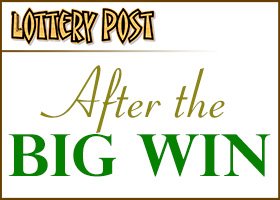 Bunky reflects on mistakes (and successes) since winning $32.6 million
A Tarot card might have foretold that Ellwood "Bunky" Bartlett would win $32.6 million in the 2007 lottery.
Unfortunately, the spirit world provided no omens that might have helped the 45-year-old practicing Wiccan better manage his good fortune.
This week, as much of the East Coast is waiting for the winners of the record $656 million jackpot to step forward, Bartlett of Westminster agreed to talk about the things that have gone wrong — and right — in his life during the past three years.
To help Maryland's newest mega-millionaires avoid repeating his mistakes, Bartlett offered the following tips:
Remain anonymous. Take the winnings in the form of an annuity parceled out over 26 years, instead of in a lump sum. Curb impulse spending by stashing the winnings in a trust fund that requires several signatures to authorize major purchases.
"Otherwise, everybody and their brother will find you and try to get money from you," Bartlett said.
Bartlett was by all accounts a soft touch who gave away millions to friends and strangers. He hired his buddies, bought them first-class plane tickets, officiated at their weddings and helped them buy homes — only to watch helplessly as long-standing relationships disintegrated.
The former accountant readily admits to making bad business decisions. Plans that were widely publicized at the time, such as expanding the New Age bookshop near White Marsh that he considered his "spiritual home," failed spectacularly. (Wicca is a nature-based religion based on ancient traditions of witchcraft and white magic.)
A record label that Bartlett started at the request of his wife, Denise, released just two albums before it folded, including one featuring former reality show contestant Dilana Robichaux.
"People always said that I was too kind-hearted and wore my heart on my sleeve," he said. "One of the mistakes I made was giving money to help other people realize their dreams instead of my own. Then, when the businesses crashed, I looked like the bad guy."
When Robichaux first met Bartlett, he impressed her as a man adrift, a man in search of a focus.
"To me, Bunky was kind of a lost soul," said the singer, who was runner-up during the second season of the CBS reality show "Rock Star: Supernova."
"You could kind of tell he was a bit fearful of what he was going to do with all this money."
But not everything was a bust for Bunky.
The lottery winner estimates that, after paying 2010 taxes, he says he still has $15 million to $16 million left in the bank.
His children, Ryan, 26, and Ashley, 24, are doing well. He purchased his late mother her dream house on the water in Sparrows Point, and says she got a lot of pleasure during her final days from feeding the ducks each morning.
A pizza franchise that Bartlett bought with the sole purpose of ensuring that he could get delivery to his rural home has beaten the odds and is about to celebrate its second anniversary.
Here's how he tells the story of how he came to own Westminster's Mustang Pizza & Subs:
"Basically, we're out in the boonies and no one would deliver to us, so I said, 'Honey, do you mind if I open a Mustang's in Westminster?' Now, we have a 10-mile delivery radius, which is unheard of in the business."
The Bartletts also own investment property consisting of four houses and four commercial spaces.
And he is finally using his lottery winnings to finance a dream of his own — creating the ultimate video game. True, Bartlett is being criticized for asking the public for contributions instead of bankrolling the project entirely himself. But that hasn't deterred him.
"I'm never bothered by criticism that I shouldn't do something because I don't have the experience," he said. "I'm an idea man, and I can hire the people who can make my ideas reality."
Even before he entered the public eye in a big way, Bartlett, who at the time lived in Dundalk, was perhaps the world's most colorful accountant.
Within days of winning one-fourth of the $330 million prize, in September 2007, he told news outlets in the U.S., Britain, Finland and Russia that his win had been preceded by a Tarot card reading that told him to slow down and focus on his spirituality.
So Bartlett told the "powers that be" that if he won the lottery, he would focus on teaching completely.
"And a month later, here I am," he said in a 2007 article in The Sun. "I thank the gods for this gift. I don't know which one granted me this wish, but whichever one did, thanks!"
Maryland Lottery spokeswoman Carole Everett described Bartlett as the rare lottery winner who went public immediately with his good luck. "He was out in front of the media, even before he contacted us," she said. We usually hear from a lawyer first."
Bartlett announced plans to expand Mystickal Voyage, the store owned by Lori and Mick Perdue where the new lottery winner kept the books and taught classes on moon magic and psychic healing. The store, which had opened the previous year, had already been enlarged once to include a coffee shop.
Bartlett financed a $750,000 renovation that spread out to 6,500 square feet, including a yoga center. For the grand reopening, Bartlett booked radio personality Steve Rouse and other special guests, including Azrael Arynn K, one of his favorite pagan authors.
It's not clear why the once-healthy business foundered, though it didn't help that the reopening occurred just a few months before the U.S. financial markets collapsed in December 2008.
He said he made a key mistake by investing heavily in the bookstore and then stepping away.
"Basically, I did one of the things any good business person tells you not to do," Bartlett said.
While he and his wife were enjoying a second honeymoon in Paris, he said, they learned from Facebook that Mystickal Voyage had announced that it was closing as of Oct. 31, 2010.
Now the store sits vacant, its walls and shelves stripped bare.
The owner of the shopping center, Dunfield Commercial LLC, filed suit in January, 2011 against the Perdues and Bartlett's PanGaia investment company.
Reached by email, Lori Perdue said she couldn't comment because she had signed a non-disclosure agreement with Bartlett. But according to court records, the monthly lease of $9,700 had ballooned to $13,000. In addition, the Perdues were grappling with an undisclosed illness.
"We truly are financially devastated by the closing of the business," Lori Perdue wrote in a March, 2011 letter included as part of the court documents, "and have no assets or means to pay the amount in question, or even offer any settlement."
Even while the bookstore was still open, Bartlett had made a foray into the music business. As he tells it, he and his wife were huge fans of Robichaux. They decided to found their own label, called KaBunk Records, so they could produce her album, "InsideOut," which was released in 2009.
They parted ways after disagreeing about who would make creative decisions. Bartlett said that Robichaux was insisting on rights that are rarely granted to up-and-coming singers. She said that Bartlett sought total control not just of her songs, but also of her brand.
"Bunky was inexperienced with the music business and demanded stuff from me that I will never give up," she said. "His money couldn't buy me."
Despite the falling-out, Robichaux said Bartlett "has a great heart" and added: "He really cares about his friends."
Because he is so generous, Bartlett can't help being bewildered by what he terms as the "haters" who have excoriated him for creating a crowd-funding campaign on Kickstarter. He's seeking $1.1 million to create a test-ready version of the project he's tentatively calling "Your World."
With 29 days to go, 63 backers have pledged just $20,774. Detractors, meanwhile, are wondering loudly why a multimillionaire is asking them for money.
"My budget for this game is at minimum $5 million, so I'm going to be investing a lot of my own money," Bartlett said.
"I have no problem if 1.1 million people each give $1. In fact, I'd prefer it, because I'm trying to find out if there's a market for the type of game I want to create."
If "Your World" doesn't reach its May 3 goal, he said, he will continue to seek private investors for the project. He's been playing video games for 35 years, so he has a good sense of what will set his venture apart. He's been assured by experts in the field that his goal, while difficult to reach, will be obtainable.
He'd like to release the game in 2014, but he'll wait as long as he needs to get the details right. And luckily, he has that option.
"Winning the lottery buys you time," he said.
"Before I won the lottery, I had to go to work, I had to do this, I had to do that, I had to, had to, had to. Now, if friends call up and ask if we want to go on a cruise, we don't have to plan years in advance. We can just go."
(Click to display full-size in gallery)
Thanks to four4me for the tip.