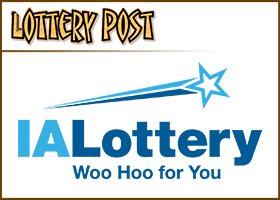 CLIVE, Iowa — A man who played numbers he saw in a dream won big last week in the Iowa Lottery.
Kelvin Wynn, 57, of Davenport, Iowa, won a total of $300,000 in last Tuesday evening's drawing of the Iowa Lottery's Pick 4 game. He won 10 prizes of $30,000 by matching all four of the numbers drawn in the exact order: 2-1-1-2; this is known as a straight play.
Wynn, who works for a landscaping company in the Quad-Cities area, bought his winning tickets Tuesday at QC Mart, 2843 E. 53rd St. in Davenport. He picked his own numbers using the numbers he said he dreamt about two weeks ago.
"Actually I had a dream and in that dream it was hotel room number 2112, but I thought nothing of it," Wynn told lottery employees Thursday as he claimed his prize at the lottery's headquarters in Clive. "Then the next day one of my clients' address happened to be (2112) and I thought, 'Oh, coincidence, no big deal.'"
But Wynn said the signs continued. Later the same day he was at a stop light and the vehicle in front of him had 2112 in the license plate, and his purchase at a department store equaled $21.12.
After encouragement from his wife, Wynn decided that those set of numbers was a sign, and he decided to play them in an upcoming Pick 4 drawing. He said he rarely plays the lottery, but he had a good feeling about playing this set of numbers.
"I realized I had overtime on my check. I said, 'Ah, let's just go for it,'" Wynn said.
Wynn found out he'd won by checking his tickets on the lottery's website the next day. He said he didn't believe what he saw, so he had his wife double-check his work.
He said a majority of his lottery winnings will be used to help pay the education expenses for his three children — two of whom just graduated college, and the third who is still in college. He also plans to buy a new set of golf clubs.
Pick 4, which has been offered in Iowa since September 2003, features a top prize of $30,000, with odds of just 1 in 10,000 of winning it. Another intriguing aspect of the game comes in the variety of ways players can choose to play it. Plays in Pick 4 range from 50 cents to $5 for the chance to match a four-digit combination of numbers from 0000 to 9999.
The Pick 4 winning numbers for the Pick 4 game, and all the lotto draw games offered in the state, are published on Lottery Post's Iowa Lottery Results page soon after each drawing.
(Click to display full-size in gallery)