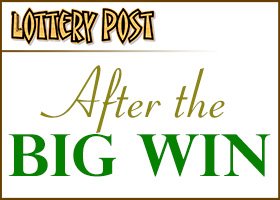 When Pearlie Mae Smith and her seven adult children won a $429.6 million Powerball jackpot in 2016, they promised to give 10 percent of their winnings — the largest jackpot ever won in New Jersey — to their church and to help others.
Almost immediately, the Trenton family donated a portion of their winnings to set up the Smith Family Foundation to dole out grants to charities that support their mission to give back to the community. They view their windfall as a way to uphold their strong faith and continue to bless others, but in an even bigger way.
"This is all about God's work," said Katherine Nunnally, 42, executive director of the foundation and one of seven siblings who shared the jackpot with their mother. "The money allowed the story to unfold the way God intended it."
The family had the single winning ticket for the sixth-largest jackpot in Powerball history at the time. With the lump-sum option chosen, the ticket was worth $284 million before taxes. Pearlie Mae, who said at the time that she rarely gambled, bought two tickets and spent an extra $1 on each for the "Power Play" option.
Pearlie Mae, now 72, credited divine intervention with providing her with the numbers in a dream. Family members were stunned to learn that they were the sole winners of what was then one of the biggest lottery jackpots.
"Wow. That's what it's like," she said at the time at a news conference.
After days of speculation, the winners came forward on May 13, a Friday. They had already hired a team of lawyers, an accountant, a money manager, a life coach, and met with previous jackpot winners.
(See NJ family of 8 claims $429.6 million Powerball lottery jackpot, Lottery Post, May 13, 2016.)
They paid off mortgages and student loans, took vacations and splurged a little on new houses. They shared the winnings with their large extended family. Most who were not already retired kept working. Pearlie Mae, a widow, still drives her old Subaru and remains in the background, spending most of her time as the pastor at Calvary Pentecostal Church in Trenton.
The family immediately kept two promises at the top of Pearlie Mae's list: to tithe 10 percent and to break ground on a new church in Bridgeton for the Mount Sinai Holy Church of America, based in Philadelphia, which oversees their denomination of more than 50,000 members. The family put up $750,000 to build the church, according to the foundation's tax filing.
"This was one of the first things on her [Pearlie Mae's] plate," said Nunnally, one of six sisters. The 400-seat church, on a 133-acre site in Cumberland County, should be completed later this year, she said.
The family used $8 million to create the Smith Family Foundation to make "socially impactful investments" in Trenton and purchased a building for $116,000 a few blocks from the Statehouse for the headquarters. The foundation sponsors educational and cultural programs, including artist showcases.
The private grant-making foundation made $780,483 in donations in 2016, according to its 2016 tax return, the latest available. Besides the Bridgeton church, other recipients included Trenton-area churches, a parent advocacy group, a family and child development center, and the Rutgers Foundation. Nunnally said the foundation has given out about $1 million and family members individually have given away more than $16 million.
Nunnally said the family abides by the biblical principle of "sowing and reaping." The eight Smith children (a brother, Anthony, died in a car accident in 1994) grew up in a three-bedroom home in a tough neighborhood in South Trenton. Their mother, a paraprofessional at their neighborhood elementary school and their father, Seamus, a steel-mill worker who died in 1989, stressed the importance of faith, education, and giving back to the community.
Even before they won the lottery, family members were involved in the community. Nunnally, a former Newark public school teacher, started a girl's mentoring program. Valerie Arthur, 54, a retired state corrections administrator, had a prison ministry.
"The lottery helped to accelerate what we want to do on a larger scale," Arthur said.
Like their mother, the siblings carefully protect their privacy, revealing few details about their backgrounds. Nunnally said they remain the same humble family that gets together once a month for dinner and attends Sunday worship at their mother's church.
After winning the jackpot, family members were bombarded with calls and visits from strangers who showed up on their doorsteps asking for assistance. The inquiries have waned, partly because the family conducts its philanthropy to nonprofits only through the foundation.
Personal finance adviser Lynnette Khalfani-Cox said such "structured and impactful" philanthropy by lottery winners is rare. Many often fall victim to the "lottery winners' curse," unable to manage a windfall and the sob stories from relatives and strangers with their hands out, she said.
"They've literally been a textbook case of what to do," said Khalfani-Cox. "They're demonstrating the power of what money can do in a very positive way."
Besides donations, the foundation holds workshops and gives grants designed to help groups empower others through education, neighborhood development, Christian education and youth, and family programs. The foundation doesn't provide direct funding to individuals.
By investing in Trenton's neighborhoods, the family hopes to instill pride and improve the quality of life in the city of 85,000 where more than one in four residents live in poverty.
For the second year, the foundation awarded $100,000 in grants in February to a dozen nonprofits selected from about 100 applicants. The recipients included the Big Brothers Big Sisters, the Trenton Area Soup Kitchen, and the Latin American Legal Defense and Education Fund.
The Girl Scouts has expanded programs at 11 locations in Trenton to reach more than 300 under-served girls with a $10,000 grant from the foundation, said Jenna Fenstermacher, a fund development associate.
"This is one of the few grants targeted for girls in Trenton," Fenstermacher said.
The Children's Home Society is using a $10,000 grant to offer free weekly adult English classes to Slavic immigrants, said Ann Massa, a vice president. About 60 people are expected to complete the program by December, she said.
"Every day, it keeps growing. It's amazing," Massa said.
The foundation has also supported a youth basketball league, a jazz and comedy festival, donated backpacks and computers to a nonprofit that services at-risk children, and has given 250 care baskets to local first-generation college students. In the headquarters' basement, a youth lounge has been set up to provide a safe after-school hang-out where high school students can do their homework, get tutoring, and take music lessons.
Earlier this month, staff members and volunteers sorted boxes of 400 powder-blue and khaki school uniforms that were donated Tuesday to Clara Parker Elementary, where Pearlie Mae worked and her children attended school. Every student in the K-through-5 school received a new uniform.
"This is where their roots are. It's a blessing," said principal Lorcha Lewis.
Most of the extended Smith family, which includes 29 grandchildren and 31 great-grandchildren, are involved in running the foundation, most as volunteers. Nunnally gets a $22,000 salary and Arthur $5,400. The other siblings and their mother serve on the board of directors.
On Oct. 6, the foundation is holding its inaugural "Stars Awards" program to honor community leaders such as David "Poppy" Sanderson, the longtime Trenton High athletic trainer, and promote the gritty city of 85,000.
"We want to highlight that there are good things that come out of Trenton," said Teela Smith, 34, a granddaughter who volunteers with the foundation.
Most of the foundation's work is restricted to Trenton, but the family has extended its philanthropy beyond the city. In 2016, the foundation invested $16,000 to build a one-room school in Haiti's second-largest city, Saint Michel de l'Atalaye. After visiting the school, the family decided to add five more classrooms and a cafeteria/multipurpose room.
The School of Flowers, slated for completion by December, currently has 60 students and will eventually enroll about 120 students who will attend for free, said Arthur, the foundation's chairman.
The lottery windfall has allowed family members to follow their passions, mostly through the foundation but also through solo projects such as "Jackie's Place," run by sister Jackie Sessoms that provides the "Christmas experience" to seven families with gifts and meals. Arthur heads an urban ministry, Christ Centered in the City, and has made trips to Haiti, delivering suits and 150 Bibles in Creole to pastors. Another sister, Rene Smith, is pursuing a bachelor's in urban planning at Rutgers. Steven Smith left his technology job to launch a new career in real estate.
"To us, the money is secondary," said Nunnally. "What's more important is the idea of sowing seeds. We fully believe that God gave us the financial ability to work for his Kingdom."'
The "Stars Awards" will be held on Oct. 6 at 2 p.m. at the New Jersey State Museum in Trenton.
For tickets and more information about the Smith Family Foundation visit www.sffnj.org.
(Click to display full-size in gallery)
(Click to display full-size in gallery)
(Click to display full-size in gallery)
(Click to display full-size in gallery)
(Click to display full-size in gallery)
(Click to display full-size in gallery)
(Click to display full-size in gallery)
(Click to display full-size in gallery)
(Click to display full-size in gallery)
Thanks to fellini for the tip.