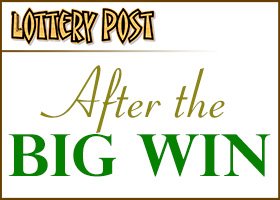 Winner of world's largest jackpot living in luxury
By Kate Northrop
The winner of the $2.04 billion Powerball jackpot is ready to live it up in luxury, having already purchased a $25.5 million Hollywood Hills mansion.
Last month, Altadena resident Edwin Castro claimed the world's largest jackpot and is wasting no time in putting the unfathomable prize to good use.
The last several months have taken Castro's life in a wild direction, with the lottery winner now the proud owner of a three-story contemporary mansion in Hollywood Hills, Los Angeles, living close to the likes of Ariana Grande, Dakota Johnson, and Jimmy Kimmel.
While Castro has kept himself hidden away from the public eye, declining to appear at the California Lottery's press conference, the $25.5 million hillside home begs to differ. The mansion stands sits nestled into the side of a cliff, boasting over 13,500 square feet of living space, five bedrooms, and six bathrooms, and two powder rooms.
The house was designed and built in 2022 by architect Roman James and was showcased in the Robb Report, a luxury lifestyle magazine featuring various products like cars, airplanes, boats, watches, and real estate. The home was originally listed at $29.95 million, but Castro scooped it up at a $4.45 million discount.
The main level is comprised of an expansive living room graced by a massive modern fireplace and a kitchen showcasing black granite countertops on opposite ends. A seamless glass wall offers a view out to the infinity pool and full outdoor kitchen, the L.A. skyline, and even the Pacific Ocean.
"Roman James did a great job of pulling the expansive views into the home to create an intimate backdrop for moments alone or with guests," Stefan Pommepuy of The Agency told The New York Post. "It's sexy and cool, but still feels like a place to call home."
Other notable highlights on the upper and lower floors include a gym, cold plunge pool, wine cellar, movie theater, and dry sauna, topped off with a private balcony in the master suite and a rooftop deck.
There's plenty of room for parking, should Castro choose to add some cars to his garage space. He'll have two separate garages that can hold up to seven cars, and if that's not enough, he has a flat motor court to house several more.
The property is situated above Chateau Marmot, a famed hotel that also doubles as a go-to hangout spot for celebrities. Whether Castro decides to step out and venture into the throes of his budding luxury lifestyle, his new home surely has enough amenities and space that would make it difficult to leave.
(Click to display full-size in gallery)
(Click to display full-size in gallery)
Thank to Win$500Quick for the tip.