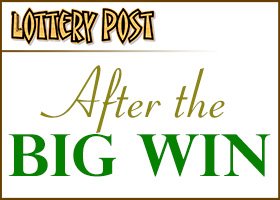 Lottery winner didn't quit teaching until his students finished their exams
By Kate Northrop
After winning £2 million (US$2.5 million) in the UK National Lottery, a teacher will swap the classroom for a writing desk to pursue a dream job as a novelist.
A UK teacher is leaving his current job to chase his passion of writing historical adventure novels — and it's thanks to his £2 million lottery win.
In October 2021, Mike and Andrea Law, of Bromsgrove in Worcestershire, won the big prize, which came at a difficult time in their lives.
"The last 18 months have been tough for us, as they have been for everyone," Andrea said at the time of the win. "We have lost a number of close family members including Mike's mum last year rather suddenly, which was incredibly hard for us all. It's made it even more important for us to make memories."
Andrea was in bed suffering from a tooth infection the day she found out about the win, unaware that their lives were about to change for the better.
"It isn't about houses and cars, it's about staying grounded and having a wonderful time with the people we love," she had said.
While many would use the lottery prize as an opportunity to kick back and enjoy their winnings, Mike felt he had an obligation to his pupils and refused to leave his job as an art and photography teacher until all his students passed their GCSE exams.
"How many people have wanted to change careers but found themselves in a rut and unable to take a leap of faith?" Mike said. "I have been given this chance, and I'm very lucky to be able to have a go at making a long-standing passion, my job."
This past year marked the final time Mike would stroll the school hallways as a teacher, and with 23 years of teaching experience under his belt, he'll be working toward publishing his first historical novel instead of returning to the classroom.
"Having been through a tough few years, like many, and losing close family members just before the win, including my mum, I realized life is very short, and I had been given an unexpected opportunity," the 52-year-old relayed.
Mike admits he "wasn't a very good pupil," in school, but being given a book about the medieval Anglo-Saxon burial site Sutton Hoo left him "hooked" on newfound passion for history.
With the support of Andrea, 45, he's writing a novel set in Roman Britain that has a "dark twist." More specifically, the book features the central location of Wroxeter, Shropshire as one of the largest Roman cities in what is now modern Britain.
"It's set in Roman Britain in AD199 and is based around a group of legionaries and their adventures in and around Wroxeter in Shropshire; it is an historical adventure novel with a dark twist," the teacher-turned-writer explained. "I really want to be historically correct; I suppose that's the teacher in me."
Mike's fascination with the area and time period stems from the hundreds of times he passed the site on trips to Wales.
"I get totally engrossed in my work, and I've been to Shropshire many times and tried to picture myself in Roman Britain thousands of years ago, and it's helped to have sites like Wroxeter available to visit to help me bring my story to life," Mike continued. "I would love to find a literary agent and see my writing in print, but if not, I may even publish the book myself."
While he looks forward to fleshing out his story, and potentially some additional visits to aid the writing process, Mike says he'll still miss teaching and feels it will always be "part" of him.
Andrea, who works as a marketing and communications manager in education, said that not much about their lives has changed since coming into the lottery win.
"We are very much the same, normal family," she said. "We no longer have the worry of a mortgage, which is a huge relief, but we want to remain grounded.... The plan was to use the winnings to improve the quality of our lives, make memories and provide for our kids, and Mike changing his career is the first piece of that jigsaw."
"That's the beauty of winning," Mike added. "It has given me the freedom to have a go and totally immerse myself in something I enjoy. I am deeply grateful for that opportunity."
(Click to display full-size in gallery)
Thanks to dannyct for the tip.