Todd's Blog
Todd's Blog has 686 entries (4 private) and has been viewed 2,263,198 times.
Lottery Post members have made 2907 comments in Todd's Blog.
Todd is a Platinum member
Like lots of people I have felt for a while that something is wrong with Hillary Clinton, and it's being hidden — but I have dismissed the idea that it's Parkinson's disease because I always thought that Parkinson's shows up as mainly shaking hands, and she doesn't seem to have that.
So today I got a recommendation to check out a couple of videos put out by a medical doctor. I must say, they are very convincing. My main wish is that the guy would not have put his political opinions in the video because many people will seize upon that to discredit him, ignoring all of the medical proof in the video.
So I'd recommend giving the videos a watch and see what you think. I personally think everything clicks into place — especially the recent episode with her being dragged into her van after collapsing. The way that episode is described in the video makes perfect sense, and totally discredits the whole "dehydrated and overheated" excuse.
Video 1
Video 2
Video 3
Once again, the dishonest media — and President Obama — is using deception to try to ban guns and strip us of our 2nd amendment rights.
Immediately after the dreadful shooting the dishonest media — and President Obama — stated that the gunman used an "assault rifle" to murder the cops. They say this, of course, to build public resentment over guns so they can eventually ban them.
First of all, the term "assault rifle" is a term cooked up by anti-gun people. It's a nonsensical term that in reality does not exist. The "AR" in the AR-15 gun model stands for "ArmaLite", not "assault rifle".
So all the crowing about "assault rifles should be banned" is a load of crap. An AR-15 is not a "military grade" weapon (another nonsensical term), and it is not an "assault rifle". It is a .22 caliber rifle, which has less stopping power than even a 9mm handgun.

Now, coming back to the Dallas shooter, and the dishonest media's — and President Obama's — claim about the shooter using an "assault rifle".
NOPE.
The rifle he used has a standard wood stock — not the "scary-evil" black frame of an AR-15.
The rifle he used has an angled grip — not the "scary-evil" pistol grip of an AR-15.
The rifle he used has a fixed 10-round magazine — not the detachable magazine of an AR-15.
I write those "scary-evil" parts about the AR-15 to demonstrate how ludicrous all the media hype is about the AR-15. (Because their intent is to ban guns, not to inform the public of facts.)
Here's the article describing the Dallas shooter's gun:
http://controversialtimes.com/news/the-gun-used-by-the-dallas-police-murderer-is-revealed-its-not-what-most-people-thought/
Last Edited: July 9, 2016, 12:57 pm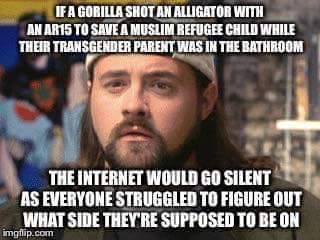 "What if I went up to the sheep and I said, 'You wanna have a shot at the wolves? I'm gonna give you a pistol.'"
Howard Stern went off on gun control advocates who want to "take away guns from the public," saying it was an unbelievable response to the Orlando terror attack.
Warning: contains profanity
June 15, 2016, 12:16 pm
Potato Sack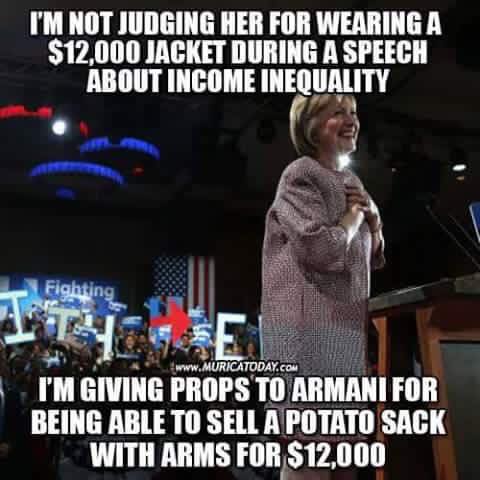 Last Edited: June 15, 2016, 12:17 pm
It looks like this rarely-reported fact is finally getting some mainstream attention. Check out the article (link below) by a composer who writes that when he subscribed to Apple Music, the service systematically deleted the 122GB of music on his computer — including music he composed himself and rare recordings of various songs.
Apple seems to get a pass on these things in the media, which for some reason is infatuated with the company. Any other company would be excoriated for doing stuff like this.
I never have, and never will, subscribe to Apple services for reasons like this. I do not even enable iCloud, other than for backing up my phone.
Microsoft's OneDrive music service and Groove music pass are much better, IMHO. If you have your own music library, you just copy the music into your OneDrive Music folder (which retains the original files on your PC) and then the service lets you stream that music on any device, including iPhone and Android phones. That's a free feature of OneDrive + the Groove app, which is pretty incredible. If you optionally purchase the Groove music pass service you can also stream any music (not just music you own) to any device.
https://blog.vellumatlanta.com/2016/05/04/apple-stole-my-music-no-seriously/
Last Edited: May 6, 2016, 9:57 am
Good news piling up this morning!
A professor of political science at Stony Brook University has forecasted that Donald Trump has a minimum 97 percent chance of winning the general election as the Republican nominee.
Professor Helmut Norpoth's forecast presentation took place Monday evening in the SUNY Global Center in Manhattan, which was organized by the Stony Brook Alumni Association.
Norpoth created a statistical model of presidential elections that uses a candidate's performance in their party's primary and patterns in the electoral cycle as predictors of the presidential vote in the general election.
Donald Trump has a 97 percent chance of defeating Hillary Clinton and a 99 percent chance of defeating Bernie Sanders in the general election, according to Norpoth's formula.
"The bottom line is that the primary model, using also the cyclical movement, makes it almost certain that Donald Trump will be the next president," Norpoth said, "if he's a nominee of the [Republican] party."
Norpoth's primary model works for every presidential election since 1912, with the notable exception of the 1960 election. These results give the model an accuracy of 96.1 percent.
Norpoth began the presentation with an introduction of the potential matchups in the general election, including a hypothetical Sanders vs. Trump general election.
"When I started out with this kind of display a few months ago, I thought it was sort of a joke." Norpoth said referring to Trump and Sanders, as many alumni in the audience laughed. "Well, I'll tell you right now, it ain't a joke anymore."
As the presentation continued, laughter turned to silence as Norpoth forecasted a 61 percent chance of a Republican win in the general election.
This forecast was made using the electoral cycle model, which studies a pattern of voting in the presidential election that makes it less likely for an incumbent party to hold the presidency after two terms in office. The model does not assume who would be the party nominees or the conditions of the country at the time.
"You think 'This is crazy. How can anything come up with something like that?' " Norpoth said "But that's exactly the kind of equation I used to predict Bill Clinton winning in '96, that I used to predict that George Bush would win in 2004, and, as you remember four years ago, that Obama would win in 2012."
Norpoth then added data from the New Hampshire and South Carolina primaries to narrow down the forecast to specific candidates. As he brought up the first slide with matchup results, the silence was broken by muttering from the audience.
"Trump beats Hillary 54.7 percent to 45.3 percent [of the popular vote]. This is almost too much to believe." Norpoth said, with a few members of the audience laughing nervously. "The probability of that [outcome] is almost complete certainty, 97 percent. It's almost 'Take it to the bank.' "
The primary model predicts a Trump victory with such certainty due to Trump's relatively high success in the Republican primaries, Norpoth said. Clinton, in comparison, is in an essential tie with Sanders in the Democratic primaries. As a result, Sanders would also lose to Trump in a similar landslide if Sanders were to be the Democratic nominee, Norpoth said.
In contrast, Norpoth forecasted that a hypothetical presidential race with Ted Cruz or Marco Rubio on the Republican ticket would be a much closer race. The results showed Clinton with a 55 percent chance of winning the race against Cruz or Rubio with a 0.3 percent lead in the popular vote.
Norpoth's model showed Sanders losing against Rubio or Cruz with a 0.6 percent gap in the popular vote, giving a Rubio or Cruz ticket a 60 percent chance of winning against the Vermont senator.
Norpoth added that while the non-Trump Republican ticket would be much more unlikely to win the general election due to differences in the popular vote and the electoral college vote, there is almost no chance that Trump would lose the electoral college vote with his forecasted lead in the popular vote.
"If you win by 54 percent [of the popular vote], you have a big majority in the electoral college," Norpoth said. "Nobody who has ever gotten 54 percent has lost."
I've been a huge fan of Microsoft's Surface Pro 3 ever since it came out last August. I purchased one of the Intel i7 models, and it was able to successfully replace my laptop, just as Microsoft claimed it could.
It's an incredible computer/tablet.
Now Microsoft has come out with the Surface 3 (note the word "Pro" missing), which is available for pre-order, and ships in early May.
I was at a Microsoft store in the mall today, and Microsoft has a bunch of the new Surface 3's that you can play with in the store.
All I can say is wow, they have done it again. The thing is a perfect replacement for an iPad, as the size is very similar, and it's extremely light-weight -- and silent, due to the fact that it is fanless. And it starts at $499!
While the Surface Pro 3 does offer the ability to be just a tablet when you remove the keyboard, the new Surface 3 is that tablet you can just chuck in a bag to read a book someplace, and easily lounge around on the couch and surf the Internet on. The fact that it is so light and portable makes it even more amazing that the thing is a full Windows computer also, able to run anything that a desktop PC can run. And the screen is spectacular -- great colors and better than HD (1080P) resolution.
Now, I love Apple hardware, particularly the iPad and iPhone. But the thing I hate about Apple products is the operating system. I really dislike how Apple forces you to use everything within their "walled-off" ecosystem, and if Apple doesn't specifically allow something on their devices, you're out of luck.
You have some music on your computer that you want to put on your iPhone or iPad? You practically need to be a rocket scientist to get it into iTunes and then synchronized onto your device. It's great for Apple, because it "forces" people to buy their music through Apple's store, but not so great for users who want to be able to use what they already have.
So the fact that Microsoft is starting to make really terrific products that can match (and exceed) what Apple has out there is great news for me -- one step closer to living Apple-free!
Last Edited: April 6, 2015, 7:17 pm
Google has finally released a 64-bit version of its Chrome web browser. Also included in the latest release is improved font rendering, meaning that text appears much crisper, especially on high resolution displays.
They do make it a little tricky to upgrade to the 64-bit version though. It doesn't automatically upgrade from 32-bit to 64-bit.
To do it, you need to re-install the browser, which is not as bad as it sounds. Here are the steps:
Download and do the install (pretty simple)
Restart the browser after the install is complete
After restarting, to verify that you are running the 64-bit version, click "About Google Chrome" in the main menu, and you should see the version number as "

Version 37.0.2062.94 unknown-m (64-bit)

"