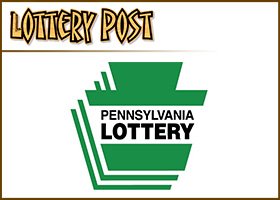 The Pennsylvania Lottery's Millionaire Raffle game has produced four new millionaires to begin the new year.
The selection of four $1 million top-prize raffle tickets and five $100,000 second-prize raffle tickets was televised live on the Lottery's drawing show earlier this evening. Five hundred $1,000 winning raffle tickets also were selected, but were not displayed due to time constraints.
The four top-prize winning tickets selected, worth $1 million cash each, were: 00143065, 00168249, 00260928 and 00477996. The five second-tier tickets selected, worth $100,000 cash each, were: 00035240, 00130095, 00222976, 00272908 and 00422038.
The eight-digit raffle number printed on Millionaire Raffle tickets must match the eight-digit raffle ticket number combination selected in the drawing in the exact sequence in which it was selected to be considered a winning ticket.
A complete list of all 509 winning raffle tickets is available below. The numbers are listed by prize category in ascending order.
The four $1 million prizes must be claimed by presenting a winning ticket at Pennsylvania Lottery headquarters in Middletown, Dauphin County, or at any of the Lottery's seven area offices located throughout the Commonwealth.
The five $100,000 prizes can be claimed at any of the Lottery's seven area offices or at any licensed Pennsylvania Lottery retail location.
All Pennsylvania Lottery offices will be closed Monday, Jan.2, in observance of the New Year's holiday and will reopen for business Tuesday, Jan. 3, 2006, at 8 a.m. Claims may be filed Monday through Friday from 8 a.m. until 4 p.m.
Holders of Millionaire Raffle tickets worth $1,000 can claim their winnings at a retail location.
Millionaire Raffle Drawing Results
$1 Million Winners
00143065
00168249
00260928
00477996
$100,000 Winners
00035240
00130095
00222976
00272908
00422038
$1,000 Winners
00000045, 00001941, 00003424, 00003846, 00006726 00007150, 00009508, 00009546, 00009784, 00010036, 00011963, 00012860, 00016412, 00016484, 00019024, 00023026, 00024203, 00024531, 00024699, 00026745, 00026906, 00027765, 00028696, 00029239, 00030320, 00030419, 00030967, 00032709, 00032746, 00033347, 00033409, 00035032, 00035722, 00038513, 00039324, 00039458, 00040529, 00040932, 00041368, 00041675, 00042700, 00042747, 00044129, 00045496, 00046873, 00050257, 00051394, 00051665, 00051684, 00051891, 00052068, 00053190, 00055502, 00055595, 00055961, 00056978, 00057636, 00057722, 00057888, 00058954, 00059976, 00061556, 00061764, 00062893, 00066002, 00066458, 00069988, 00072603, 00072604, 00073508, 00073563, 00073828, 00074988, 00075369, 00076327, 00077651, 00079188, 00082433, 00082889, 00083380, 00083639, 00084088, 00084767, 00085154, 00085234, 00086699, 00087211, 00088752, 00089279, 00089770, 00091633, 00092009, 00092455, 00094246, 00094404, 00095190, 00095738, 00095770, 00096765, 00097135, 00098475, 00100584, 00100643, 00101634, 00102282, 00103143, 00103488, 00104365, 00105125, 00105628, 00106742, 00107454, 00108321, 00108863, 00110456, 00111263, 00112386, 00112760, 00113657, 00115450, 00116834, 00117038, 00117142, 00118387, 00118512, 00119090, 00119666, 00121422, 00121607, 00121890, 00124810, 00124889, 00125424, 00131163, 00131534, 00131782, 00133376, 00135440, 00135800, 00135991, 00137223, 00137655, 00140463, 00141628, 00142502, 00143449, 00146279, 00146957, 00147067, 00147373, 00149207, 00150205, 00150565, 00150829, 00153043, 00153611, 00155195, 00156067, 00156715, 00158002, 00158436, 00158772, 00158994, 00159227, 00160789, 00161876, 00162491, 00164521, 00165226, 00168442, 00172186, 00172786, 00172861, 00173239, 00173510, 00173521, 00173590, 00173765, 00174031, 00175453, 00175720, 00176003, 00177073, 00178400, 00178635, 00182490, 00188476, 00191213, 00191558, 00192303, 00192519, 00192690, 00192963, 00193860, 00197239, 00199827, 00202352, 00203352, 00203694, 00206355, 00208467, 00208867, 00209549, 00209570, 00210610, 00211119, 00211752, 00213409, 00213667, 00215842, 00216065, 00217232, 00217469, 00218144, 00220702, 00221037, 00221216, 00221626, 00222746, 00224405, 00224860, 00225146, 00225906, 00226414, 00226593, 00228795, 00232436, 00232639, 00233802, 00234619, 00236258, 00236538, 00237949, 00238080, 00239665, 00241972, 00242400, 00243323, 00243889, 00245122, 00245253, 00248028, 00248572, 00249765, 00250209, 00250566, 00251732, 00251959, 00254340, 00254561, 00255635, 00256454, 00257762, 00258883, 00259010, 00259098, 00261673, 00262775, 00262820, 00262882, 00263569, 00263908, 00263981, 00264295, 00264350, 00265364, 00267593, 00269528, 00270165, 00270985, 00271356, 00271805, 00272669, 00275844, 00276426, 00276828, 00277004, 00277075, 00277917, 00278493, 00281355, 00282055, 00286817, 00287091, 00290055, 00290132, 00290544, 00290690, 00290913, 00291215, 00291280, 00292209, 00292633, 00294100, 00294159, 00294170, 00295703, 00296094, 00296552, 00296556, 00297555, 00297584, 00298372, 00299012, 00300803, 00301176, 00301969, 00302054, 00302387, 00304165, 00304287, 00306348, 00309254, 00309259, 00309453, 00310172, 00310696, 00310828, 00310902, 00310997, 00313022, 00313392, 00314349, 00314843, 00315809, 00318045, 00319893, 00320875, 00321487, 00322239, 00325236, 00325386, 00326804, 00327114, 00327585, 00329171, 00332398, 00333191, 00333956, 00334966, 00335511, 00336167, 00337266, 00337567, 00337717, 00338874, 00338900, 00339879, 00340252, 00340297, 00341258, 00342543, 00342726, 00342869, 00344360, 00345269, 00346832, 00347891, 00348143, 00348216, 00350380, 00351677, 00352194, 00354618, 00355196, 00355942, 00357289, 00357910, 00357916, 00358224, 00358228, 00358301, 00361620, 00363041, 00363607, 00363641, 00363829, 00365510, 00366653, 00367143, 00368197, 00369920, 00370144, 00371444, 00371664, 00376343, 00377992, 00378174, 00379018, 00379864, 00382211, 00382438, 00384214, 00384743, 00385272, 00385367, 00385551, 00387958, 00388311, 00388919, 00389332, 00390706, 00392125, 00394854, 00395652, 00395951, 00396232, 00396287, 00396714, 00397776, 00397836, 00398301, 00398554, 00399389, 00399957, 00400742, 00400940, 00403954, 00404475, 00406149, 00406618, 00407373, 00407453, 00407498, 00410025, 00410923, 00416336, 00417032, 00417433, 00419250, 00419442, 00424550, 00425269, 00425556, 00426410, 00428630, 00429601, 00429919, 00430966, 00434024, 00435832, 00436308, 00438721, 00439550, 00440858, 00441471, 00442295, 00442916, 00444304, 00444453, 00445833, 00446553, 00446772, 00447234, 00447246, 00448925, 00450423, 00452325, 00453158, 00453832, 00454467, 00455635, 00455782, 00456292, 00457004, 00457760, 00458034, 00459304, 00461259, 00462026, 00462050, 00462979, 00467889, 00468165, 00468671, 00471683, 00471760, 00472702, 00472709, 00473574, 00475177, 00476763, 00480238, 00480320, 00482302, 00482806, 00483506, 00484147, 00484493, 00485443, 00485990, 00487410, 00488456, 00488859, 00491816, 00491904, 00494902, 00495010, 00497076, 00497607