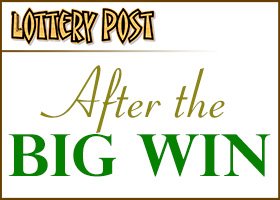 After winning million dollar lottery, Wall Street woes bring troubled times
Includes video report
By Louis Jay
Louis Jay is a sophomore pre-business major at Towson University and the former online editor of The Towerlight.
About a year ago you would have seen me on television promoting the Maryland Lottery, Let Yourself Play. You may have heard the story.
I spilled a Tropicana Coolatta on myself. My grandmother, in her old Jewish wisdom, always said that if you spill something on yourself on a special day (birthdays, weddings, Bar Mitzvah, etc) to buy a lottery ticket because it's lucky.
It was my 19th birthday, so I went to the closest Giant, picked up my scratch-off and won a million dollars.
After Uncle Sam took his cut, I was left with a decent amount of money.
I'm not going to lie; I did pretty well for myself.
Soon after, I was bombarded with calls from investors and financial planners all saying they could invest my money and turn it into more in due time. You have to spend money to make money, but I wasn't going to toss my newfound stash into the hands of just any schlub.
Luckily through my accountant, I found someone trustworthy and had the same vision for investing I did.
At the time I invested my money, the stock market was at an all-time high.
Investors were making money each day as Wall Street continued to profit.
I couldn't wait to jump into the market and see my wealth grow. I knew my diversified portfolio would be able to make money right out of the gate.
Things were going fine for a couple of months as I made a couple grand, but then came the greatest collapse since the Great Depression.
Banks giving out loans they shouldn't have combined with speculation from investors brought about lows we haven't seen in a long time. When the first big loss happened, I didn't think much of it.
The major news networks that revolve around the markets didn't seem too worried about the loss. Since then, most of what we're seeing are lows and nothing but lows.
Every time I see a major low, I can't do much but sigh.
My father calls me every time the stock market is down more than five percent.
At the same time, everyone else I know feels like they have to tell me about the stock market. I would like to personally take the liberty and speak on behalf of anyone who has money in the stock market:
We know!
We watch every time the market ticks downward, waiting for 4:30 p.m. so the pain can finally stop. We are already hurting from all the stuff that's going with the turbulent market feeling helpless and depressed.
Thank you for the market update but we're well aware.
Personally, I'm happy to talk about the market. I enjoy educating people about what's going on with everyone's money.
If people are educated, we can learn from our mistakes and hopefully not commit the same errors again.
But I digress. What is there truly to say about what's happening?
No amount of words or complaining will bring back one cent of my lost money. The truth is, there is nothing much I can do besides have some faith that things will get better.
So I go to class, do my homework, hang out with friends, watch my big television, and go on with life as normal.
If anybody sees me with a sweet drink, feel free to bump into me. Maybe we can both get lucky.
A Look Back: College Student Wins $1 Million Birthday Prize
Maryland Lottery Press Release
August 1, 2007
Louis Jay's birthday didn't begin with anything to celebrate. Yesterday morning, he spilled his iced coffee drink on his clothes, which made him late for work. But, the 19-year-old didn't give up.
"Why not buy a ticket?" Louis said that evening. "It's my birthday."
He stopped to buy a Mega Bucks Jackpot ticket and became a millionaire.
"His Nana always says, 'If something sweet falls on you on your birthday, buy a Lottery ticket," said Louis' mother Sheila. "He is such a great kid...he always wants to give to charity...I'm so happy for him."
The birthday boy went home, scratched the ticket, and realized that he won the $1 million top prize.
"My dad was outside walking my dog, and I ran out to show him the ticket," said the Eagle Scout. "I couldn't find him, so I kept screaming his name."
The Towson University sophomore, who works at CIO Solutions, Inc., has big plans. Louis will pay for his college tuition and help pay for his younger sibling's education. He also plans to invest some of the money and buy a car.
The winning ticket was bought at Giant #165 on Reisterstown Road in Owings Mills.
Local TV Broadcast: Student Turns Millionaire With Scratch-Off Ticket
WBAL TV, Baltimore
August 6, 2007
Thanks to Doug for the tip.