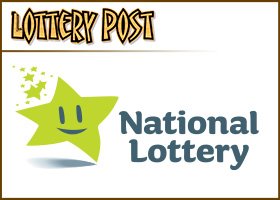 Plans to travel overseas: 'I've never been abroad'
Winner urged by financial expert to seek planning advice
Northern Ireland's new Lottery millionaire Seamus Duffy revealed that he was feeling lucky in the run up to hitting the £4.5 million (US$7.4 million) jackpot.
The unemployed father-of-six from Greysteel in Co Londonderry, said he had enjoyed a few less exciting Lottery wins in the weeks before the big one.
But despite his winning streak, he never expected to scoop such a fortune.
"I've won a number of prizes. I have been feeling very lucky — but I never thought it would be this lucky," he said.
The 49-year-old also said he was now looking forward to putting his large family "on their feet".
He has six children, including two teenagers, plus one grand-child, five brothers, three sisters and elderly parents.
Top of his wish list is a new house.
And Duffy, who currently lives with his elderly parents, said he also planned to book his first ever overseas trip and to splurge on a new top-of-the-market Range Rover.
The 49-year-old hit the £4,593,096 jackpot on Saturday night with a Lucky Dip ticket, which he bought in the Spar store in Garvagh.
With six children from two previous relationships, one grandchild, five brothers, three sisters and his elderly parents, he won't be short of family to spend his winnings on.
Speaking at a press conference today a delighted Duffy said, "To be honest I've been in a bit of a daze since the win and I obviously haven't thought everything through.
"But top of my list will be to help out the family and it will be terrific to be able to do it."
Duffy said he couldn't believe it when his numbers came up.
"I was watching a film on television at around two o'clock on Sunday morning when I decided to check my numbers," he said.
"I thought I was seeing things when my six numbers came up on the screen and I just couldn't believe it.
"My partner Carmel was fast asleep and I woke her to double check — and there was no mistake."
Duffy has been off sick since arthritis to the back of his neck forced him to give up his job on the building sites.
"I've had to be careful with money," he said.
"My one little luxury has been one ticket with my own numbers for the Wednesday and Saturday Lotto draws with a Lucky Dip on a Saturday.
"I've won a number of £10 prizes and three weeks ago I won £88 for four numbers. I have been feeling very lucky — but I never thought it would be this lucky."
The Greysteel man said he and Carmel had yet to decide their holiday destination.
"We might decide to go abroad," he said. "And if we do, it will be the first time for me."
The winning numbers were 4, 6, 10, 28, 35 and 39.
In the village of Greysteel there was much excitement about Duffy's win.
One local woman, who knows the Duffy family but did not wish to be named, said, "It is great news for him, they are such a lovely family and it is lovely to hear something like this happening to one of them. It's just great news."
Residents said the Lottery win had been the topic of mounting speculation and rumor throughout the weekend.
One man who lives near the family said, "Everybody's been talking about it and we are glad to see someone from our area getting the big one.
"Good luck to him."
Never owned a passport
Duffy is dreaming of spending his £4.5 million jackpot on visiting exotic and far-flung destinations — but only once he's applied for a passport.
For the 49-year-old has never traveled further than England despite a desire to visit the US and Australia.
Now, every luxurious resort in the world is within the unemployed digger driver's budget as he works out how to spend the mammoth £4,593,096 check handed over yesterday.
Speaking to the Belfast Telegraph as the check was presented by Camelot officials, an emotional Seamus Duffy revealed he had never owned a passport — but was definitely going to apply for one now.
"As far as I ever was was England, I was five years in England. I have to get a passport. I always wanted to go to America and I have an uncle in Australia, so I'll probably be able to go to them places now," he said.
The new millionaire also has a big family circle who he has promised to spoil with his shock windfall. A father of six from two different relationships, he's also the eldest of nine siblings.
And less than two years ago he became a grandfather.
He has vowed to buy a new home close to his native Greysteel and settle down with his fiancée Carmel Rogers (52).
"It's hard to take in. I've worked on building sites all over, and over in England, and I've never really settled down proper but I can now," he said.
"I'll be staying within the county, this is still my home place — I won't change my ways."
£10m winner's advice: sit back, relax, don't rush into anything
One of Northern Ireland's lottery millionaires has said the money brought him happiness and satisfaction.
Peter Lavery, from east Belfast, was speaking after learning about Duffy's £4.5m jackpot over the weekend.
Lavery, the former Citybus driver who scooped a whopping £10.6m in May 1996 has since raised money for a number of local charities, including the Northern Ireland Children's Hospice and the Northern Ireland Chest Heart and Stroke Association. He also established The Rita and Charles Trust in memory of his mother and father who died in 1979 and 1995 respectively.
Speaking to the Belfast Telegraph last night, Lavery had some advice for the new lottery winner from Co Londonderry.
"It probably couldn't have happened at a better time because of the way things are in the economy at the minute," he said.
"I would say to sit back for a while, don't panic and let it sink in. Don't rush into anything and don't let anybody rush you into anything."
Lavery, who now lives in North Down, said he will always remember the day he won.
"It was just a sense of disbelief," he said. "You play the lottery but you never think you have a chance of winning. You just hope your numbers come up."
The 47-year-old entrepreneur said his big win has made a lot of difference to his life and his partner Loretta's.
"It dramatically changed my life," he said.
"I went from earning £12,000 a year to getting that sort of money. We've now seen a bit of the world and I've invested a lot of it.
"It has brought a lot of security to us all, to the whole family. Hopefully winning the lottery will change the new winner's life for the better."
The UK's biggest single Lottery winner was Iris Jeffrey from Belfast, who received a jackpot of £20.1m on 14 July, 2004.
Meanwhile, Tracey Mackin was among the UK's youngest winners when she picked up £1,055,101 in January 1998.
The Glengormley girl was just 16-years-old when she picked the winning numbers.
Last year, Londonderry man Ryan Magee scooped £6.4m in the Euro Millions draw. The 27-year-old IT specialist splashed out on a dream Ferrari car with his winnings.
Another Londonderry man, Peter Matchett, won £11.7m in 2001, while Limavady van driver Stephen Boyd bagged £1.5m in 2002.
Put it in a bank and you'll get a 'wage' of around £120,000 a year
Duffy should never have to work again, according to one financial expert.
Jeremy Macafee, a partner at North Financial Management in Belfast, said it would be possible to live off the interest alone.
However, the finance wizard also said it was important to look at the situation from a global perspective.
"I would look at the individual's current assets and liabilities," he said.
"First of all I would advise the person to clear their mortgage or any debts. In today's difficult marketplace you want to get to the stage that the cash in the bank is yours.
"After winning the lottery people can now do marvelous things as well as give themselves an income for the rest of their lives."
Macafee highlighted four investment options.
"Clients can opt to put their money into stocks and shares, property, bonds or cash," he said. "We would look at these options and possibly offer a client a portfolio based on the individual's risk.
"With £4.5m, it could generate around £120,000 a year before tax, or £80,000 after tax, so in simple terms if you put it into a bank it's going to give you a good level of income and you can earn yourself a very reasonable 'wage' without having to do another day's work if that's what you want."
Financial adviser Raymond Mulligan also urged Duffy to seek advice. The managing director of Johnston Campbell — a company of independent financial advisers — explained the lucky winner will be faced with an array of options and should really consider their short, medium and long term objectives before parting with their pounds.
"Basically because it comes from lottery there is no tax payable on that money," he said. "But if there is any growth on that money then it is liable for assessment for tax. The two key areas of tax the person could be assessed on would be income tax or capital gains tax. And then the other one is when they pass away. Anything over £325,000 would be liable to inheritance tax."
Mulligan explained he never recommended any type of product until he knew what a client's goals were and their thoughts on gifting (such as setting up a trust), attitudes to risk and tax circumstances.
"I would look at their attitude to risk because some people will look at this as a one off chance, that they have to make sure they protect it.
"I would also look at their tax position. The reason I would look at that is because if somebody was to put in that sort of money into a savings account it is highly likely that the interest which would accrue would put them into higher rate tax, whereas if they were to put it into another form of investment, such as if they are married, they could use their capital gains tax allowance which is just over £10,000."
(Click for full-size; opens in new window)Ireland's latest lotto winner, Seamus Duffy, claimed a £4.5 million lottery jackpot.
(Click for full-size; opens in new window)Seamus Duffy from Greysteel and his partner Carmel Rodgers.
Seamus Duffy, 49, from Greysteel, County Londonderry, Ireland.
(Click for full-size; opens in new window)Lenny Bradley (left) owner of the Spar in Garvagh where the ticket was bought with shop manager Sinead Costen at the Drummond Hotel in Ballykelly.
(Click for full-size; opens in new window)Seamus Duffy's father Eugene and mother Mattie at the Drummond Hotel in Ballykelly.
(Click for full-size; opens in new window)Lottery winner Seamus Duffy and his partner Carmel Rogers.
Thanks to myturn for the tip.