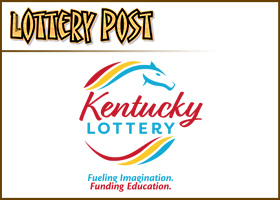 Big win comes less than one week after game's launch
When Louisville resident Steven McIntyre received a coupon in the mail last week from the Kentucky Lottery, he admits he never could have anticipated being at lottery headquarters days later holding a four-foot-long check for $100,000.
But that was the scene Monday morning as McIntyre became the first top prize winner in the new 5 Card Cash game. He matched all five card symbols from Saturday night's drawing to win the $100,000 top prize. 5 Card Cash just went on sale six days before his win.
However, McIntyre's involvement with the game goes back even further. "I'm a member of the lottery's Player's Fun Club, and about a year ago I was in an online focus group looking at different game concepts," said McIntyre. "I remember seeing the game that used card symbols instead of numbers, and it really caught my eye because it seemed simple and fun to play. There's no way at that point I could ever have imagined winning it."
Fast forward to last week, when McIntyre got a coupon in the mail offering a free 5 Card Cash ticket with the purchase of two other game tickets. "I took the coupon to the Dongar Food Mart station on Bardstown Road, got my three tickets, and immediately had a $2 instant win on one of them," he said. "I checked the lottery's website Saturday night to see what winning card symbols had been drawn, and kept looking at the computer screen and my ticket over and over because they matched!"
McIntyre knew he'd won, but didn't know how much. "Then I remembered I had one of the brochures about the game in my truck," he said. "I went flying out of my house in my pajamas, ran to the truck and grabbed the brochure. I almost fell over when I saw the top prize was $100,000!"
The data services technician for AT&T plans to pay off some bills and possibly travel with his winnings.
Five Card Cash tickets are available at all Kentucky Lottery retailers, and drawings for the $2 game are conducted Monday through Saturday nights. The game first went on sale February 12.
(Click to display full-size in gallery)