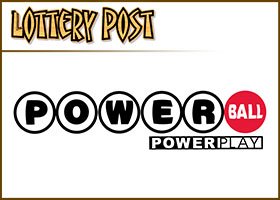 Single winning Powerball lottery ticket sold in Florida
Final jackpot total of $590.5 million is largest prize won by a single ticket
How would you react if you won?
Updated 8:33 am with winning location and other details

Updated May 20 at 3:47 pm with the jackpot's cash value
By Todd Northrop
The largest Powerball lottery jackpot in game history has been won Saturday night by a single ticket sold in the state of Florida.
The record $590.5 million Powerball jackpot, which is the second-largest of any lottery game in history, started as a $40 million prize on April 3, 2013, and continued accumulating prize money for 13 consecutive drawings, until it was finally won Saturday.
On Friday the game's organizer pegged the jackpot estimate at $600 million, but the actual total fell a bit short of that number. Still, it was enough to secure second place on the list of all-time highest lottery jackpots, and the top Powerball jackpot in history.
After all the proceeds were counted, the final lump-sum cash value of the jackpot stood at $370.9 million.
The Powerball winning numbers for Saturday, May 18, 2013, were 10, 13, 14, 22, and 52, with Powerball number 11.
The big winner undoubtedly will get very little sleep Saturday night, as they try to process winning the Powerball's largest lottery jackpot ever.
Is the winner running around the house screaming? Are they calling their family? Or maybe calling their boss to quit their job? What are they planning to do with all that loot?
What is the first thing you would do?
The winning ticket was sold at a Publix supermarket in Zephyrhills, Fla., according to Florida Lottery executive Cindy O'Connell. Zephyrhills is a suburb of Tampa.
"This would be the sixth Florida Powerball winner and right now, it's the sole winner of the largest ever Powerball jackpot," O'Connell told AP. "We're delighted right now that we have the sole winner."
She said Florida has had more Powerball winners than any other state.
The winner was not immediately identified publicly and O'Connell did not give any indication just hours after Saturday's drawing whether anyone had already stepped forward with that winning ticket.
With four out of every five possible combinations of Powerball numbers in play, lottery executives said earlier that someone was almost certain to win the game's highest jackpot, a windfall of hundreds of millions of dollars — and that's after taxes.
Fortunately, even if you didn't win the jackpot, the Powerball game still offers another 8 ways to win lower-tier prizes.
In addition to the jackpot winner, a whopping 35 lucky players matched the first 5 numbers, but not the Powerball, for a $1,000,000 prize: 2 from Arizona, 2 from California, 1 from Connecticut, 2 from Florida, 2 from Georgia, 2 from Kentucky, 1 from Louisiana, 2 from Missouri, 2 from New Hampshire, 3 from New Jersey, 7 from New York, 2 from Pennsylvania, 1 from South Carolina, 1 from Tennessee, 1 from Texas, 1 from Virginia, 1 from Washington, and 2 from Wisconsin.
The 2 California second-prize winners will each be awarded $2,309,228, because California does not award fixed prizes. By law, California awards all prizes on a pari-mutuel basis, meaning the prizes will change each drawing based on the number of tickets sold and the number of tickets that won at each prize level.
Of all the second-prize winners, only two of the tickets — one of the tickets sold in New York and the South Carolina ticket — were purchased with the Power Play option for an extra $1. Because they purchased the Power Play, those two tickets are now worth $2 million.
Power Play is not available in California, because the fixed nature of the prize increase offered in Power Play is not compatible with California's pari-mutuel payouts.
355 tickets matched four white numbers plus the Powerball and won $10,000. Of those tickets, 30 were purchased with the Power Play option, increasing the prize to $40,000, and 41 of the tickets were sold in California, where the prize was worth $8,945 this drawing.
The jackpot for the Wednesday Powerball drawing is reset to $40 million.
Powerball is now played in 43 states, plus the District of Columbia and the U.S. Virgin Islands. Drawings are Wednesdays and Saturdays at 10:59 p.m. Eastern Time. Tickets cost $2 each.
A 44th Powerball state will be added some time in the next year, as the state of Wyoming has approved a new state lottery with the intention of joining Powerball and other multi-state lottery games. (See Wyoming officially becomes 44th state with a lottery, Lottery Post, Mar. 14, 2013.)
Powerball lottery results are published within minutes of the drawing at USA Mega (www.usamega.com). The USA Mega Web site provides lottery players in-depth information about the United States's two biggest multi-state lottery games, Mega Millions and Powerball.