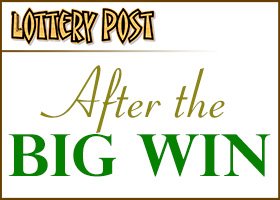 Marie Holmes, North Carolina's $188 million Powerball lottery winner, is back in the news again.
This time Holmes is not spending millions of dollars on bailing her boyfriend, Lamarr "Hot Sauce" McDow, out-of-jail for the fourth time, but a pastor is allegedly suing her for $10 million for reneging on a verbal contract.
The 27-year-old mother of two took home a $127 million lump sum payment following her lottery win in February, 2015. (See N.C. Powerball lottery winner claims share of jackpot worth $188 million, Lottery Post, Feb. 24, 2015.)
Pastor Kevin Matthews says he is experiencing emotional and mental distress due to her backing down from a verbal contract they had regarding $1.5 million to purchase land to build a retreat facility.
"Because of the emotional distress and mental stress, they put me through, I had to start taking more medicine for anxiety and depression due to this situation," says Pastor Kevin Matthews.
Holmes' attorney, Ruth Sheehan, of The Francis Law Firm, said she was not aware of the situation or the lawsuit.
In a recent interview, Pastor Matthews said, "God led him to her house and he prayed with her."
He later met Holmes and ministered to her on several occasions at her new home. He also said he ministered to three other people at her home, and then he eventually asked her to consider giving him money to purchase land to build a retreat. He gave her three different amounts that he needed ($1 million, $1.5 million and $2 million). After several meetings, she agreed to give him $1.5 million to help purchase land to build a retreat center that he says he had been praying about for years.
Matthews spoke to several Realtors about the land and told them about the blessing he was receiving from Holmes, and he made a verbal contract to purchase the land. He says he even promised $200,000 out to other people and their ministries over a two-year period.
Matthews says that eventually Holmes told him that her accountant, Dexter Perry, would be in touch and she did not know how long it would take because the money was in bonds. Matthews says Perry, called him and they talked for three hours about the matter and the conversation ended with the money would be available by the end of the year. A three-hour recording made by Matthews appears to confirm Matthews' story regarding Holmes supposedly giving money to him to purchase land for a retreat. Perry can be heard on the recording stating that Holmes' Foundation is being set up and that Holmes really wanted to help people out and that they will have her foundation, and everything set up soon and they will do it the right way.
On the last few minutes of the recording, Perry can be heard stating, "Well, I appreciate you allowing me to call and spend this amount of time with you this morning. I'm going to go ahead and email you as soon as we hang up. Just reply to that. I'm going to ask for a few things — if you just get that to me at your leisure." He goes on to say, "Like I said before, there's no need really to ask Marie anymore. She already said she wants to do something and now it's up to us to fulfill our strategy, and I definitely understand the urgency in terms of your land purchase and people calling you." The conversation ends with Matthews saying he wants to do what God wants him to do and help as many people as possible.
The accountant involved as well as Holmes attorney, Ruth Sheehan, were not available for comment.
"I didn't see this coming and I think it was a third party that came along and told her not to do this," says Matthews. Holmes started a foundation and appointed her aunt as the executive director, according to Matthews. At some point, Matthews says he believes her aunt, Carmel Wheaton, got involved and stopped her from sending him the money. He says, Wheaton called him and said, "We have decided not to give you money." He said he explained to Wheaton that Ms. Holmes said she was giving it and the accountant assured him as well. He said her argument was, "Did she promise it to you?" Matthews said, "I got caught up with trying to be truthful and said she didn't use the word 'promise.'" Matthews then quoted Wheaton as saying, "She was appalled that a pastor would even ask for money."
Matthews contacted Holmes and she would not return any calls. Holmes' boyfriend, Lamarr McDow, did call Matthews and said, "There was nothing ever written down so the best thing you can do is mind your business and Marie will mind her business." Matthews said he had prayed with McDow on several occasions and tried to help him clean up his life.
Asked if he had talked to Holmes lately and Matthews says he ran into her recently and she wouldn't speak to him. Interestingly, when asked for his attorney's name and contact information, Matthews would not release the information. He says he is waiting on the paperwork (lawsuit) from his attorney.
"The bottom line ... I just want her (Marie Holmes) to do what she said she was going to do. I want peace and to do what God told me to do. I want her to do what she said she was going to do," says Matthews. "I really feel like a warrior for Christ and people need to be accountable."
Marie Holmes donated $700,000 to her church, Pleasant Hill Missionary Baptist Church last December.
(Click to display full-size in gallery)
(Click to display full-size in gallery)
(Click to display full-size in gallery)
(Click to display full-size in gallery)