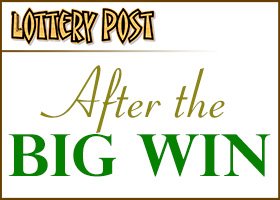 This time she posts $12 million bond for 'Hot Sauce'
BOLIVIA, N.C. — He might win a prize of his own — for being the worst fiancé ever. Or maybe she'll win a prize for being most gullible.
In what almost seems like clockwork, $188 million Powerball winner Marie Holmes has bailed out her fiancé from jail for a fourth time in less than a year, this time posting a $12 million bond for his release.
Holmes made national headlines last February when she was one of three winners who split a $564 million Powerball jackpot. Holmes's share was worth $188 million, and she took home $88 million after taxes when she decided to take the lump sum. (See N.C. Powerball lottery winner claims share of jackpot worth $188 million, Lottery Post, Feb. 24, 2015.)
Since then, her live-in boyfriend Lamarr "Hot Sauce" McDow has been stealing the spotlight for his run-ins with the law and his ability to get out of jail on sky high bonds.
Just a week after her big win, McDow was able to make a $3 million bond in March. He'd been in jail for heroin trafficking charges from Nov. 2014.
McDow was re-arrested during a raid in July, for violating his pre-trial release. Holmes was also cited during that raid. Court documents show officers found weapons and drugs in their home in Shallotte. (See $188 million lottery winner arrested on marijuana charges, Lottery Post, July 27, 2015.)
McDow was put back in jail under a $6 million bond. He posted bail again in early August. (See NC lottery winner spent $9M bailing out convict fiancé, Lottery Post, Aug. 15, 2015.)
In October, Hot Sauce was arrested and bailed out by Holmes a third time and charged with possession of a firearm by a felon. (See N.C. Powerball winner's fiancé jailed for third time this year, Lottery Post, Oct. 20, 2015.)
In 'Sauce's most recent run-in with the law, a warrant was issued December 26 for McDow's arrest on misdemeanor charge of conspiring to arrange a street race. He was booked into the Brunswick County Jail — this time under a $12 million bond.
If a defendant violates the terms of their pre-trial release and has to go back to jail, attorneys explained their bond amount automatically doubles.
According to court documents, McDow was required to wear an ankle bracelet under the terms of his pre-trial release. The agreement essentially puts him on house arrest. He is allowed to go to work, to church on Sunday morning, to the doctor and to court.
Lt. Steve Lanier with the Brunswick County Sheriff's Office said GPS monitoring equipment shows McDow violated the terms of that agreement by going somewhere other than those approved locations.
Bail bondsmen in the Brunswick County area said a non-refundable fee is required when hiring a bondsman to post bail. Historically, it's been about 10 percent of the total bond amount, but on large bonds that fee is often negotiated to a lower percentage.
Bondsmen say it's rare for the fee to go below 7 percent in Brunswick County. Using that figure, McDow and his supporters have likely spent $630,000 in fees that they will never see again to make the $3 million bail in March and the $6 million bail in August.
That money is gone, but McDow doesn't seem content unless he cooking up some new scheme to drain Holmes of her big win. With this new latest bond that's been posted for his release, the non-recoverable fees will likely double.
Defendants have the option to bypass bail bondsmen by writing a check to the clerk of court for the full amount of the bond, rather than a percentage of the bond amount. The defendant or his financial supporter would get all that money back if he showed up for court as promised, but risk losing the full amount if he does not show up for court.
Some big-money winners blow their money on lavish homes, cars, travel, and gifts. This might be the first big winner who blows their jackpot on continually bailing out a criminal.
Holmes, who at the time of her lottery claim planned to use the winnings to open college funds for her four children, as well as buy a new house, is unfortunately heading down the same life path as numerous other big winners who did not successfully manage their windfall.
(Click to display full-size in gallery)
(Click to display full-size in gallery)