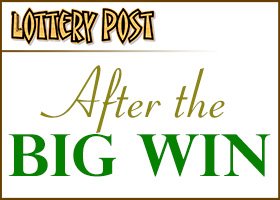 A North Carolina lottery winner used part of her $188 million Powerball jackpot to bail her convict fiancé out of jail — twice.
Lamar (Hot Sauce) McDow, accused of trafficking and intending to sell heroin, was released from a Brunswick County jail last week on $6 million bail.
While bondsmen do not have to release the name of who posted an inmate's bail, McDow's Powerball millionaire fiancée, Marie Holmes, likely footed the bill. Prosecutors said she bailed him out of jail once before, paying $3 million in March just weeks after she won the lottery, WWAY reported.
McDow, who has a long criminal history including assault and drug possession convictions, was arrested in November following a yearlong investigation into drug trafficking rings. He was charged with trafficking heroin and possession with intent to manufacture, sell and deliver heroin.
While he was behind bars, Holmes won a $188 million Powerball jackpot. She took home $88 million after taxes when she decided to take the lump sum.
(See N.C. Powerball lottery winner claims share of jackpot worth $188 million, Lottery Post, Feb. 24, 2015.)
While holding a giant check at a Powerball press conference, she told local media she wanted to use the cash to finish college and set up tuition funds for her four children.
The single mom said was forced to quit her jobs at Walmart and McDonald's because she needed to take care of her kids full time. One of her sons has cerebral palsy, she said.
"This is all for them," she said of her children. "All the struggle I ever went through, it's all for them. Money doesn't change it, but money's going to help me."
Holmes also said she planned to give some of her winnings to her church and donate to cerebral palsy organizations, the Wilmington Star News reported.
Weeks after her windfall, she paid $3 million to bail her beau out of jail.
But McDow was arrested again in July for violating the curfew requirements put in place after his release. He again walked away from jail Aug. 5 after posting a $6 million bail.
Holmes took to Facebook to defend her spending habits.
"What Y'all need to be worried about is Y'all money and not how I spend mine this is benefitting Y'all how? And no he's no drug dealer or user but who are Y'all to judge anybody? I will definitely pray for Y'all because it's much need...they talked about Jesus so I'm not surprised Y'all are talking about me but be blessed though," she posted on WWAY's Facebook page.
It's not clear if Holmes has spent any of the cash on her kids or her church as she originally promised.
McDow is still awaiting trial. He is now wearing a GPS tracker.