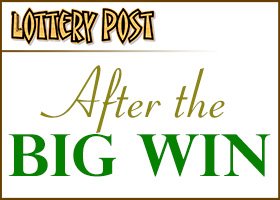 SHALLOTTE, NC — A North Carolina lottery winner — who was arrested on drug charges just months after she won $188 million earlier this year — has given her church nearly $700,000, an attorney says.
Marie Holmes, age 26, a single mother of four young children, snagged North Carolina's biggest lottery jackpot in March — and took a lump sum payment of $127 million from the Powerball win.
"The first thing she promised was to tithe — or give a tenth of her winnings to charity," a press release from Ruth Sheehan with the Francis Law Firm said.
But, in late July, Holmes was arrested at her home in Brunswick County on drug charges. Also earlier this year, Holmes also spent a large sum on a $3 million bond for her jailed fiance, who was arrested before her lottery win.
Meanwhile, the fiance, Lamarr Andre McDow, age 31, — also known as "Hot Sauce" — was arrested in October for the third time in 11 months.
Holmes has spent $9 million bailing out Hot Sauce in the past year. (See NC lottery winner spent $9M bailing out convict fiancé, Lottery Post, Aug. 15, 2015.)
Still, on Friday, the day after Thanksgiving, Holmes sent a personal check for $680,000 to "her home church," Pleasant Hill Missionary Baptist Church in Shallotte, Sheehan said.
The gift will pay for long-overdue repairs and renovations to the church and its equipment.
Back in July, during Holmes' arrest, three other arrests were also made when police came to Holmes' house on Boverie Street in Shallotte.
The Brunswick County Sheriff's Office said that on July 23 deputies went to the home of the lottery winner to arrest her fiance, McDow, for violating the terms of his pre-trial release agreement.
While at the house, officials smelled a strong odor of marijuana in the home, deputies said. Deputies returned to the home later with search warrants and they said they found marijuana, drug paraphernalia and a .45 caliber pistol.
McDow was arrested just last month under a charge of possession of a firearm by a felon.
A Brunswick County Sheriff's Office spokeswoman said that McDow surrendered to authorities after being indicted on the charge.
McDow was arrested last November on heroin charges and held under $3 million bond. Prosecutors say Marie Holmes, who is engaged to McDow, bonded him out in March — just a week after her lottery win.
McDow was also arrested in July on drug charges. The gun charge from October stems from an arrest for violating the curfew terms of his March release.
In the July arrest, Holmes was cited for possession of marijuana and drug paraphernalia.
Pleasant Hill Missionary Baptist Church is a 130-year-old church located in Brunswick County about halfway between Shallotte and Ocean Isle.
The predominantly African American church, with about 400 members and about 135 regular attendees, has been the spiritual home of the Holmes family for decades, Sheehan said.
(Click to display full-size in gallery)
(Click to display full-size in gallery)
(Click to display full-size in gallery)