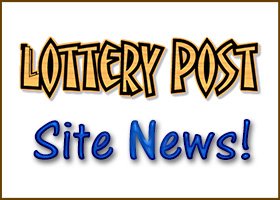 By Todd Northrop
The world's most popular lottery website Monday announced the launch of a new website for visitors using mobile phones.
With phone usage comprising more than 50% of all Web traffic today, making the mobile experience as content- and feature-rich as possible is a primary mission for Lottery Post Founder Todd Northrop.
Because Lottery Post was established long before the first smartphone was invented, the drive to improve the website on mobile devices involved more than just downsizing — it became a sort of re-imagining project.
"Lottery Post is what I'd call 'feature dense', meaning each page is packed with functionality," Northrop explained. "That presents unique challenges with publishing the website on small device screen."
The most common approach to mobile website development today is adaptive design, which involves a single website that automatically changes the appearance of each web page to fit the size of the screen it's displayed on. But in Lottery Post's case this approach would either change the desktop experience, or would overload mobile users with unneeded desktop processing and content, hurting performance — a critical aspect of mobile usage.
"We decided the best direction for Lottery Post mobile was to choose the best of both worlds: To keep our mature desktop website intact, while developing a re-imagined and lean mobile website running in parallel," Northrop said. "This has the added benefit of not trying to force someone on a computer into an interface best used on a phone, and vice-versa."
An example of this "best of both worlds" approach can be seen when browsing the forums. The use of numbered pages when viewing a lengthy topic can be very handy on a desktop computer, but can be tedious and unnatural on a phone. So while the desktop website maintains its traditional numbered pages, on a phone the user simply continues swiping the screen upward in what is called an "infinite scroll".
Similar to a Facebook user who scrolls through their feed, a Lottery Post mobile user can keep flipping through forum topics without worrying about the page number they are on.
First-class lottery results
Every day more people get their lottery results from Lottery Post than any other website on the Internet.
With that in mind, creating a first-class experience for viewing lottery results on a mobile device was critical to the new mobile website's success.
"Lottery Post's lottery results pages have become iconic, with millions of people accustomed to reading the winning numbers in a certain way, so that had to be carried over to the mobile website," Northrop explained. "At the same time, we took the opportunity to update the text and graphics for use with ultra-sharp mobile displays, and with compact bursts of data that are super-quick for phones to download."
"We are so happy with the result that we're looking at bringing some of the improvements over to the desktop side," he continued.
One unified experience
A key principle of the new mobile website is to provide more of what mobile users want without needing to use the desktop website on their phone. There will always be reasons for people on phones to use the desktop website, but over time it should be less and less.
For those times that it is necessary, the new mobile website aims to make it easier and less disruptive.
For example, the mobile and desktop websites give members a single sign-on feature, so that the user remains signed in to their account as they navigate back-and-forth between mobile and desktop websites.
Also, when a mobile user launches into the desktop website, they are brought to the equivalent page in the desktop website that they were viewing in the mobile website, rather than being brought to a common landing page, like the Home page.
"Until the day that the mobile website has everything the desktop website has, people will still use both at times, so making that transition as smooth and seamless as possible is extremely important," Northrop concluded.
Lottery Post's new mobile website launched Sunday evening, and is anticipated to receive regular updates.
To get to the new mobile website, mobile device users simply navigate their web browser to "www.lotterypost.com", and they are automatically brought to the mobile website.
For a mobile user to get to the desktop website, they open the "3 bars" menu button (a feature commonly found in mobile apps and websites) and tap the "Go to Desktop Website" command.
Lottery Post, established in 2000, is the world's most popular lottery website, with millions of forum posts, more than 1 billion lottery predictions posted by Lottery Post members, and a lottery results database that is widely considered to be the most accurate and complete in the industry.